| | |
| --- | --- |
| Elegant Onde Watch by Ebel | |
The company Ebel has released a novelty - a women's watch Onde (REF: 1216092) is presented in a 30 - mm steel case with alternating brushed and polished surfaces. Compared to previous models, the novelty is characterized by clean lines and luxurious curves. The bracelet with branded wavy links completes the watch design.
The magnificent watch dial is decorated with 8 brilliant diamonds inserted instead of the hour endexes. Another 12 smaller diamonds of Vs purity, FG color adorn the crown, located at the 3 o'clock position. Ebel's logo adorns the dial at the 12 o'clock position.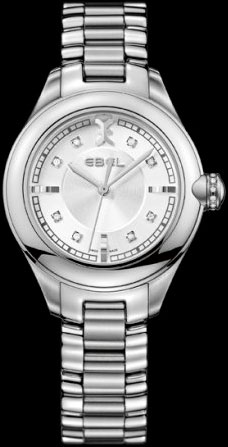 women's watch Onde (Ref: 1216092)
Time indication is carried out by using the multifaceted hands with diamond polishing and rhodium plating. A double anti-reflective sapphire crystal protects the dial.
The watch water resistant - 50 meters.
The new Onde watch is equipped by a quartz movement Quartz eTa 956.102 with the functions of hours, minutes and seconds.
Official site of Ebel.
Written by Angel
26.12.2012
Onde Malachite by Ebel
The watch brand Ebel represents a novelty Onde Malachite, which has a round case with a diameter of 36 mm steel and 18-karat green gold. Water-resistant - 50 meters. The crown is placed at the 3 o'clock position, decorated with diamonds.
23.08.13 Comments(0)

Ebel Presents a New Version of Ebel 100
In 2013, the Swiss watch brand has released a new version of the model Ebel 100, designed in a simple, concise style, complemented with different colors marking the dial.
22.06.13 Comments(0)

Onde and X-1 Female Models by Ebel
Swiss watch manufacture Ebel, founded in 1911, has announced the release of two new novelties: the fashion women's watch Onde and the luxurious model X-1, made in a sporty style.
17.09.12 Comments(0)

New Ebel 100 by Ebel
Swiss watchmaker Ebel announces the release of a new model - Ebel 100. Its new design differs from the models of Ebel. It is executed in strict laconic style, which is added by a bright strap.
02.06.12 Comments(0)

New Brasilia Mini Watch by Ebel
The Swiss watch company Ebel presents a novelty. It is a model from a Brasilia collection, which is in high demand among women. The new Brasilia Mini watch is respectively for women.
24.01.12 Comments(0)

A New Watch 1911 BTR 137 - to the 100th anniversaryof Ebel
The watch brand Ebel to its centennial anniversary has presented a new limited edition watch 1911 BTR 137. Pure design of the watch is made in the best traditions of executing the works of architecture. The manufacturing movement 137, on which the model is based, combines all the improvements and innovations of the company from 1911 to 2011.
12.10.11 Comments(0)

An Ebel watch on the wrist of James Russell
Russell James is one of the most famous photographers of the first decade of XXI century. After ten years of wandering and suspense, today his creative ideas bring millions to the brands with a worldwide reputation. The famous artist has not even thought of such income, which are brought him by his pictures now.
23.09.11 Comments(0)



Ebel is an acronym of the first letters of the names of the company founders, Eugène Blum and his wife Alice Lévy, who launched Ebel company in 1911 in La Chaux-de-Fonds. After the successful start, the originality and the technical perfection of Ebel watches was highly appreciated, especially in the jewellery watch market. It takes some believing, but before the brand was bought by the U.S. MGI Luxury Group, the owner of Movado and Concord companies, Ebel had been specializing in the production of the jewellery watches for ladies. And at the present...
Detailed information Ebel