| | |
| --- | --- |
| New Brasilia Mini Watch by Ebel | |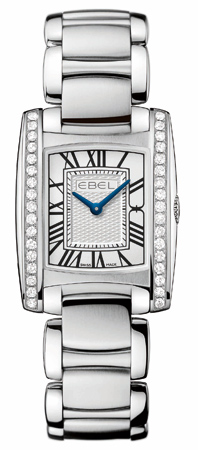 The Swiss watch company Ebel presents a novelty. It is a model from a Brasilia collection, which is in high demand among women. The new Brasilia Mini watch is respectively for women.

The novelty has an elegant rectangular case, which has a comfortable anatomical bend gently adheres to the woman's wrist. Additional feature of gentility and refinement are given by two rows of shining diamonds on the sides of the case. The crown is integrated into the case and is putting "in the firing position" only after careful removal from the special strips in the watch case. The dial Brasilia Mini is decorated in classic style. A Roman numeral III replaces the company's icon Ebel. In the center of the dial are located the hour and minute blue hands – from blued steel. And all around it there is a neat "spider's web" of Roman numerals.

The name of Mini watch really pays off. The size of the steel case is only 23.7x7.1 mm. It's waterproof by the way - 50 m. Inside the watch the quartz movement is set, for the most female models it is the norm – for what reason the female half of humanity to bother with complicated movement, when the most important part is the beauty and style chronometer.
The watch is available on a metal bracelet.
24.01.2012
Onde Malachite by Ebel
The watch brand Ebel represents a novelty Onde Malachite, which has a round case with a diameter of 36 mm steel and 18-karat green gold. Water-resistant - 50 meters. The crown is placed at the 3 o'clock position, decorated with diamonds.
23.08.13 Comments(0)

Ebel Presents a New Version of Ebel 100
In 2013, the Swiss watch brand has released a new version of the model Ebel 100, designed in a simple, concise style, complemented with different colors marking the dial.
22.06.13 Comments(0)

Elegant Onde Watch by Ebel
The company Ebel has released a novelty - a women's watch Onde (REF: 1216092) is presented in a 30 - mm steel case with alternating brushed and polished surfaces.
26.12.12 Comments(0)

Onde and X-1 Female Models by Ebel
Swiss watch manufacture Ebel, founded in 1911, has announced the release of two new novelties: the fashion women's watch Onde and the luxurious model X-1, made in a sporty style.
17.09.12 Comments(0)

New Ebel 100 by Ebel
Swiss watchmaker Ebel announces the release of a new model - Ebel 100. Its new design differs from the models of Ebel. It is executed in strict laconic style, which is added by a bright strap.
02.06.12 Comments(0)

A New Watch 1911 BTR 137 - to the 100th anniversaryof Ebel
The watch brand Ebel to its centennial anniversary has presented a new limited edition watch 1911 BTR 137. Pure design of the watch is made in the best traditions of executing the works of architecture. The manufacturing movement 137, on which the model is based, combines all the improvements and innovations of the company from 1911 to 2011.
12.10.11 Comments(0)

An Ebel watch on the wrist of James Russell
Russell James is one of the most famous photographers of the first decade of XXI century. After ten years of wandering and suspense, today his creative ideas bring millions to the brands with a worldwide reputation. The famous artist has not even thought of such income, which are brought him by his pictures now.
23.09.11 Comments(0)



Ebel is an acronym of the first letters of the names of the company founders, Eugène Blum and his wife Alice Lévy, who launched Ebel company in 1911 in La Chaux-de-Fonds. After the successful start, the originality and the technical perfection of Ebel watches was highly appreciated, especially in the jewellery watch market. It takes some believing, but before the brand was bought by the U.S. MGI Luxury Group, the owner of Movado and Concord companies, Ebel had been specializing in the production of the jewellery watches for ladies. And at the present...
Detailed information Ebel