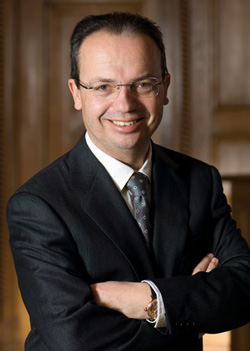 Christophe Claret is a watch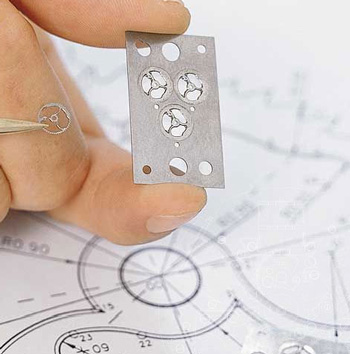 company, which specialize in creating of complicated watches with using of advanced technology. The founder of this company is an engineer and watchmaker Christophe Claret, who created the most complex modules for the elite watch companies (Harry Winston, Jean Dunand, Guy Ellia, Ellicott, DeLACour). The history of the company started in 1987, when the head of one large Swiss watch company turned to Christophe Claret to create an exclusive minute repeater mechanism. To implement this order, Christophe Claret created his own company Christophe Claret. Over the next 20 years the company has developed and perfected the most difficult calibers, most of which became a kind of "golden fund" of famous watch companies. These masterpieces of horology include minute repeater with petal dial, sliding like a camera aperture for de Grisogono, complicated model with a unique and perpetual astronomical calendar for Harry Winston Opus 4, orbital tourbillon for Jean Dunand and much more.
In 2009, in commemorate of the 20th anniversary of the company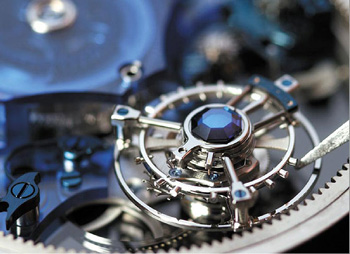 Christophe Claret, it produced wrist watches under its own logo Christophe Claret - DualTow. According to Christophe Claret, the decision to create own model was enough hard for him, because the world watch industry world was waiting for him not just watches, but real miracle. After all, in creating something new it is hard for master to beat himself. But Claret did it. His new concept was an extraordinary combination of skill, extremely exclusivity and innovation. DualTow is a tourbillon, one-pusher chronograph with a sound indicator of functions' choice. But the main original idea in this time machine is a linear-chain indication of hours and minutes in form of two rubber bands. This unusual timing gave the name of the model DualTow. Mechanical caliber SS20A consists of 582 parts and such an abundance of innovation and technical solutions that the experts can not reach a consensus on the most important of them. Many are attracted by "crawler" indication of time and others - by a unique independent module of one-pusher chronograph with planetary gear and a unique system of levers. Track of hour are located on the left, the minute track - on the right. Tourbillon occupies a central position. Another technical achievement is that the chronograph hands start to move in a flash (in the ordinary watches hands are "waiting" until the balance wheel will not make a full vph). Every detail of the mechanism corresponds to the highest standards of horology and is careful expertise.
Unique watches concept DualTow is offered to potential clients in different variations. The company provides an opportunity to choose the palette and some materials (hands, bridges of tourbillon, the screws, the sapphire dial, forks of hour and minute indication). Personalization can be done using the configuration on the website www.dualtow.ch.