| | |
| --- | --- |
| Place your bets and win 21 Blackjack by Christophe Claret | |
The watch company Christophe Claret has announced its corporation with the Casino Monte Carlo. In honor of collaboration between the independent watchmaker of Le Locle and legendary casino in Monaco in December 9 and 10, 2011, in the walls of legendary house the gambling tournament will be held, where the main event will be the tournament of roulette.
The tournament winner will become the lucky owner of the unique 21 Blackjack by Christophe Claret. The new version of 21 Blackjack is encrusted "baguette" cut diamonds and rubies, as well as the logo of Casino de Monte-Carlo.
The novelty is equipped with the manufactory automatic caliber BLJ08 with two barrels. The mechanism, providing a 72-hour power reserve and a balance frequency of 28,800 vph, is composed of 501 components and assembled on the 40 jewels and 7 double ceramic ball bearings. The unique movement operates three gambling - dice, roulette, blackjack with chime with - on the dial.
One can play the games on the dial, barely touching the dial's surface. Two dices in the size of 1.5 mm each are placed in a cage at the 4 o'clock position, which is visible through a lateral window on the case. Roulette is installed on the watch case back. The rotor of the mechanism, being seen through a transparent antiglare sapphire crystal case back, is the roulette wheel. Blackjack is presented on the dial with the cards of the bank at the top and the player's cards at the bottom. The game starts by pressing the small button at the 9 o'clock position.
The case of the novelty in diameter of 45 mm is made of white gold and white titanium grade 5. The crown, made of the same material, is adorned with a ruby cabochon. The case is equipped with two lateral windows: the dices are in the first window, and in the other one - the chime mechanism. The case provides a 30-meter water resistance.
The luxurious white gold bezel is decorated with diamonds weighing 3.6 carats of rubies and weighing 0.8 carats, acting as hour's markers. The central hour and minute hands, by which the time is indexing, are also made of rubies and covered with black rhodium finish.
The new watch comes on an elegant ruby color leather strap with a white gold buckle.
The first models of the limited edition in 21 items will be available in December 2012.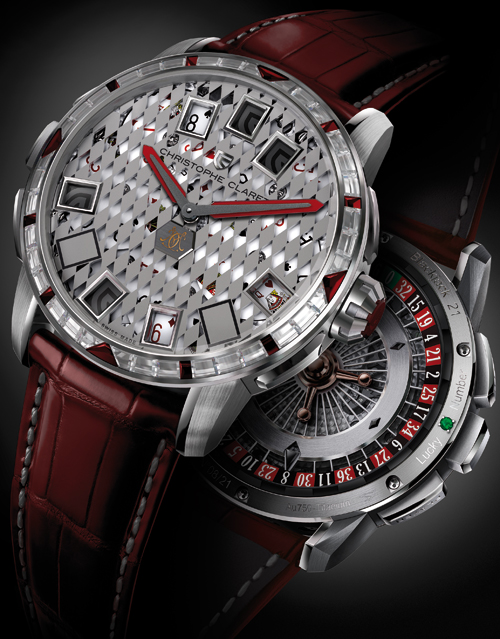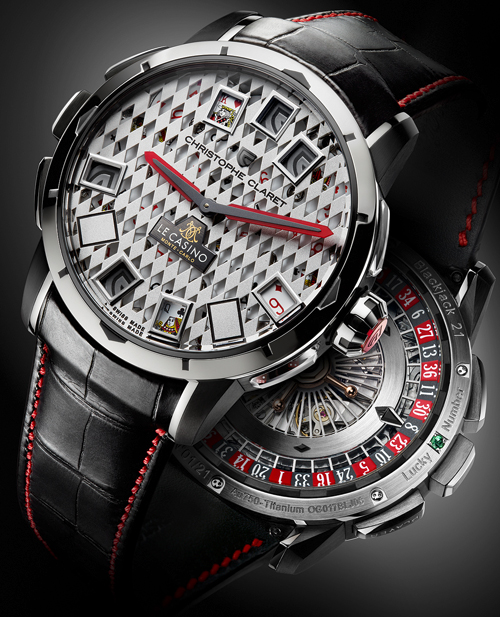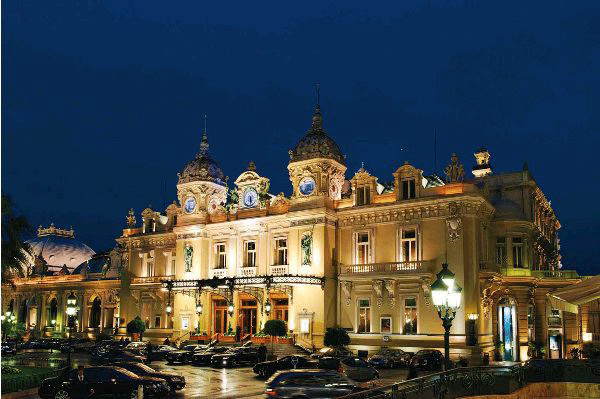 30.11.2011
New CEO of Christophe Claret
The company Christophe Claret has announced the resignation of the current executive director Stefan Feltgen at the end of November 2013.
02.12.13 Comments(0)

X-TREM-1 Pinball Timepiece by Christophe Claret for Only Watch 2013
Especially for the auction Only Watch 2013, the famous watchmaker Christophe Claret has released the original model X-TREM-1 Pinball. The first part of the name is an abbreviation: X - for Experimental, T - for Time, R - for Research, E - for Engineering, M - for Mechanism.
25.05.13 Comments(0)

New Kantharos Timepiece by Christophe Claret
At the upcoming international exhibition BaselWorld 2013, the watchmaker Christophe Claret will present a new model of watch Kantharos. Design of the novelty, as is evident from the watch name, inspired by a kantharos - an ancient Greek drinking vessel in the shape of the cup with two vertical handles.
17.04.13 Comments(0)

Soprano minute repeater by Christophe Claret
The largest in Latin America watch exhibition Salón Internacional de la Alta Relojería (SIAR), in which the Swiss watchmaker Christophe Claret will officially introduce a new limited edition model Soprano minute repeater, will be held from 2 to 4 October 2012 in Mexico City.
27.09.12 Comments(0)

BaselWorld 2012: Baccara Watch by Cristophe Claret
Presented at the international exhibition BaselWorld 2012 the Baccara watch is a sample of the original watch, in which has expressed the passion for the world of gambling of Christophe Claret founder.
12.03.12 Comments(0)

New Sophisticated X-TREM-1 Watch by Christophe Claret
Famous for its sophisticated wristwatches the Swiss company Christophe Claret has decided to surprise once again the watch world with the new project, which will be presented at the international exhibition BaselWorld 2012.
01.03.12 Comments(0)

New Baccara Dragon Watch by Christophe Claret
Video of the new model Baccara Dragon, which continued the line of "gaming" watches of the company, was posted on our site. Presented last year, the wristwatch 21 Blackjack made a furor on the watch market. But the novelty of Baccara Dragon does not yield to it both in technical and design terms.
27.01.12 Comments(0)

New Baccara watch by Christophe Claret at BaselWorld 2012
Watchmaker Christophe Claret will present at the upcoming International Exhibition BaselWorld 2012 its latest product - the luxury watch Baccara. At the moment we offer you to enjoy a wonderful video clip of the company. The detailed information will be posted in a short time on our website.
20.01.12 Comments(1)

Christophe Claret bets on poker
The watchmaker from Le Locle partners with Badih "Bob" Bounahra – one of final nine poker players in the 2011 World Series of Poker Main Event Championship.
05.11.11 Comments(0)



Christophe Claret is a watch company, which specialize in creating of complicated watches with using of advanced technology. The founder of this company is an engineer and watchmaker Christophe Claret, who created the most complex modules for the elite watch companies (Harry Winston, Jean Dunand, Guy Ellia, Ellicott, DeLACour). The history of the company started in 1987, when the head of one large Swiss watch company turned to Christophe Claret to create an exclusive minute repeater mechanism. To implement this order, Christophe Claret created his own company Christophe Claret. Over th...
Detailed information Christophe Claret