| | |
| --- | --- |
| X-TREM-1 Pinball Timepiece by Christophe Claret for Only Watch 2013 | |
Especially for the auction Only Watch 2013, the famous watchmaker Christophe Claret has released the original model X-TREM-1 Pinball. The first part of the name is an abbreviation: X - for Experimental, T - for Time, R - for Research, E - for Engineering, M - for Mechanism. The second part of the Pinball is also chosen by chance: the design of the novelty is made in the style of a pinball machine.
The novelty X-TREM-1 Pinball, developed by the masters of the brand Christophe Claret, - the watch with a tourbillon, characterized by the use of magnetic fields (produced by tiny magnets) for the effect of the free "flying" in the air of the hour and minute indicators that are made in the form of pellets. As noted by Christophe Claret, "We developed this technology in conjunction with the School of Business and Engineering (HEIG-VD), located in Yverdon-les-Bains, a team led by Professor Besson. Moreover, the magnetic fields are oriented so that they do not exert any influence on the mechanism."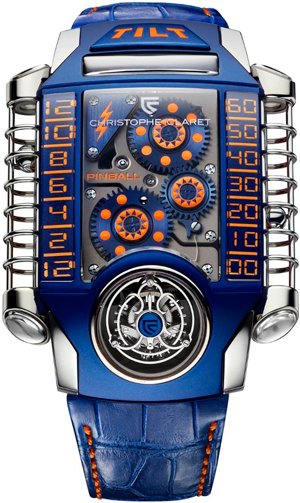 X-TREM-1 Pinball Timepiece by Christophe Claret for Only Watch 2013
Indication of hours and minutes is carried out by means of a free "flying" balls weighing 0,100 grams, placed in a sapphire tube with a diameter of 4 mm. These tubes are located on the left and right side of the case next to the appropriate scales, covered with fluorescent orange-colored material. At the bottom of the case is a "flying" minute tourbillon on ceramic bearings, the carriage of which is inclined at an angle of 30 °. The second's hand is mounted on the carriage.
The following uniqueness of the model is that a crown and a head to set the time are available on the back cover. Quick set-up time is carried out by means of the built-pusher, located in the 12 o'clock position.
The model has a rectangular titanium case in length of 56.80 mm, a width of 40.80 mm, thickness 15 mm. The watch water resistant - 30 meters. The model is made in blue and orange tones.
The new X-TREM-1 Pinball watch is collected on the base of the manufacturing mechanism with manual winding C. Claret FLY11, on the 64 jewels. The mechanism consists of 419 parts, has the frequency of 21,600 vibrations per hour, 50-hour power reserve, two wind-up barrels, one of which is provided for the measurement of time, and the second - for the tourbillon.
The watch is delivered on a blue alligator strap with orange stitching.
Official site of Christophe Claret.
Written by Angel
25.05.2013
New CEO of Christophe Claret
The company Christophe Claret has announced the resignation of the current executive director Stefan Feltgen at the end of November 2013.
02.12.13 Comments(0)

New Kantharos Timepiece by Christophe Claret
At the upcoming international exhibition BaselWorld 2013, the watchmaker Christophe Claret will present a new model of watch Kantharos. Design of the novelty, as is evident from the watch name, inspired by a kantharos - an ancient Greek drinking vessel in the shape of the cup with two vertical handles.
17.04.13 Comments(0)

Soprano minute repeater by Christophe Claret
The largest in Latin America watch exhibition Salón Internacional de la Alta Relojería (SIAR), in which the Swiss watchmaker Christophe Claret will officially introduce a new limited edition model Soprano minute repeater, will be held from 2 to 4 October 2012 in Mexico City.
27.09.12 Comments(0)

BaselWorld 2012: Baccara Watch by Cristophe Claret
Presented at the international exhibition BaselWorld 2012 the Baccara watch is a sample of the original watch, in which has expressed the passion for the world of gambling of Christophe Claret founder.
12.03.12 Comments(0)

New Sophisticated X-TREM-1 Watch by Christophe Claret
Famous for its sophisticated wristwatches the Swiss company Christophe Claret has decided to surprise once again the watch world with the new project, which will be presented at the international exhibition BaselWorld 2012.
01.03.12 Comments(0)

New Baccara Dragon Watch by Christophe Claret
Video of the new model Baccara Dragon, which continued the line of "gaming" watches of the company, was posted on our site. Presented last year, the wristwatch 21 Blackjack made a furor on the watch market. But the novelty of Baccara Dragon does not yield to it both in technical and design terms.
27.01.12 Comments(0)

New Baccara watch by Christophe Claret at BaselWorld 2012
Watchmaker Christophe Claret will present at the upcoming International Exhibition BaselWorld 2012 its latest product - the luxury watch Baccara. At the moment we offer you to enjoy a wonderful video clip of the company. The detailed information will be posted in a short time on our website.
20.01.12 Comments(1)

Place your bets and win 21 Blackjack by Christophe Claret
The watch company Christophe Claret has announced its corporation with the Casino Monte Carlo. In honor of collaboration between the independent watchmaker of Le Locle and legendary casino in Monaco in December 9 and 10, 2011, in the walls of legendary house the gambling tournament will be held, where the main event will be the tournament of roulette.
30.11.11 Comments(0)

Christophe Claret bets on poker
The watchmaker from Le Locle partners with Badih "Bob" Bounahra – one of final nine poker players in the 2011 World Series of Poker Main Event Championship.
05.11.11 Comments(0)



Christophe Claret is a watch company, which specialize in creating of complicated watches with using of advanced technology. The founder of this company is an engineer and watchmaker Christophe Claret, who created the most complex modules for the elite watch companies (Harry Winston, Jean Dunand, Guy Ellia, Ellicott, DeLACour). The history of the company started in 1987, when the head of one large Swiss watch company turned to Christophe Claret to create an exclusive minute repeater mechanism. To implement this order, Christophe Claret created his own company Christophe Claret. Over th...
Detailed information Christophe Claret