The famous Swiss company Christophe Claret at the international exhibition BaselWorld 2013 has introduced a single-button chronograph Kantharos with a constant force battle function.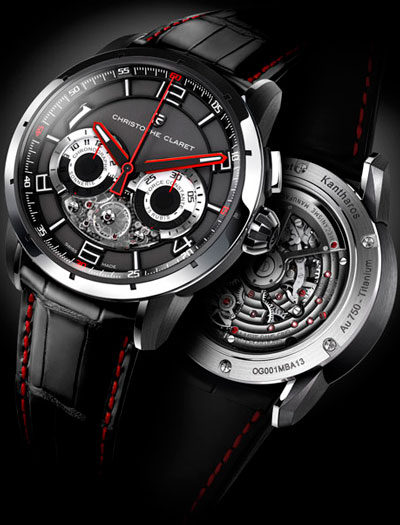 Kantharos watch by Christophe Claret
The unique one-button chronograph functions on the base of the manufacturing constant force movement, providing precision. A built cathedral gong makes a sound with every change of the automatic chronograph. The masters of Christophe Claret developed this concept for watch DualTow. In the novelty Kantharos, the force function that is activated, when each switching mode (start, stop, reset) is correlated with the function of measuring short time intervals.
Visible at the 10 o'clock position, the striking mechanism is equipped with a special system, thanks to which the gongs do not bang against each other. The novelty has excellent functional characteristics of the control system with dual disc, inspired by the design of the vehicle transmission that avoids jerk when you start the chronograph hands, thereby increasing the accuracy of measurement. Thus, in the watch is performed the double touch - tactile and audible - the relationship between an excellent measure of the time and its owner.
The module of constant force, visible from the dial at the 6 o'clock position, is a means to transmit power to the escapement that, however, remains constant as when fully wound, and when he graduated from the reserve.
To create an automatic caliber Kantharos are used details made of an alloy of M-15X, developed in close collaboration with L. Klein SA. The unique caliber, on the base of which operates the novelty, is an entirely product of manufacture. The rotor with improved features is made of platinum.
The novelty Kantharos is enclosed in a 45-millimeter case, presented in several versions of rhodium or black titanium, white or pink gold, in combination with titanium. Central hands, by which time indication is carried out, are made of ruby, ceramic, or blue spinel.
The novelty comes on an elegant alligator strap sewn by hand.
To buy the Kantharos watch by the company Christophe Claret is available at a price of 96,000 Swiss francs.
Official site of Christophe Claret.
Written by Lucy Vuiton
29.04.2013