| | |
| --- | --- |
| Christophe Claret bets on poker | |
The watchmaker from Le Locle partners with Badih "Bob" Bounahra – one of final nine poker players in the 2011 World Series of Poker Main Event Championship.

The Manufacturer Claret is delighted to announce its partnership with Badih "Bob" Bounahra, one of the best No-Limit Holdem poker players on the planet. Originally from Lebanon but living in Belize today and wearing this country's colours, he will be the first citizen of Belize to participate in the WSOP Main Event Final Table this November. This event is to this fascinating card game what the Masters is to tennis – the final confrontation of the best competitors in the world – accompanied by a good financial reward, the famous gold bracelet and the title of world champion.

6,865 players started Day 1 of the WSOP Main Event 2011. They all played for eight very long days until only nine players remained – The November Nine. Amongst them was Badih Bounahra, who was sort of a surprise guest. Not because of his age (49), but due to his non-professional status. While his warm, attractive personality allows him to live his passion for poker to the fullest, he has many other cards dealt in his hand - an active entrepreneur and father to three children. In his opinion, poker must remain a fun activity.

For all these reasons, Christophe Claret has decided to sponsor Badih Bounahra, not only for the 2011 WSOP Main Event, but for the long haul. During this time, the ace of cards will sport the watchmaker's Soleil d'Or emblem and wear a 21 Blackjack on his wrist, an interactive watch with fun complications that was launched last spring at Baselworld. At the last world watchmaking fair, Christophe Claret's most recent creation made a big impression with its original presentation of three completely new complications in the form of casino games – dice, cards and roulette. These are all in addition to the watch's usual hour and minute functions.

When the art of mechanical watchmaking meets that of the most famous card game, expect a Royal Flush!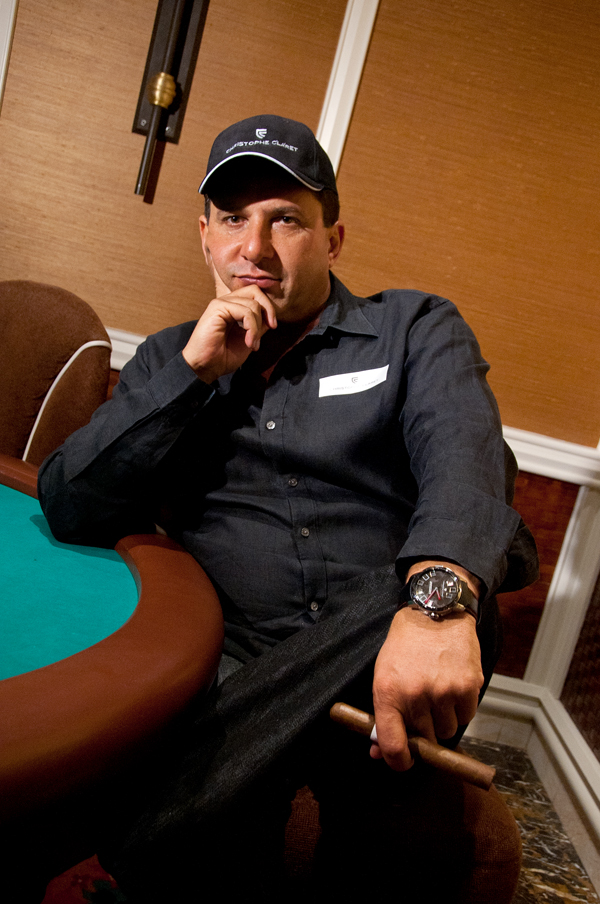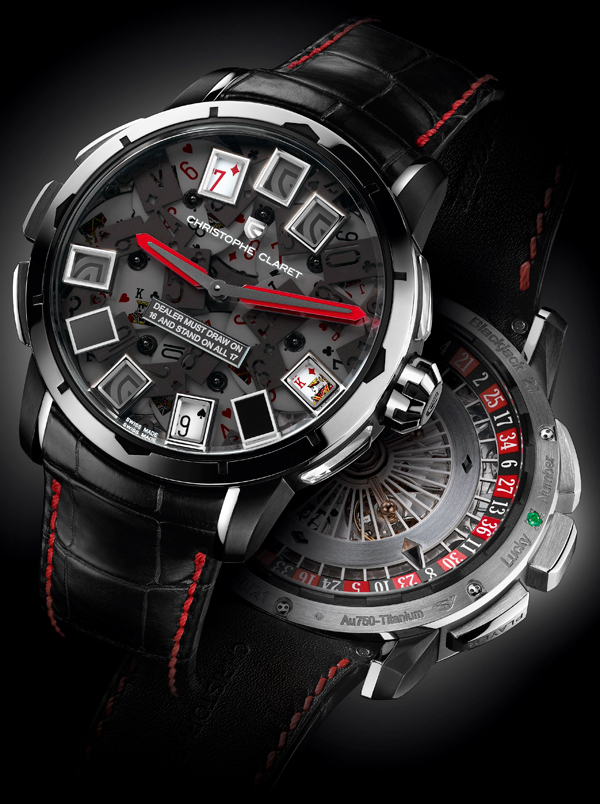 05.11.2011
New CEO of Christophe Claret
The company Christophe Claret has announced the resignation of the current executive director Stefan Feltgen at the end of November 2013.
02.12.13 Comments(0)

X-TREM-1 Pinball Timepiece by Christophe Claret for Only Watch 2013
Especially for the auction Only Watch 2013, the famous watchmaker Christophe Claret has released the original model X-TREM-1 Pinball. The first part of the name is an abbreviation: X - for Experimental, T - for Time, R - for Research, E - for Engineering, M - for Mechanism.
25.05.13 Comments(0)

New Kantharos Timepiece by Christophe Claret
At the upcoming international exhibition BaselWorld 2013, the watchmaker Christophe Claret will present a new model of watch Kantharos. Design of the novelty, as is evident from the watch name, inspired by a kantharos - an ancient Greek drinking vessel in the shape of the cup with two vertical handles.
17.04.13 Comments(0)

Soprano minute repeater by Christophe Claret
The largest in Latin America watch exhibition Salón Internacional de la Alta Relojería (SIAR), in which the Swiss watchmaker Christophe Claret will officially introduce a new limited edition model Soprano minute repeater, will be held from 2 to 4 October 2012 in Mexico City.
27.09.12 Comments(0)

BaselWorld 2012: Baccara Watch by Cristophe Claret
Presented at the international exhibition BaselWorld 2012 the Baccara watch is a sample of the original watch, in which has expressed the passion for the world of gambling of Christophe Claret founder.
12.03.12 Comments(0)

New Sophisticated X-TREM-1 Watch by Christophe Claret
Famous for its sophisticated wristwatches the Swiss company Christophe Claret has decided to surprise once again the watch world with the new project, which will be presented at the international exhibition BaselWorld 2012.
01.03.12 Comments(0)

New Baccara Dragon Watch by Christophe Claret
Video of the new model Baccara Dragon, which continued the line of "gaming" watches of the company, was posted on our site. Presented last year, the wristwatch 21 Blackjack made a furor on the watch market. But the novelty of Baccara Dragon does not yield to it both in technical and design terms.
27.01.12 Comments(0)

New Baccara watch by Christophe Claret at BaselWorld 2012
Watchmaker Christophe Claret will present at the upcoming International Exhibition BaselWorld 2012 its latest product - the luxury watch Baccara. At the moment we offer you to enjoy a wonderful video clip of the company. The detailed information will be posted in a short time on our website.
20.01.12 Comments(1)

Place your bets and win 21 Blackjack by Christophe Claret
The watch company Christophe Claret has announced its corporation with the Casino Monte Carlo. In honor of collaboration between the independent watchmaker of Le Locle and legendary casino in Monaco in December 9 and 10, 2011, in the walls of legendary house the gambling tournament will be held, where the main event will be the tournament of roulette.
30.11.11 Comments(0)



Christophe Claret is a watch company, which specialize in creating of complicated watches with using of advanced technology. The founder of this company is an engineer and watchmaker Christophe Claret, who created the most complex modules for the elite watch companies (Harry Winston, Jean Dunand, Guy Ellia, Ellicott, DeLACour). The history of the company started in 1987, when the head of one large Swiss watch company turned to Christophe Claret to create an exclusive minute repeater mechanism. To implement this order, Christophe Claret created his own company Christophe Claret. Over th...
Detailed information Christophe Claret