Gambling Watches
Watches are a symbol of style. No wonder I started this article with these words. What I am going to tell you shows the true character of watches owner indeed. The watches market constantly progresses and changes. Big watches and rare materials for watchcases and dials creation came and stay in fashion. More and more companies play with limited watches, although as demand increases they start release of limited ones in wide circulation and wide range, usually devoted to celebrities and outstanding events – a sheer dull sameness. And watches marketing experts and various watch companies CEO that earn a fabulous salary, don't twiddle their thumbs but always upon a look for a new topic the client will gobble up. Obviously those people couldn't let one of the main human vices – gambling – go by. Gambling and watch: what do these things have in common if they have at all? Casino, luxury, watches or like the Russians say: "I'm coming to luxury casino with a luxury watch on my hand!!!!!" All gamblers are divided in two categories: those who believe in luck and those who believe in their own skills. Nevertheless, all of them always depend on luck and keep their fingers crossed. There is no doubt that a big fat gambling will hardly do good for anyone. But many people who can take control of game, even gambling away a bit, may get a positive mood, escape from a backlog of problems and routine. Generally, gamblers and watch collectors are similar in some ways. Usually their hobbies are over their family budget. But unlike the gambler who cannot return his money, the watch collector takes a more valued position. Gambling is a widespread concept in psychology. Let's give the name for watch collection. Further I will tell you about watch brands which present "casino watches".
Nowadays there are not many watch brands producing such kind of watches. They are Girard-Perregaux, Azimuth, Franck Muller, Corum.


Girard-Perregaux Vintage 1945 Jackpot Tourbillon
- Legendary watches that can be qualified as high watch art. This model can take a worthy place in virtual watch museum. These legendary watches amaze by their extraordinary nature as well as by their price – over $600000. Vintage 1945 Jackpot Tourbillon – watch of 43x44 mm size, 17.3 mm in thickness – a miniature copy of slot machine. Hours, minutes, tourbillion, slot, little second hand. The tourbillion is fixed on Golden Bridge of 38 stones. The 96-hours power reserve, manual winding. The hand on the right of watch puts into play three barrels inside the watch. Each barrel has five symbols: spades, hearts, diamonds, horseshoe and bell. The choice of symbols is not random - it's a reproduction from first slot "Liberty Bell", created by Charles August Fey at the end of XIX century. By the way, at first those who were lucky didn't get their wins in money but in terms of prizes, like cigars and alcohol. That's why I advise the lucky owner of this watch to hold one cigar in his pocket: in case he breaks the bank and if the cigar is named, he can use it as a visiting card! The quantity of possible combinations is 25. After winding all three barrels start spinning, coming to a stop by turn. While each barrel stops you can hear the gong sound reminding of a coach clock sound. If you win (when three bells fall on line), you hear another more melodic sound reminding of slot sounds in casino. The watch caseback is made of glass demonstrating the exclusive mechanism of this unique watch. Created of 502 details, the watch becomes more complicated. Just imagine how much one will pay for this watch preventive maintenance in Moscow!!! The watches are made of yellow and white gold and are issued in a very limited number because of high price.
The Girard-Perregaux is rapidly taking its niche in the temple of fame as a top-class watches manufacturer producing watches with extraordinary complications each year.
Azimuth
Swiss watch company Azimuth stormed into the market. Since 2003 it has been fighting its way to star avenue in heavy market overfull with watch brands. The Avant-Garde Complications motto and slogan are proved by 100%.
This start-up company's range includes the complex tourbillion, and the retrograde watches hands-on, and the robotized watches. But we will pinpoint to the Azimuth SP1 Roulette model. The dial marking is designed as the European Roulette. The Zero sector has the Azimuth logo instead of zero figure. The roulette dial watches are not a rarity, but only Azimuth made its barrel with cavity that is more similar to the original. A decorative pin called turret is in the middle of real roulette. It is replaced by the hour and minute hands in watches, and the original frog realizes the second hand function and is moving constantly. The watch head is designed in the form of dice. It doesn't only switch the hands but also exercises the dealer function – throwing a ball. The ball doesn't move along the track but wheels above numerated spaces. When the button is pressed it turns several circles before stop. Every time the lucky watch owner triggers the mechanism, he gets an unexpected result which is rather exciting, as the real roulette game can be played only this way. The watch sizes are 55x35 mm. The watches limited edition counts 500 pieces. I can safely say that the watches non-typical look draws attention at once. And due to slight case bending the watch gently embraces your hand. I think it would be cheaper to hold the casino in your hand than to visit it!!! Especially since its retail price is $4500. Both experienced collectors and sophisticated persons will appreciate these watches at their true value.
Azimuth Round-1 Baccarat – faites votre jeu, ladies and gentlemen!!!
The successful positioning of "gamble" watch "SP-1 Roulette" encouraged masters of Azimuth for creation of new model Round-1 Baccarat, the design of which is inspired by gambling. This is the first watch with "baccarat" on its dial: there are four main positions of card game - "player", "dealer", "draw" and "pair". The model is equipped with supplementary forth central hand, designed for baccarat. The hand is rotated by modified movement. The "winner" is defined by pushing on "start" button, built in crown.
There are six versions of Round-1 Baccarat: men and women watches of high, middle and low price level. The men watch of high level is adorned with 1100 VVS Wesslton diamonds of approximately 7 carat total weight and costs $36500. The women version is adorned with 800 VVS Wesslton diamonds of approximately 4.8 carat total weight and estimated at $33.000.
The middle level is presented by models with mother-of-pearl dial and bezel, encrusted with 206 black and white diamonds of 1,2 carat total weight. The men model costs $8.800, and the women one - $8.300.
The models of men and women watches "Round-1 Baccarat", positioned at low level of the list, cost $4.800.
Frank Muller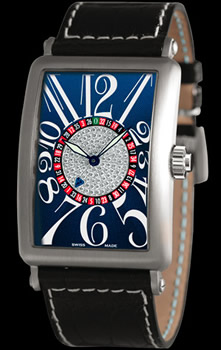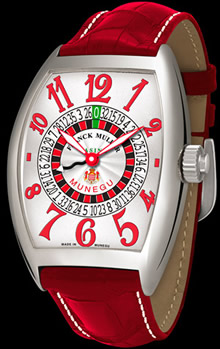 Franck Muller is a heavy-weight company at the watch market. It is glorious by its complex and exclusive watch mechanisms, has its emphatic style and spirit. Since 1999 the company produces the Vegas watches. Its name speaks for itself. Las Vegas is a Mecca for gamblers. 40 million of the richest people visit Las Vegas each year, so the chances that some of them are ready to buy watches are quite good. The company regularly issues limited editions. Two models, Franck Muller Curvex Vegas and Long Island Vegas, are in production process. How do these watches work? There is built-in button on the winding head. While you press and hold this button, the little hand starts moving rapidly. Only when you release the button, it stops. The barrel marking is European. The Zero is situated right at 12 o'clock. The Long Island Vegas watch size is 39,5x55,3 mm, its height is 12 mm. 21 stones, 28800 vibrations per hour. Its power reserve makes up 42 hours. The FM 2800 Casino caliber. Reference 1300 vegas 1p.
Corum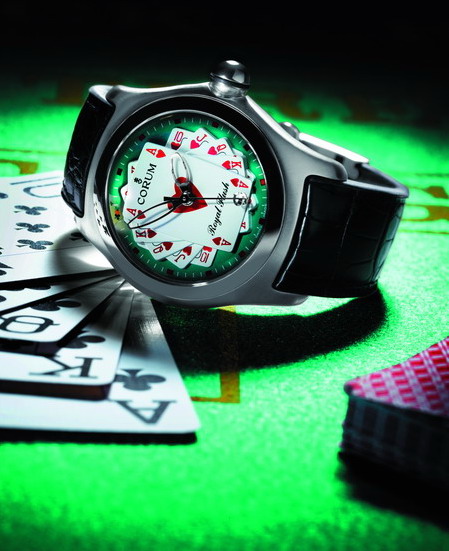 The Corum – before and after. Why did I start describing the watches with the phrase "before and after"? After the death of genius Corum designer and owner Severin Vunderman, Antonio Calce took the lead of the company. Having been at the head of the Corum in 1999, Vunderman decided to devote the brand style to youth trends and produced several lines with a wide range of colors. He brought into life the legendary Bubble line. At first sight, the line with its vivid dials and pictures reminds of kid's watches, but an impressive watch size throws back such thoughts. The new director decided to change the company's strategy and go away from the youth style. The sales slump mostly influenced this decision. I can't say that the style became classical, but less cheerful and stricter for sure. The limited edition of the Corum Bubble wasn't bestseller. You could get these watches at a great discount. However, after Calce claimed the change of company's vector, the market became interested in those models which were bought up quickly. It was more like another marketing mix for sales growth. I think the Corum will certainly return to the Bubble. Maybe because the Corum Bubble has something other watch manufacturers are dreaming of but still can't succeed in – this is distant recognition. Yes, distant recognition makes legendary watches out of simple ones. I'm not trying to convince you that these watches are masterpieces of Swiss watch industry. But there is definitely a special appeal in these watches created to make their owners happy. They cope with this task perfectly well. Corum Bubble designed three gamble watches: the Corum Bubble Royal Flash, the Corum Bubble Сasino, the Corum Bubble Joker. All of them had limited editions.
Corum Bubble Joker Chronograph steel – 777 pieces.
Corum Bubble Joker steel - 777 pieces.
Corum Bubble Royal Flash -777 pieces.
Corum Bubble Casino -777 pieces.

These models were also released in steel and welted, decorated with 2 rows of diamonds, by 111 pieces per each model.
All Corum Bubble watches have 45 mm diameter and 19 mm thickness. The thick curved sapphire glass creates a 3D picture on the watch dial.


Christophe Claret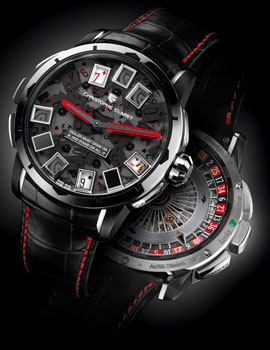 Christophe Claret is one of few companies, for which an avant-garde technology adoption is a matter of honor. The company's founder Christophe Claret created the most complicated modules for luxury watch brands. His list of innovative developments starts with minute repeater with petal dial, sliding apart like camera aperture, unique perpetual an astronomic calendar, orbital tourbillion… The list can be continued more and more.
An inquisitive and fertile mind of Christophe Claret is always in a state of search. The wrist watch Blackjack 21, embodying the gamble world with extra complicated watch movements, became his new creation. A unique dial is equipped with sensor effects, by means of which you can play blackjack, roulette and dice. You can play dice on dial with two miniature dice of 1,5 mm each with perfectly sharp lines. The dice are situated in side aperture at 4 hours.
The playing cards for blackjack are situated on dial in small apertures, four of which are in the bottom part and show the player's cards, and three apertures in upper part show the dealer's cards. Every time the shutter is opened, either by player or by dealer, the gong strikes and you can see the striking mechanism in aperture at 2 hours.
Blackjack is followed by roulette. An antiglare sapphire crystal of back case allows watching the oscillating weight, which also serves as a roulette wheel.
The model's design claims to be unpretentious and classic. An exact and perfect watch movement is provided with mechanic self-winding caliber BLJ08. A superaccurate movement on 40 jewelries and 7 ceramic bearings in two rows consists of 501 components and makes 28 800 a/h. The power reserve is 72 hours. The 45 mm case is crafted in white and pink gold, platinum and titanium. An elegant strap with two-screw fixing system is made of black alligator leather. Each variant of model is issued in a limited number of 21 pieces. The watches will cost from $196000 to $231000, depending on selected material.
A mini-casino on your wrist is a good reason to demonstrate your sophisticated taste.
Perrelet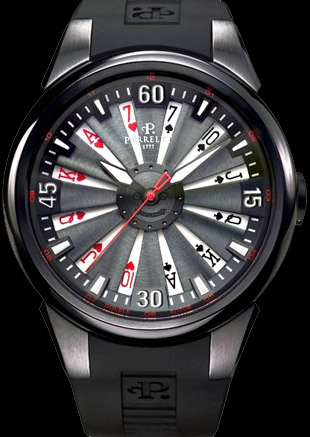 Enthusiasm, passion and innovations – these are the key words that sound in the watch house "Perrelet". The company's founder Abraham-Louis Perrelet also, perhaps, was inspired by those values while creating an automatic movement in 1777.
The watch brand became a worthy heir of that exclusive invention and used it in all its models. In 1995 Perrelet patented its exclusive know-how – double rotor. A unique automatic caliber showed two rotating rotors, situated under and above dial, to inquisitive consumers. The caliber underlay "Turbine" model, which became a visiting card of Perrelet.
The model "Turbine XL" became a base for new model "Perrelet Turbine Poker", which obtained a license in "Play watch" category.
Instinct, courage and style – main features, proving independent character of Perrelet Turbine Poker. The massive case of 44 mm diameter demonstrates confident and worthy character of watch. The fourfold riffling on sides of case is also seen on steel bezel with DLC (Diamond Light Coating). For maximum durability the natural rubber bracelet is fixed at junctions by central fastening – a decision, worth of imitation and presenting aesthetics of Perrelet Turbine Poker in all its perfection. The transparent back case in combination with different materials emphasizes the harmony of this line.
The dial of new model "Perrelet Turbine Poker" invites you to the card world, full of intrigues. Marked with red and white hour spaces, the dial demonstrates 3 different card combinations. The model "A4018/1" shows one pair of sevens, and the model "A4018 / 2" reflects a pair of sevens and two flash-royals, interchanging hearts and spades packs, at its owner will. And, finally, the model "A4018/3" represents two full combinations with three cards of one rank and one pair of sevens, and also a combination of four kings and one pair of sevens.
The watch costs USD 6000.

Bell & Ross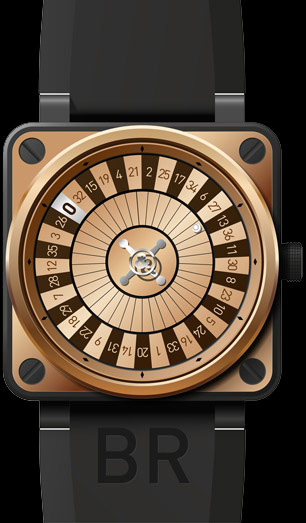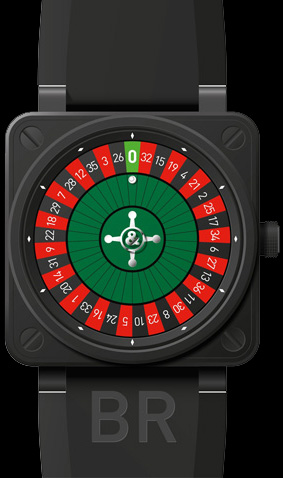 The French company "Bell & Ross", founded in 1992, is specialized in manufacture of watches for professionals of sea and air. The main components of technological approach for making time meters are movement reliability, material quality and special finishing, and the main design feature is use of pilot models' classic forms from the middle of XX century. The watches "Bell & Ross" refer to category of so-called «instrumental» chronometers, which sometimes look very technological. In time the watches with big square cases, reminding of airplane control panel, became a visiting card of the brand.
Even the "military" company couldn't be immune to the temptation of "gamble" theme. In 2011 it released watch "BR 01 Casino", keeping the recognizable style of Bell & Ross. Unlike many "gamble" models, the movements of which are modified for interactive involving the watch owner into the game, the watchmakers of the company focused their attention at adornment of dial, according to gambling. The watch dial, stylized after roulette wheel, has a specific system of time indication, realized by means of three concentric parts. The external ring, consisting of red and black slots, makes a rotation per 12 hours; the function of hour indicator is fulfilled by green space of zero. The minutes are indicated by small ball of roulette, situated at the middle disk, and the seconds are counted at central part by wheel handle. All construction is set in brand square case BR01. The watch was released in two versions – in case from pink gold and PVD-treated stainless steel. The golden model is also distinguished by dial color: the golden dial looks more respectable and luxurious and perfectly matches golden case. The watch "Bell & Ross BR 01 Casino Pink Gold Only Watch" was created for charitable auction "Monaco Yacht Show" and was sold for 18.000 euro, and BR01 Casino – for sale in casinos of Monaco, Las Vegas and Macau.
What conclusions can be drawn from this article? Is it good or bad to be a gambler? I don't know. We don't care about it. All we care about is watches. After all instead of gambling away we save money to buy watches. So, at the end of this article I've thought: "What if I add luck-bringing watches to my collection of military watches?" Make your books, Ladies and Gentlemen!


Savva Stranikov.