| | |
| --- | --- |
| New Sophisticated X-TREM-1 Watch by Christophe Claret | |
Famous for its sophisticated wristwatches the Swiss company Christophe Claret has decided to surprise once again the watch world with the new project, which will be presented at the international exhibition BaselWorld 2012.
In the new X-TREM-1 watch the manufacturer used the tourbillon function by applying magnetic fields to create the illusion of floating on air indicators of hour and minute. The X-TREM-1 watch - the first "swallow" of a new generation of watches, which are the main achievements of modern watchmaking in terms of technical equipment and aesthetics: "flying" tourbillon with an inclination angle of 30 °, mounted on three-dimensional titanium curved platinum and equipped with a retrograde system of hours and minutes indicating, this is radically different from existing ones. Two tiny steel balls, isolated in a sapphire tube on the left and right side of the case as if by magic moving next to the scales, covered with white fluorescent substance, due to magnetic fields.
The name of the model X-TREM-1 is an acronym for its technical capabiliti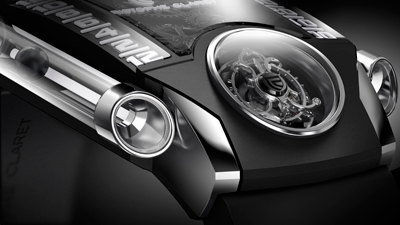 es:
X - Experimental
T - Time
R - Research
E - Engineering
M - Mechanism
The unique technology has been developed in conjunction with HEIG-VD (School of Business and Engineering) and the design team, headed by Professor Besson.
The case of the novelty has a rectangular shape and is made in several versions: polished pink gold, white gold or platinum. All cases are covered with PVD-coated in black titanium. The case dimensions constitute 56.80 mm x 40.80 mm x 15 mm. The watch water-resistant is up to 30 meters. On the reverse side of the case is placed the crown and the button of setting the time.
Inside the case is built a manufacturing mechanism FLY11 with manual winding. The dimensions of the mechanism are 46.4 mm x 26.6 mm x 11.94 mm. The caliber, collected on 64 jewels, includes 419 components, provides a 50-hour power reserve and the balance frequency of 21,600 vibrations per hour. Two winding barrels, set in caliber, provide time indexing and the work of the tourbillon. In the carriage of "flying" tourbillon, which is located on ceramic bearings, is installed the second hand.
Of course, it should be noted that each movement from start to finish is hand-assembled by one master, who is responsible for its quality. All models are tested THF (Test Homologation Fiabilité) and only after that they become the holder of a certificate that certifies their accuracy and quality.
New technological masterpiece X-TREM-1 by the company's Christophe Claret comes on a black alligator strap or rubber.
If you are interested in this unique masterpiece of technical progress, hurry to buy a watch X-TREM-1, because the production of new items is very limited. Of the three model variants with cases made of various materials will be issued only in eight items.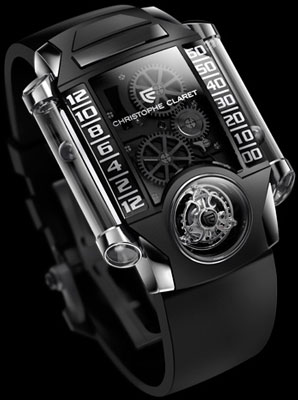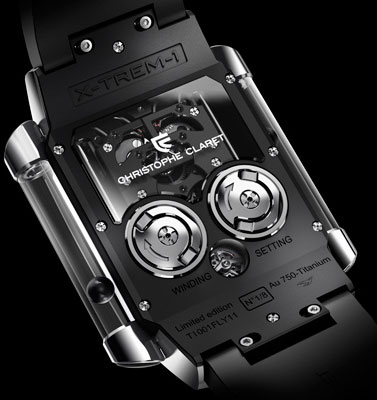 01.03.2012
New CEO of Christophe Claret
The company Christophe Claret has announced the resignation of the current executive director Stefan Feltgen at the end of November 2013.
02.12.13 Comments(0)

X-TREM-1 Pinball Timepiece by Christophe Claret for Only Watch 2013
Especially for the auction Only Watch 2013, the famous watchmaker Christophe Claret has released the original model X-TREM-1 Pinball. The first part of the name is an abbreviation: X - for Experimental, T - for Time, R - for Research, E - for Engineering, M - for Mechanism.
25.05.13 Comments(0)

New Kantharos Timepiece by Christophe Claret
At the upcoming international exhibition BaselWorld 2013, the watchmaker Christophe Claret will present a new model of watch Kantharos. Design of the novelty, as is evident from the watch name, inspired by a kantharos - an ancient Greek drinking vessel in the shape of the cup with two vertical handles.
17.04.13 Comments(0)

Soprano minute repeater by Christophe Claret
The largest in Latin America watch exhibition Salón Internacional de la Alta Relojería (SIAR), in which the Swiss watchmaker Christophe Claret will officially introduce a new limited edition model Soprano minute repeater, will be held from 2 to 4 October 2012 in Mexico City.
27.09.12 Comments(0)

BaselWorld 2012: Baccara Watch by Cristophe Claret
Presented at the international exhibition BaselWorld 2012 the Baccara watch is a sample of the original watch, in which has expressed the passion for the world of gambling of Christophe Claret founder.
12.03.12 Comments(0)

New Baccara Dragon Watch by Christophe Claret
Video of the new model Baccara Dragon, which continued the line of "gaming" watches of the company, was posted on our site. Presented last year, the wristwatch 21 Blackjack made a furor on the watch market. But the novelty of Baccara Dragon does not yield to it both in technical and design terms.
27.01.12 Comments(0)

New Baccara watch by Christophe Claret at BaselWorld 2012
Watchmaker Christophe Claret will present at the upcoming International Exhibition BaselWorld 2012 its latest product - the luxury watch Baccara. At the moment we offer you to enjoy a wonderful video clip of the company. The detailed information will be posted in a short time on our website.
20.01.12 Comments(1)

Place your bets and win 21 Blackjack by Christophe Claret
The watch company Christophe Claret has announced its corporation with the Casino Monte Carlo. In honor of collaboration between the independent watchmaker of Le Locle and legendary casino in Monaco in December 9 and 10, 2011, in the walls of legendary house the gambling tournament will be held, where the main event will be the tournament of roulette.
30.11.11 Comments(0)

Christophe Claret bets on poker
The watchmaker from Le Locle partners with Badih "Bob" Bounahra – one of final nine poker players in the 2011 World Series of Poker Main Event Championship.
05.11.11 Comments(0)



Christophe Claret is a watch company, which specialize in creating of complicated watches with using of advanced technology. The founder of this company is an engineer and watchmaker Christophe Claret, who created the most complex modules for the elite watch companies (Harry Winston, Jean Dunand, Guy Ellia, Ellicott, DeLACour). The history of the company started in 1987, when the head of one large Swiss watch company turned to Christophe Claret to create an exclusive minute repeater mechanism. To implement this order, Christophe Claret created his own company Christophe Claret. Over th...
Detailed information Christophe Claret