Now the 21 Blackjack and Baccara models by the company Christophe Claret are added with the novelty Poker, released especially for lovers of card games.
The model has a round case with a diameter of 45 mm. The Poker watch implements 32,768 different combinations of cards, based on the three players is 98,304 combinations.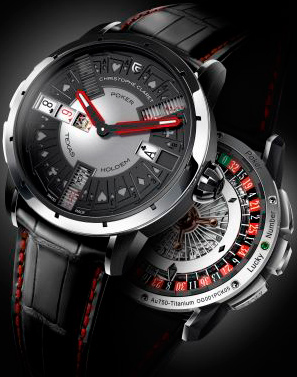 Christophe Claret Poker watch
The watch is programmed the most popular variant of poker - Texas Hold`em. The game begins with two cards, handed to each player, that are visible only to the player. Five other cards are dealt one: first three cards (the flop) appear, after which there is a trade. Then opened the fourth card hand (the turn) and go to the second round of betting. Last fifth card is dealt (river), which may be followed after the last round of betting. To win at Texas Hold`em, a player must have the best possible five-card hand from the seven available cards on hand ( two cards of the player five cards plus distribution).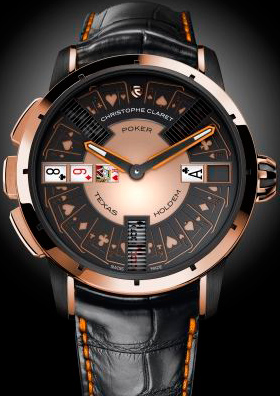 Christophe Claret Poker watch
With the push of a button at the 9 o`clock position in three windows, the players` cards appear. The curtain over each of the three windows can hide the cards from other players. After the first round you need to click at the 10 o`clock position, which will open the first three card, they appear in the box on the left side of the dial. After clicking at the 8 o`clock position in the window on the right will open the fourth card. The game completes another pressing the same button. When pressed, this opens the fifth card; it appears in the right window. Each press of the button opens the cards of the flop, turn and river rounds, accompanied by a cathedral gong.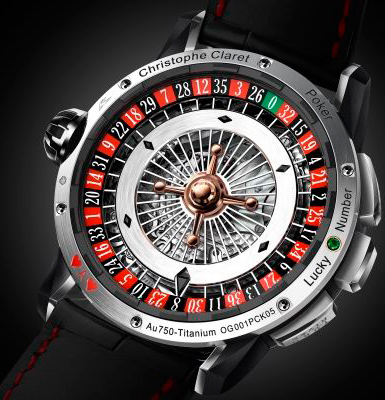 Christophe Claret Poker watch caseback
The game is provided by an automatic caliber PCK05 of 655 parts with two barrels and 72- hour power reserve. The rotor of the mechanism, made in the form of a roulette wheel, lets you discover your lucky number. After shaking the rotor to rotate, and the hand on it indicates one of the 37 numbers on the inner ring.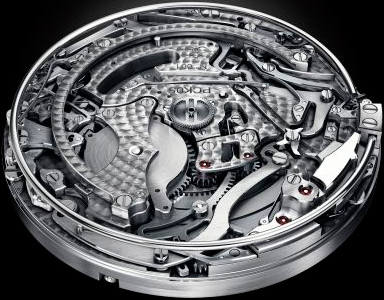 Automatic caliber PCK05
The new Poker watch is available in four versions: white gold and titanium N5 with black PVD-coated, pink gold and titanium N5 with black PVD-coated, titanium N5 with black PVD-coated and hands with blue spinel, titanium with 5 N black PVD-coated and hands with a ruby.
Each variant is released in a limited edition - 20 items.
Official site of Christophe Claret.
Written by Angel
21.01.2014