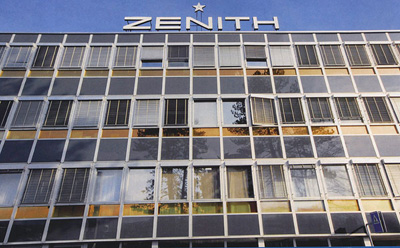 Swiss watchmaking Zenith was founded in 1865.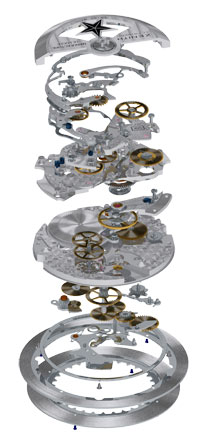 Its creator young Swiss Georges Favre-Jacot. At age 22, he created the concept of watch factory. Ten years later, the factory Zenith employed more than 1000 employees. After the First World War the company was able to increase the production of its watches to two million units per year. During World War II, Zenith produced devices for military purposes. Opened new branches in Geneva, London, Paris, New York, Vienna and Moscow. In 1969, the company produces a model of El Primero - Automatic Chronograph, which today remains the most accurate chronograph in the world. In 1999 the company acquired Zenith group LVMH. The company has more than 1500 Zenith Awards, more than 50 legendary caliber. It is not surprising, as is well-known manufacture unique movements. Zenith wristwatch is equipped with a mechanical ultra-day Elite caliber and 22-linear mechanism of 5011 K, having a manual winding.
Thierry Nataf headed the company several years ago and almost single-handedly transformed the technically advanced but stylistically weak manufacture into one of the most active and fastest growing brands on the planet. Those who have closely followed the development of haute horlogerie, seen after the commercial hits from Zenith in 2003, magnificent success, was released in 2004 Tourbillon Chronomaster X x T and the premiere in 2005 - watches Grand Class Traveller, Nataf managed as a magician of sleeves, pull out the light of day in 2006, almost iconic sports line Defy, which was a brilliant mix of glamor and fine mechanics. He decided to restore the line in a radically updated form, which is produced in 70th years.
How is it that Thierry Nataf a few years transformed the company and raised it so high that it is among the top five factories? Indeed, until quite recently in Zenith seriously studied the possibility to rename the brand in the El Primero, in honor of the famous movement, which works including some Rolex!
"I had an aim - says Nataf - and I knew how to reach it."
What did Nataf revolutionary? He made a bet on advanced technologies available to us today, and new materials and created a high caliber. Zenith became an independent company, concentrating the production of virtually all major components for watches under the brand name "Zenith" in their hands.
Today the company produces five collections for men - Academy, ChronoMaster, Class, Port-Royal and sports Defy. Manufactory established four women's collections - Star Sea, Star Love, Star Rock and Starissime. Many of these models are produced in limited editions, which makes the watch Zenith even more unique.