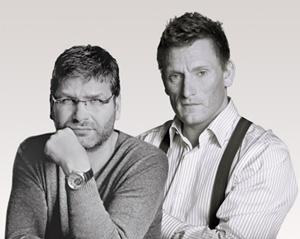 Greubel Forsey company was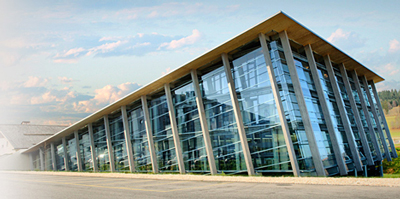 founded by a Frenchman Robert Grebel and an Englishman Stephen Forsey. They met in 1991 while they worked together at Audemars Piguet (Renaud & Papi) SA. In 2001, they found a company CompliTime SA in La Chaux-de-Fonds, which developed sophisticated movements for different brands. Then the masters decided to start developing their own watches, which were different from other brands. Greubel and Forsey found a laboratory Experimental Watch Technology (EWT), where they test new concepts and technical solutions, the 30-degree tourbillon and other future complications.
And in 2004, at the Basel show, Grebel and Forsey submitted their first and the only watch - Double Tourbillon 30 °, which immediately became a sensation of the exhibition. Unlike other brands that are represented by only a concept, Grebel and Forsey's are real. Tourbillon, which Abraham-Louis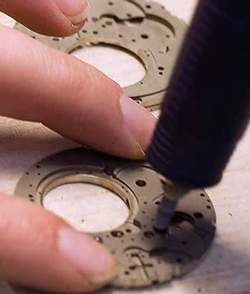 Breguet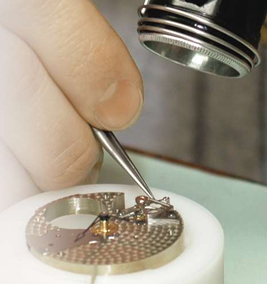 created over 200 years ago, was intended to eliminate the effect of gravity on the Earth's precision. The whole idea was to force the shutter assembly to rotate around its axis and thereby compensate for errors in different positions.
It should be noted that since the early 90-s of XX century, people were paying a lot of money to buy a watch, of course, expecting them to be highly precision. Tourbillon in a wristwatch - is one of the most popular and expensive complications. But the problem is that located in the same place as the tourbillon and movement is not effective to watch. Tourbillon does not affect the precision, if the watch and mechanism are arranged horizontally.
30 years ago, research began in the Tourbillon, which rotate in multiple places - two, three, or at an angle of 90 degrees to each other. But between the carriages is the right angles and therefore large tourbillon, which makes the watch thick and uncomfortable.
The company's founders Greubel Forsey proceed as follows. Inside the big carriage of about 15 mm diameter, which rotates once every 4 minutes, they mounted the little carriage that rotates once a minute, but at an angle of 30 degrees. In a small carriage with a free spring balance makes 21,600 vph. This new system of two carriages weights 1.17 grams and consists of 128 elements. Watches became comfortable to wear, the accuracy of hours increases. This fact is confirmed by the 24 hour test at six different positions of watches without a tourbillon, tourbillon with classical and 30-degree double tourbillon.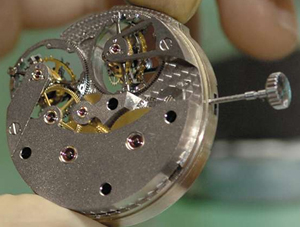 The last option shows the exact course even in the horizontal arrangement of watches. Energy mechanism receives from the two winding drums, which provide a reserve of not less than 72 hours. Double Tourbillon 30 ° - very fine watch. They were designed from the ground up just under a double tourbillon movement. The diameter of 36.4 mm is the mechanism. Non-standard location mechanism with two platinum organizing interior space wheel transmission and bridges, opening for the double tourbillon space. Bridges are made of platinum and zinc alloy, nickel and copper, which are used to produce high-quality watch. Platinum decorated with circular graining, and bridges - a fine-grained - that securely stores machinery parts.
Most of the carriage, which rotates once every 4 minutes, is used to indicate a 4-minute periods - they are strengthened by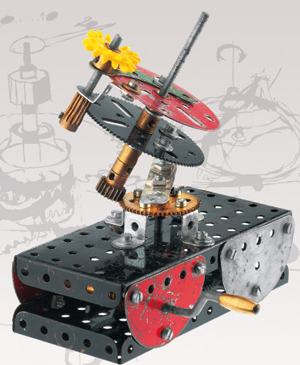 four-point shooter with a triangle on one end. The golden plate on this carriage has placed, which is a contrast: it engraved individual number of watches. The dial consists of two parts. The case engraved and decorated with a spiral pattern, and movement of the two sides covered with the sapphire crystal. It should be noted that the case bears special screws that can only be opened by master of Greubel Forsey.
The next invention Grebel and Forsey - «Quadruple Tourbillon» - four asynchronous tourbillon. Two double tourbillon arranged opposite each other. They rotate in opposite directions. Minutes appear on a rotating disk.
The third invention - «Tourbillon 24 Secondes Incliné», which has no common parts with the two previous models. Here the carriage Tourbillon rotates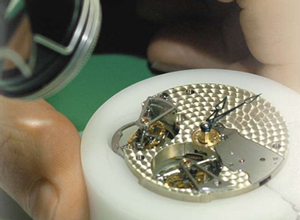 very fast, it helps to overcome serious technical difficulties. They used a special alloy that is used in aviation and space. Part of the parts were made of titanium. But despite this, managed to reduce the weight of 85 parts up to 0.469 grams.
Greubel Forsey company during its working released three collections Double Tourbillon 30 °: Contemporaine (Vision and Secret), Invention (Invention Piece 1) and Technique (Double Tourbillon 30 ° Technique).
Greubel Forsey released «Double Tourbillon 30 ° Edition Historique» - the latest model from the collection of «Double Tourbillon 30 ° Contemporaine».
In November 2010, at the exhibition «Watch Days» (in Geneva), Swiss watch company Greubel Forsey took third place in the category of "men's watch." And in a week in Geneva, this model was awarded the highest prize "Golden Arrow".