| | |
| --- | --- |
| The project "Chronometer: the birth of Watch" | |
Famous watchmakers Robert Grebel, Stephen Forsey and Philip Dufour represent a new joint project "chronometer: the birth of Watch." It is aimed primarily at multiplication, preservation and transfer of expertise in watch making for future generations. Stephen Forsey, Robert Grebel and Philip Dufour have been united by total passion for timekeeping and convergence of views on this art.
Three masters agreed that today practice and some of the techniques of this hand watch making are in decline, losing, and gradually more and more being replaced by industrial technology. Masters could not remain indifferent to this and so they decided to implement the project. Its essence is to highlight the process of creating a watch from the time of development, and sketch to the finished chronometer. The project "Chronometer: the birth of Watch" will unfold in two directions: first techniques will be selected to create watches that require conservation as a legacy. The second step is the transfer of these techniques to a talented and young artist to embody and perpetuate them in a chronometer. For the second phase the organizers have chosen a French watchmaker named Michel Boulanger. He is a graduate of the repair of watches, as well as a teacher of the Paris School of chronometric art.
Boulanger has goal to make some unique pieces of wristwatch Haute Horlogerie by hand. In this of course, he will be supported by three organizers of the project. But this all does not end: then Boulanger should become not just a bearer of this skill, but must deliver it to the next heir.
Wrist watches Haute Horlogerie, born by this project, will be the best embodiment of the present techniques of chronometric excellence. These watches will have a tourbillon and three - hands mechanism with manual winding - a kind of combination of modern technology and tradition. Through the implementation of this unique project, Robert Grebel, Stephen Forsey and Philip Dufour expect not only to preserve the tradition of watch making, but also to share them with a greater number of colleagues.
For the public within the project "Chronometer: the birth of Watch" will be released on a series of 3D movies, which will be presented in detail all the techniques of watch making. It is planned to carry out training in the form of games. This is the most effective way to save this human art for future generations, because the media form of information today is increasingly gaining popularity. Also, the development of the project can be monitored on a special blog. Finally, the world round trip for a personal meeting with all the judges of the World.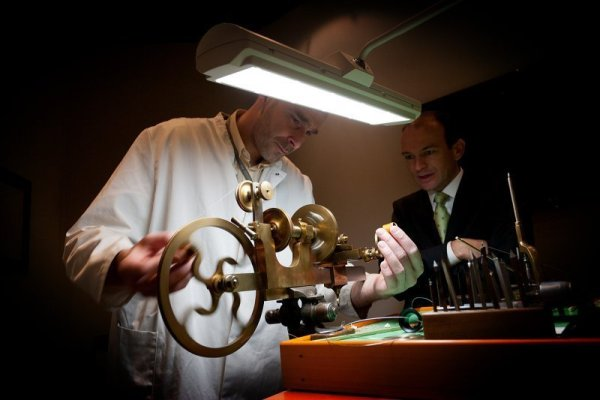 25.02.2012
SIHÍ 2014: QP a EQUATION by Greubel Forsey
A well-known watchmaker Greubel Forsey presents its next masterpiece of watchmaking – a model QP a EQUATION. The main feature of this model is a perpetual calendar, which remains one of the most "respected" watch complications.
29.01.14 Comments(0)

New Greubel Forsey GMT Timepiece
The watch brand Greubel Forsey has announced the release of a new model Greubel Forsey GMT, equipped with a multi-level dial and multi-axis tourbillon.
12.08.13 Comments(0)

SIHH 2013: Greubel Forsey Presents Double Balancier 35 Degrees Watch
At the SIHH 2013, held from 21 to 25 January, the Swiss company Greubel Forsey has unveiled its novelty Double Balancier 35 Degrees. The watch, produced in a limited edition, features the innovative mechanism with two oscillators and two escapements.
01.02.13 Comments(0)

Exclusive Novelty Balanciers by Greubel Forsey
Every model of watch manufacture Greubel Forsey is a work of art. Collectors from all over the world dream to have in their collection exclusive watches of this brand. Another novelty of the masters of manufacture Greubel Forsey will go unnoticed and will please fans and admirers of watches.
18.09.12 Comments(0)

Double tourbillon by Greubel Forsey
The famous watch company Greubel Forsey has released an amazing new watch Quadruple Tourbillon Secret. This model has two tourbillon, none of which are exposed on the dial - it can only be seen through the transparent case back, and the dial has a couple of related with them indicators.
27.01.12 Comments(0)

Greubel Forsey is opening Time Art GalleryGF in Shanghai
The idea of opening the gallery Time Art GalleryGF combines three columns related to the creation of watchmaking art masterpieces of: a watch collection Greubel Forsey, mutual co-operation with well-known contemporary artists, as well as the work of those watch masters whose masterpieces the company Greubel Forsey sees as a turning point in the history of watchmaking.
13.12.11 Comments(0)

A new watch Greubel Forsey with the function of GMT
The watch brand Greubel Forsey has introduced a new and uniquewatch with the feature of GMT. During the last decade the watch company Greubel Forsey created the newest in the world movements with tourbillions.
04.11.11 Comments(0)



Philippe Dufour is a living legend, one of the most respected, talented watch craftsmen, having worked in the watchmaking industry for long years. He is a member of AHCI - Académie Horlogère des Créateurs Indépendants, founded in 1985 by Svend Andersen and Vincent Calabrese, its aim is to restore traditional watchmaking craftmanship. Philippe Dufour was born in Vallee de Joux and started studying watchmaking at Sentier school at the age of 15. He started working as a watchmaker in 1967 at Jaeger-le-Coultre company, where Gabriel Locatelli, a great watchmaker, opened all watchmaking art secrets to him. After that Philippe worked at different companies, situated on the Caribbean Islands and in 1974 he returned to Switzerland, where he started working ...
Detailed information Philippe Dufour






Greubel Forsey company was founded by a Frenchman Robert Grebel and an Englishman Stephen Forsey. They met in 1991 while they worked together at Audemars Piguet (Renaud & Papi) SA. In 2001, they found a company CompliTime SA in La Chaux-de-Fonds, which developed sophisticated movements for different brands. Then the masters decided to start developing their own watches, which were different from other brands. Greubel and Forsey found a laboratory Experimental Watch Technology (EWT), where they test new concepts and technical solutions, the 30-degree tourbillon and other ...
Detailed information Greubel Forsey