| | |
| --- | --- |
| Greubel Forsey is opening Time Art GalleryGF in Shanghai | |
The idea of opening the gallery Time Art GalleryGF combines three columns related to the creation of watchmaking art masterpieces of: a watch collection Greubel Forsey, mutual co-operation with well-known contemporary artists, as well as the work of those watch masters whose masterpieces the company Greubel Forsey sees as a turning point in the history of watchmaking. The company Greubel Forsey has chosen to open a gallery in Shanghai, which is the center of interlacing of inhabiting its peoples cultures.
The watch audience is presented Greubel Forsey the watch collection, released in the last 13 years. In 1999, confident in the thought that the high art of watchmaking as a means of artistic expression, and not just technical skill, two masters decided to merge. Each model by Greubel Forsey is a distinct commitment to innovation and superior to the existing constraints, as reflected in the mechanisms of the company. Thus, the shape should be followed by the functionality, and the luxurious appearance of watch is completed with the image of the perfect mechanism put up on display both the front and the reverse sides of the watch.
The gallery also presents the works of Philippe Dufour, one of the staunchest defenders of traditional watchmaking, whose works are masterfully executed and finished by hand, and Vianney Holter, famous for its avant-garde architecture of deconstructionist watches in the style of Futur Antérieur.
Greubel Forsey is also collaborating with the British sculptor Willard Wigan. As a result of this wonderful partnership in the near future, the gallery will present a watch, in which will be placed a sculpture by Willard Wigan. The uniqueness of creativity Willard Wigan is the fact that his micro-sculptures are located in the needle-ear or on top of a pinhead. It interprets and recreates in the microscopic form such masterpieces as Michelangelo's sculpture of David, the Last Supper by Leonardo da Vinci, the popular characters Peter Pan and Alice in Wonderland. As the project progresses new masterpieces will be exhibited at Gallery Time Art GalleryGF.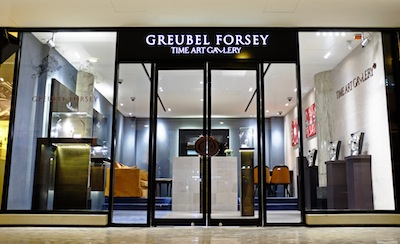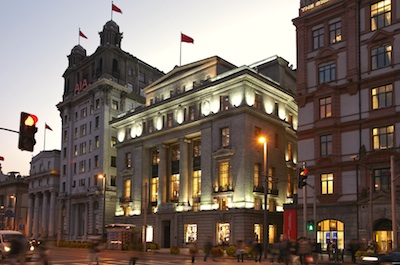 13.12.2011
SIHÍ 2014: QP a EQUATION by Greubel Forsey
A well-known watchmaker Greubel Forsey presents its next masterpiece of watchmaking – a model QP a EQUATION. The main feature of this model is a perpetual calendar, which remains one of the most "respected" watch complications.
29.01.14 Comments(0)

New Greubel Forsey GMT Timepiece
The watch brand Greubel Forsey has announced the release of a new model Greubel Forsey GMT, equipped with a multi-level dial and multi-axis tourbillon.
12.08.13 Comments(0)

SIHH 2013: Greubel Forsey Presents Double Balancier 35 Degrees Watch
At the SIHH 2013, held from 21 to 25 January, the Swiss company Greubel Forsey has unveiled its novelty Double Balancier 35 Degrees. The watch, produced in a limited edition, features the innovative mechanism with two oscillators and two escapements.
01.02.13 Comments(0)

Exclusive Novelty Balanciers by Greubel Forsey
Every model of watch manufacture Greubel Forsey is a work of art. Collectors from all over the world dream to have in their collection exclusive watches of this brand. Another novelty of the masters of manufacture Greubel Forsey will go unnoticed and will please fans and admirers of watches.
18.09.12 Comments(0)

The project "Chronometer: the birth of Watch"
Famous watchmakers Robert Grebel, Stephen Forsey and Philip Dufour represent a new joint project "chronometer: the birth of Watch." It is aimed primarily at multiplication, preservation and transfer of expertise in watch making for future generations.
25.02.12 Comments(0)

Double tourbillon by Greubel Forsey
The famous watch company Greubel Forsey has released an amazing new watch Quadruple Tourbillon Secret. This model has two tourbillon, none of which are exposed on the dial - it can only be seen through the transparent case back, and the dial has a couple of related with them indicators.
27.01.12 Comments(0)

A new watch Greubel Forsey with the function of GMT
The watch brand Greubel Forsey has introduced a new and uniquewatch with the feature of GMT. During the last decade the watch company Greubel Forsey created the newest in the world movements with tourbillions.
04.11.11 Comments(0)



Greubel Forsey company was founded by a Frenchman Robert Grebel and an Englishman Stephen Forsey. They met in 1991 while they worked together at Audemars Piguet (Renaud & Papi) SA. In 2001, they found a company CompliTime SA in La Chaux-de-Fonds, which developed sophisticated movements for different brands. Then the masters decided to start developing their own watches, which were different from other brands. Greubel and Forsey found a laboratory Experimental Watch Technology (EWT), where they test new concepts and technical solutions, the 30-degree tourbillon and other ...
Detailed information Greubel Forsey