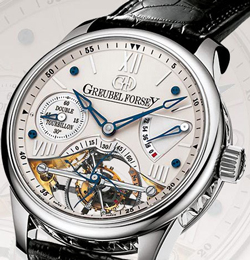 Swiss watch company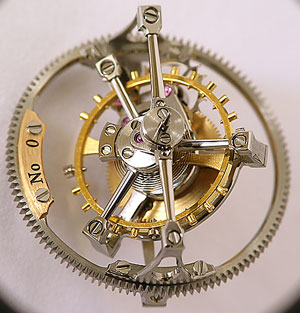 Greubel Forsey established themselves world scene recently, but managed to secure for the title of one of the most prestigious manufacturers of expensive luxury watches and goods. Watch company was founded by two companions, Robert Grebel and Stephen Forcy in 2001. They met while working on a project for Audemars Piguet watches in 1991. After 10 years, they decided to open a company that would deal with the development of technological innovations to other brands. The new company is located in La - Chaux - de - Fonds. In a small laboratory Experimental Watch Technology companions created its first watch brand Greubel Forsey. It was a well-known model Double Tourbillon 30 °. It was first presented at the exhibition in Basel in 2004. Invention, despite the fact that the firstborn is the Force and Grebel, has caused serious concern to the young brand. These watches were redesigned tourbillon, which improved the accuracy without increasing the size of the case. Double Tourbillon 30 ° differ unusual and stylish design. Each individual part and the case developed from the ground up specifically for the double tourbillon. Bridges and platinum watches - an alloy of zinc and copper, nickel, and sapphire crystal. Now on the basis of the first model, the Swiss watch company has released a collection of Greubel Forsey Double Tourbillon watch high of 30 °. The very first model of this series of chronographs called Double Tourbillon 30 ° Vision. It has dug a dial, which allows to evaluate all the advantages of this invention. Watchcase Double Tourbillon 30 ° Vision are manufactured in several variants: with yellow, white or rose gold, leather straps are made of the respective colors. Another model of a watch was called Double Tourbillon 30 ° Secret. Its difference is the closed face, behind it a graceful work of professional artists Greubel Forsey. Chrono Invention Piece 1 - a tribute to the movement, which marked the beginning of the existence of not only watch Double Tourbillon 30 °, but the company as a whole. Model Technique is completely open dial that displays all the structural features of this series. Made this watch in 18-carat rose or white gold and have black leather straps. Watches Edition Historique are the final link in a series of Double Tourbillon 30 °. Bright design skills is striking watch, this watch is made of platinum or red gold.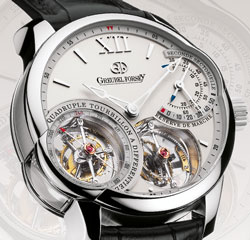 Quadruple Tourbillon watch collection,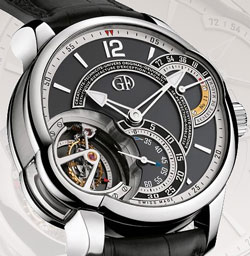 released Grebel and Forcy - is the watch Quadruple Tourbillon. It is a mechanism with four asynchronous tourbillon, two double tourbillon, which are located opposite each other and rotate in opposite directions. The collection includes two models: Quadruple and IP2. They are performed in 18-carat rose gold or platinum and have high precision and exclusive design. The last series of watches from Greubel Forsey is Tourbillon 24 Secondes. This series of structures bears little resemblance to the previous ones. Tourbillon carriage in watches has a greater speed, which allows to reduce the negative effects of gravity on the movement of watches to a minimum. The first model is called the Greubel Forsey 24 Second Tourbillon (T24S). It has a convenient asymmetrical case made of gold or platinum. The second model is the Greubel Forsey Invention Piece 3 (IP3). It has has a great 24-hour display, minute and seconds dials, as well as the power reserve indicator. These watches are made in the case of 18-carat rose or white gold and platinum, sapphire crystal, crocodile leather straps. In 2010, Greubel Forsey won a prize at the exhibition Watch Days and was awarded the highest award in Geneva.