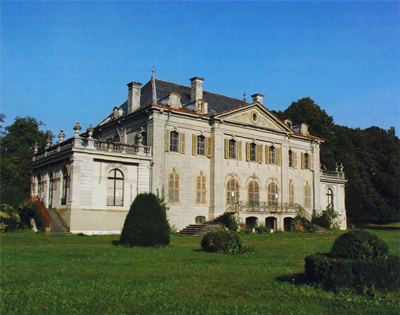 Franck Muller, calling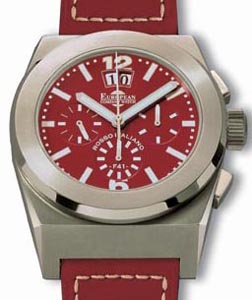 himself Master of Complications, aiming not on the construction of movement, but on design. At first he invented how new watch must look like, then he develop the movement with appropriate details. Primordial success of the brand was due to the chronographs were made for customers, who can not only examine it but wear as well. Franck Muller is far away from another brands. He is not just the complicated watch's master but also the real master of perfect presentation. This applies not just to design, but to how Franck Muller presents his new chronographs. The watch company are sure that exclusive watches worthy of special, carefully organized premiere. In 1998 Franck Muller refused to participate in Geneva salon and began to pursue his personal presentation on villa Jeanty, which was called The World Premiere Haute Horlogerie (WPHH). It is not right to think that watch house Franck Muller is just art power of Franck Muller, sitting and inventing something unique and exclusive. Muller's company Watchland thrives independently from its founder, this is powerful enterprise with perfect equipment, professional workers, watchmakers, designers, personal school and strategy of development.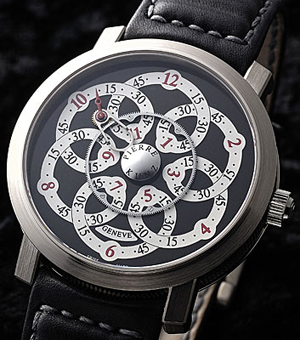 Franck Muller Watchland SA is the program, which oriented on future development, this is illustrated by newest brands' success of company Pierre Kunz and ECW. Their idea was conceived like the first corporation's brand-is chronograph, oriented on particular costumer. That is why Pierre Kunz and ECW learned fro far and don't look like others, and every brand is associated with the name of its head and creative fellow campaigner. The first-with strict watch constructor Pierre Kunz, the best master of Watchland. Embarrassingly complicated watch Pierre Kunz is serious, even exaggerated classic (straight lines, big marking, mens' design), which talented watchmaker upgraded, added few exclusive sectors on the dial. The main idea of Pierre Kunz is retrograde indication for all secondary functions from Calendar to second hand. The second newest brand ECW (European Company Watch)
also led by Franck Muller's employee, energetic Italian Roberto Carlotti., who compares his watch with panzer: they are huge, powerful and reliable. Their uniqueness in that massive watch resembles heavy steel beams, on the wrist looks very organic, thanks to carefully calibrated design and anatomic case. All three brands are not just united by one leadership but create in the same place-in Watchland, which can be called "The land of watches", and not just watch manufacture. On the huge area there are some manufactures, which provide a full cycle of watch production. The most important departments Franck Muller Watchland SA are innovation and design departments. There they produce all the three brands' new series. The motto of watch house Franck Muller Watchland SA is "You can create something new always". Annual premieres Franck Muller: Tourbillon Revolution 2, Tourbillon Imperial, Tourbillon Revolution 3. Now Franck Muller Watchland SA got all details of production create on their own manufacture: movements, cases, glasses, dials, bracelets, even ebauches (the basic movements where then add complications). Full independence of watch company Franck Muller from external suppliers guarantee the perfect production's quality and let to develop manufacture in the future without new brand's involving. Besides jewelery department, the work with precious metal and stone cutting are also situated at Jeanty villa. This let to manufacture to create its own exclusive line of jeweleries, which successful all over the world.