The Swiss watch company Franck Muller produced the series of unique by its design and technically accurate chronographs Cintree Curvex. Initially, the watches Cintree Curvex were planned to create with complicated watch movement and absolutely new shape of case. The famous three-dimensional case has been created by complicated calculations based on the theory of perfect balance. The main achievement is that the case did not include a chronograph a single straight line and a single flat surface. The case was twisted everywhere: in the direction of 12 o'clock, 3:00, 6:00 and 9:00. In watchmaking Cintree Curvex apply sophisticated technologies. Chronographs of series Cintree Curvex have different exclusive designs, perfect precision machinery.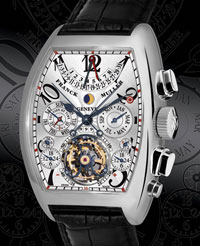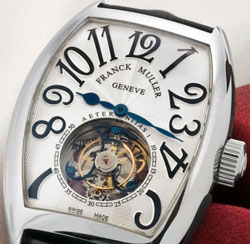 Cintree Curvex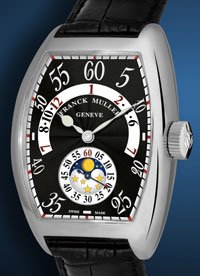 Tourbillon Chrono Rattrapante Aeternitas
The movement of this model was made on the base of movement with tourbillon and power reserve (200 hours). Underneath of dial there is a chronograph, which have three counters equipped with column wheel. Counter of chronograph minutes located in the "3:00", the stopwatch hand is at the center, also has a split - chronograph. When set to 9:00 you can see the 24 x - hour second time zone dial.
Cintree Curvex Tourbillon Chrono Rattrapante Perp. Cal. GMT Aeternitas
Women's watches which gathered different complicated functions. Caliber with integrated chronograph flyback supplemented with perpetual calendar. The dial contains various counters: date display, a pointer to the moon phases, retrograde hands of the hour counter placed at the top of the hour. In a split - chronograph, two separate time zones, a tourbillon and a pointer to a leap year. In chronograph Cintree Curvex Tourbillon Chrono Rattrapante Perp. Cal. GMT Aeternitas no power reserve indicator, in order to save space, but the margin - still accounts for 8 days.
Cintree Curvex Hours Retrograde, Moon Phase & Small Second
This model reflects a different perception of time - day and night. Watches that relate to different time of day, arranged in two concentric arches. Arch differ in color and size and equipped with a retrograde needle. A pointer to the lunar phases inside the small second hand dial.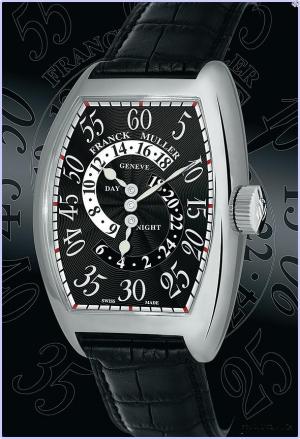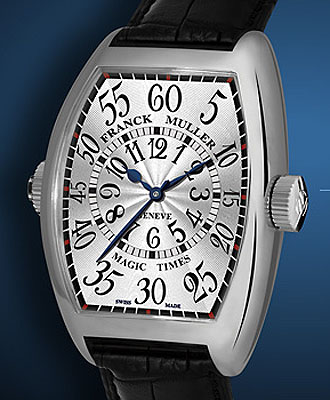 Cintree Curvex Double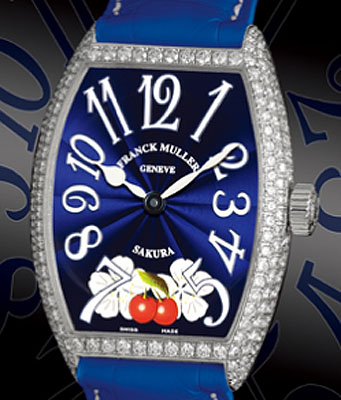 Hours Retrograde
This model have two retrograde hands which are situated on the top and down of axis of the center. The hands are designed for day and night hours.
Cintree Curvex Magic Time
This automatic watch, in which the watch and minutes remained fixed on the figure 12. Learn time by clicking a button, located next to the crown. The hands jump to the desired hour and then return to starting position.
Cintree Curvex Sakura
Sakura watches with quartz movement were made in honor of the daughter of a Japanese distributor of watch house Franck Muller. Instead, figure 6 shows two cherries. There are options with white and black diamonds, which are fully veiled case of those watches.