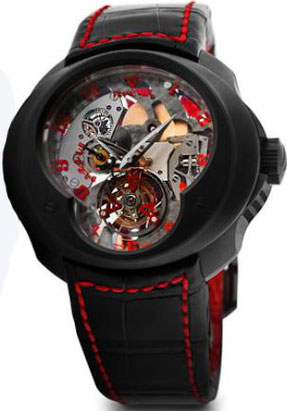 "Bandit," "Black Russian",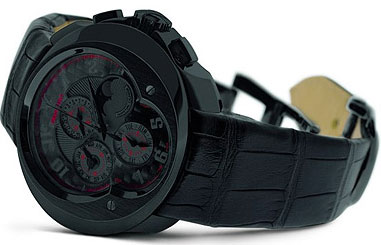 «Ultra Concept." These names of the new Franc Vila watches talk about what they are for people whose desire for luxury is combined with the ability to treat yourself with humor and challenge to society. Rapid rise of a young unknown brand to the top of the watch industry and surprised the experts. Two years after the release of the first series was followed by Prime Minister of the manufacturing of personal FV1 caliber tourbillon and a five-day power reserve, to which are added each year more and more unique complexity - from the minute repeater with an exclusive one-touch system of gongs to the chronograph. To emphasize the ease and ability to enjoy the days of past, Franc has created a unique concept: a model of FVa ¹ 6 Tourbillon Planetaire Sceleton SuperLigero. SuperLigero translates from Spanish as "ultralight." The first time the famous cases of Franc Vila Esprit Unique bezel with an ellipsoidal appears in the performance of lightweight titanium black. The most amazing thing is hidden inside the case. Two sapphire windows on both sides clearly visible chronograph caliber new FV ¹ 6 with "floating" hand-wound tourbillon and (range of the classic - 120 hours). Movement-skeleton is made in the shape of figure 8, to meet the look of the bezel, and platinum and bridges are made of Lightium. This light metal alloy red Franc Vila has created for his own personal recipe. Under glass and sapphire tourbillon visible not only hands, but the system works and power reserve indicator at the level of "9:00." Owner of SuperLigero gets an exclusive opportunity to observe not only how the watch movement, but also as a twisted and untwisted its "engine" - a spring winding drum. Although SuperLigero is a skeleton tourbillon, this is pretty sport watch, because it weighs almost nothing and perfectly fitting to the wrist. Sporty rubber strap confirm the unique and water resistant is up to 100bar. Each version of the concept is limited to an edition of 8 pieces. Premiere of the other new items - Franc Vila FVa No5 BDHES Black Russia was held before the exhibition in Basel, and was held in Moscow. This model of Frank Vila produced specifically for the Russian collectors. Enthusiasm for the case size Black Russia expressed all members of high society: the real watch, worthy of a strong, big man. The diameter is 56 mm of chronograph. Within a large case made of black steel, installed its own module movement FV ¹ 5, as the forms of "8" in size and perfectly appropriate to its enormous frame. Big movement implies greater accuracy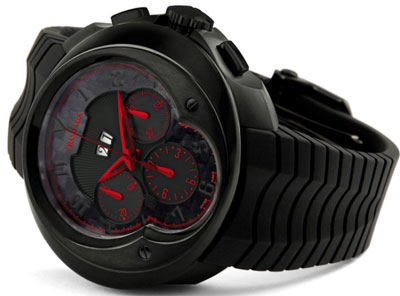 and the ability to augment stroke. In the movement of FV ¹ 5 has two winding drum, which provide a power reserve of 10 days. A patented control system Frank Viloy accuracy of Self-Controlled Precision System guarantees chronometric characteristics of stroke. Bridges and platinum are made of black steel and are completely stunned. All parts are covered by the movement and polished. This is an exclusive series of 88 pieces. A most strange and extraordinary series of watches under the name El Bandido Vila shown at an exhibition in Basel. El Bandido - it's three models completely black watches which dial movement and if the masked bank robbers. All watches El Bandido are made of black titanium and carbon fiber dials in black, on which typed and display counters. The series has three models: FVa ¹ 1 with tourbillon and power reserve, as well as two brand new models of sports chronograph and perpetual calendar FVa9 FVa11. Fva9 is equipped manufactory caliber FV9, which, in addition to indicating the hours, minutes and seconds, added to the module indicating day, date and moon phases. The lunar calendar is painted in different shades of black. For the practical convenience of a few key layouts in chronograph: a second counter hours and minutes are painted bright red. At the same time, perpetual calendar FVa11 El Bandido, other than personal calendar module with the phase of the moon, equipped with fly-back chronograph. Black counters on carbon dial duplicated. At the level of "12 hours" is the second hand side (red markings) and date indicator. At the level of "3:00" - a pointer to the phases of the moon. At "6:00" is counter hours and days of week, and at the level of "9:00" - just three indicators: the 30-minute counter, pointers months and leap years. El Bandido movements are self-winding rotor design personal Franc Vila with a gold rim, rotating in such a way that provides a power reserve of 80 hours per day. Lightweight and solid case, water resistance is up to 100 bar. Black case is made of a black alligator strap with folding clasp in black hardened steel.