| | |
| --- | --- |
| New Women's Watch by Franc Vila | |
The watch company Franc Vila, known mostly by its male chronometers, re-presents a gift for women. In the FVt line again are out a women's watch - this time with a tourbillon. The novelty will be appreciated especially by those ladies who prefer a classic design in spite of sophisticated models.

The novelty has the name FVt N ° 1 Planetary Tourbillon and is executed almost entirely in black, except of parts Tourbillon and red hour markers. Tourbillon is located at the 6 o'clock position and as if it expands the dial, rejecting from the total range of the numbers 5, 6 and 7. Thus the dial is given an inverted form of eight. This number plays an important role in the FVt watch – it is worthy to pay attention at least at a number of created items.

Two central hands and the power reserve pointer are black. Only the pointer at the 9 o'clock position is attached to the axis in white-steel color. The crown is protected from the accidental activation with the specific projections.

The case of the FVt N ° 1 Planetary Tourbillon watch has elliptical Esprit Unique shape and made of hardened steel. The model comes on a black crocodile leather strap. Only a pair of rubies on the left and right at the bottom of the dial are reminding that it is a women's watch. Inside the case is set the watch mechanism FV N ° 1 with manual winding.

The novelty is released in a limited edition of only 8 items. This is significantly less than the previous "women's issue", which consisted of 88 instances of each model. The creators from the Franc Vila company, however, are confident that the new watch will find a lot of fans who will appreciate not only its design but also exclusivity.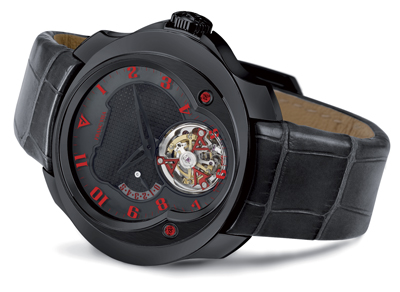 03.02.2012
New Items by Franc Vila
The company Franc Vila has developed new limited models Cobra El Bandido II and Cobra Blue Bandido II, decorated in an elegant sporty style.
23.06.13 Comments(0)

An exclusive video clip of Frank Vila from BaselWorld 2012 on montre24.com
For lovers of complex and luxurious timepieces informational watch portal montre24.com has prepared an exclusive video clip of Franc Vila. Along with a lot of watch and jewelry brands a watchmaker Franc Vila widely presented its products at the annual exhibition - fair BaselWorld 2012.
25.05.12 Comments(0)

Women's models FVt71 Selenity by Franc Vila
The watchmaker Franc Vila, producing mostly male watch models, decided to retreat somewhat from the established canon and to please the female audience just four versions of the watch FVt71 Selenity.
29.12.11 Comments(0)



Franc Vila Swiss company was founded by a team of watchmakers in Switzerland in 2004, headed by Frank Vila. Speaking about his watches Vila says: "My watches are reflection of myself." His dream was to create watches that could be presented at the exhibition in Basel. And in 2006, this dream became a reality. Each timepiece is handmade, and every detail, every form of machinery, materials that are used - are unique and developed specifically for a particular model. That's why each model affects collectors of the exclusive watches. It is impossible to imagine Franc Vila's watches, for example, without a model FV ¹ 6 featuring "flying" t...
Detailed information Franc Vila