For lovers of complex and luxurious timepieces informational watch portal montre24.com has prepared an exclusive video clip of Franc Vila. Along with a lot of watch and jewelry brands a watchmaker Franc Vila widely presented its products at the annual exhibition - fair BaselWorld 2012. The watch company Franc Vila has become a logical extension of the special interest and a passionate love for watches: the company's founder Frank Vila collects different watches for many years. A young biochemist, designer and passionate collector of watches Franc Vila has managed to create the unique look of his watch creations, which has become the main feature of his watches. Eight is a favorite figure of a watchmaker. Having seen watch with dial in the form of eight, you can accurately determine its manufacturer – it is Franc Vila.
In a large hall, decorated very simply and elegantly, were presented novelties 2012 by Franc Vila at BaselWorld 2012. CEO of the company Franc Vila has kindly agreed to demonstrate its Franc Vila novelties 2012.
The first presented model was Franc Vila watch with tourbillon. This new model with tourbillon has become a world premiere, since it is the only watch in the world, in which tourbillon is integrated into the mechanism. At least, so says its creator. This model is presented specifically for fans of the complex and at the same time, sports watches. The black color of this carbon watch makes the model more attractive.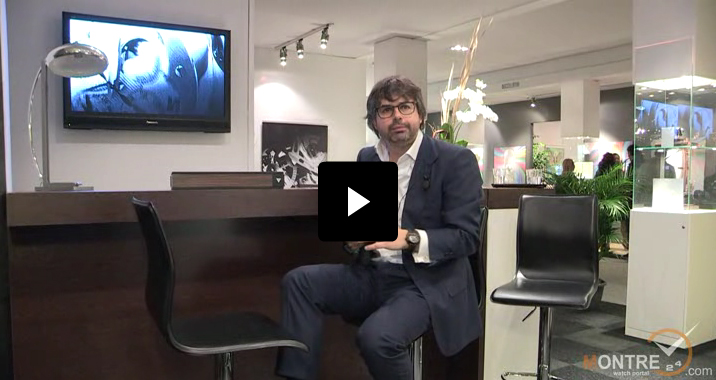 Franc Vila watches presentation at BaselWorld 2012
Next was presented the first female model by Franc Vila with tourbillon. The case of FVt N ° 1 Planetary Tourbillon watch is completely made of titanium with a black coating, on which favorably distinguishes two rubies that resemble screws. On the dial some elements are also presented in red, which is quite well-combined with a red strap. Of course, women's watch FVt N ° 1 Planetary Tourbillon - for different peoples' taste: someone prefers models with fine jewels; someone prefers massive watches with complications. On the dial is also located indicator of 5 - day power reserve.
After was presented the novelty, case of which is also made of titanium with a matte finish. Watch is equipped with minute repeater, which with two gongs beat certain time. The dial is partially skeletonized that allows you to see certain parts of the mechanism.
Another novelty was the updated version of the well-known model Cobra by Franc Vila. The watch case is made of titanium, in combination with carbon. The surface of the titanium case is matte, what distinguishes the new model Franc Vila Cobra from its predecessor.
After was presented a very interesting chronograph, which is equipped with complete calendar function. Titanium - carbon case looks great with gold dial. The last presented model was a new men's watch with new caliber with chronograph function and big date, which is characterized by its extreme thickness. This new watch is presented in the version of titanium and gold. This combination of materials has become dominant in the novelties Franc Vila 2012.
At the end of the presented video clip was also mentioned the key markets of Franc Vila, as well as the most promising. If you decide to buy Franc Vila watch, which is not affordable for many, the video clip provides the prices of all demonstrated models. More clearly to get acquainted with novelties Franc Vila 2012 at BaselWorld 2012 is possible by clicking on the following link - http://montre24.com/video/163/.
Official site of Franc Vila watches.

Freya
25.05.2012