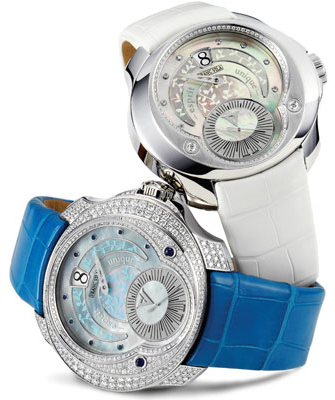 Watchmaker Franc Vila considered by the standards of the watch market is rather young, with its instant development and success are staggering. Owned company of the same name brand has been recognized two years after the founding of the exhibition Baselworld-2006, which was shown with a collection of brand Tourbillon movement that has been designed and manufactured in the laboratories of Franc Vila. Chrono Swiss brand can be easily identified by brand - non-standard form of the dial and case, reminiscent of an inverted figure eight.
Initially the company produced watches for men - strong, brutal, appreciate your time. But the exhibition of watches BaselWord 2010 was presented the first women's wristwatch - FVt28 Jumping Hours Automatique «Ivy Edition». Chronograph attracts attention, first of all, an extraordinary dial and captivating display "jumping hour". Watches FVt28 Jumping Hours Automatique «Ivy Edition» Tribute from the latest series seem powerful enough, but the fragile feminine wrist, they look very interesting and not at all like a man.
Despite the fact that the favorite color of the watchmaker - black, for ladies' watches, he preferred a more delicate palette. Chronographs created in two versions: with a white and blue thongs. In addition to the belt options are different finishes. In the first case of steel casing and inner welt of watches are decorated with 387 diamonds weighing 2.45 carats, on the dial are 8 sapphires (2 more - on the case). The bezel is encrusted with 91 white version of diamond weighing 0.7 carats (and 2 on the case), at the top of the dial is conveniently arranged an additional 8 diamonds.
The second model is rather reserved and serious, while the first is rich and slightly eccentric. On the watch dial can be seen from the window "jumping hour", which is in position "12 o'clock", the minute hand and second, counting down the dial at a mark, "6:00." Ensures the protection of the dial sapphire crystal anti-reflective coating on both sides. Combined two-tiered pearl dial - "protagonist" of the model. In addition to diamonds and sapphires, it is decorated with a refined design of the branches in the tone of the strap.
In the watch has its own automatic caliber FV28, which features a gold-winding sector and made the sketch of Frank Vila. The work of this design can be viewed through the sapphire crystal back.
The first women's series Franc Vila is limited 88 pieces of each option. On interest, which showed the female, one might expect that soon we will see the latest bright idea of female mechanics.