| | |
| --- | --- |
| BaselWorld 2012: FV EVOS 8Ch Cobra Chronographe Grand Dateur Automatique by Franc Vila | |
Swiss watchmaker Franc Vila at the international exhibition BaselWorld 2012 has unveiled a new magnificent watch FV EVOS 8Ch "Cobra" Chronographe Grand Dateur Automatique, made in the best tradition of sporty classics.
The case has a unique new form of Esprit Unique, which resembles an inverted figure 8. This unique case shape was designed by the master Frank Vila himself. Number 8 in general plays an important role in the system's values, because it symbolizes a sign of happiness in Buddhist philosophy and the symbol of infinity. Therefore, the master limits the editions of all the models, multiplying to eight.
In creation of the watch is used a combination of black stainless steel DieHard Extreme and carbon fiber. The front side of the case is protected by a double-sided anti-reflective sapphire glass. On the back side of the watch is also set a sapphire crystal, which allows monitoring the flawless progress of the mechanism. The crown, set at the 3 o'clock position, is protected by tabs on the case and screwed into it. The watch waterproof reaches up to 300 meters.
The dial is made of black carbon and decorated with an elegant guilloche. Golden applied Arabic numerals, hour markers and central hands are interspersed the black tone of the dial and provides easy reading of data.
Time is indexed by the central hour and minute hands. The small second's hand is put to the lateral dial at the 3 o'clock position. The double date aperture is located at 12 o'clock position. The chronological functions are displayed on a 30-minute counter at 9 o'clock position, a 12-hour indicator at 6 o'clock position, and by means of the central second's hand.
The novelty is designed based on an automatic mechanism FV8Ch. FRANC VILA Exclusive "Gold Concept Rotor", which provides a 42-hour power reserve.
The FV EVOS 8Ch "Cobra" Chronographe Grand Dateur Automatique watch is available on a black crocodile leather strap with folding buckle. The novelty is attached by an additional black textured rubber strap.
The novelty is released in a limited edition of 88 items.
Dynamics of the watch's sporty style and original ellipse-shaped dial with the characteristic features of brutality may induce a self-confident man to buy the FV EVOS 8Ch "Cobra" Chronographe Grand Dateur Automatique watch with a perfect Swiss quality and "burning" Spanish character.
Official site of Franc Vila watches.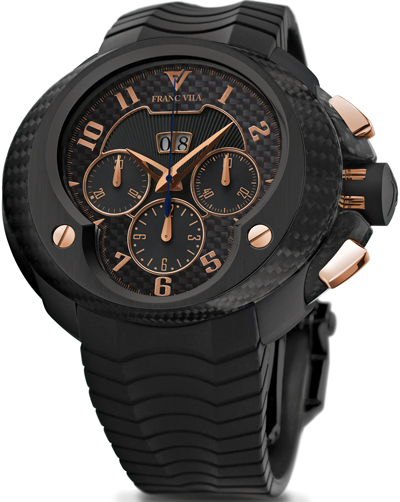 21.03.2012
New Items by Franc Vila
The company Franc Vila has developed new limited models Cobra El Bandido II and Cobra Blue Bandido II, decorated in an elegant sporty style.
23.06.13 Comments(0)

An exclusive video clip of Frank Vila from BaselWorld 2012 on montre24.com
For lovers of complex and luxurious timepieces informational watch portal montre24.com has prepared an exclusive video clip of Franc Vila. Along with a lot of watch and jewelry brands a watchmaker Franc Vila widely presented its products at the annual exhibition - fair BaselWorld 2012.
25.05.12 Comments(0)

New Women's Watch by Franc Vila
The watch company Franc Vila, known mostly by its male chronometers, re-presents a gift for women. In the FVt line again are out a women's watch - this time with a tourbillon. The novelty will be appreciated especially by those ladies who prefer a classic design in spite of sophisticated models.
03.02.12 Comments(0)

Women's models FVt71 Selenity by Franc Vila
The watchmaker Franc Vila, producing mostly male watch models, decided to retreat somewhat from the established canon and to please the female audience just four versions of the watch FVt71 Selenity.
29.12.11 Comments(0)



Franc Vila Swiss company was founded by a team of watchmakers in Switzerland in 2004, headed by Frank Vila. Speaking about his watches Vila says: "My watches are reflection of myself." His dream was to create watches that could be presented at the exhibition in Basel. And in 2006, this dream became a reality. Each timepiece is handmade, and every detail, every form of machinery, materials that are used - are unique and developed specifically for a particular model. That's why each model affects collectors of the exclusive watches. It is impossible to imagine Franc Vila's watches, for example, without a model FV ¹ 6 featuring "flying" t...
Detailed information Franc Vila