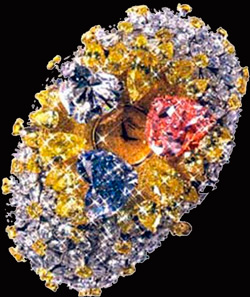 Wrist watch, in which time is a secondary phenomenon
The famous company Chopard continues to surprise its fans not only by its original and grandiose creations. Brand could not resist the temptation at this time: in 2008 the company Chopard introduced an exclusive women's watch, which topped the list of most expensive watches. The price of this creation is 25 000 000 $. This wonderful creation is more jewelry, rather than watch. Their mission is to decorate elegant feminine wrist, shimmering with all the colors of the rainbow. Under the loose of diamonds of various colors and size is difficult to see a little dial, which seemed especially to hidden only in not to detract from the great beauty of diamonds.
Time in this watch is a secondary phenomenon. Dominant diamonds are white, red and blue, which are shaped like hearts. The total weight of heart-shaped diamonds is 38 carats (white - 11 carats, blue - 12 carats, pink - 15 carats). Weight of all the precious stones inlaid in the watch is 200 carats. It is a piece of art, in spite of this "pile of stones", looks quite stylish and staggeringly expensive. It is no accident that the most expensive wristwatch is specifically designed for women, because for men is difficult to appreciate the true beauty of "Girl's Best Friend", which is one of the most expensive works of nature.
Today the most expensive watch - bracelet by Chopard remains one of the most extravagant ideas that have ever been born in the minds of watchmakers.