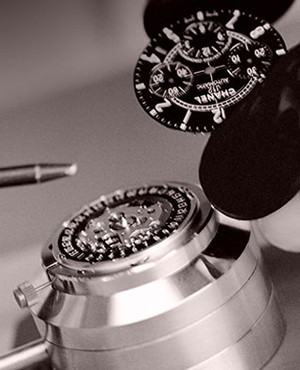 Chanel is a French high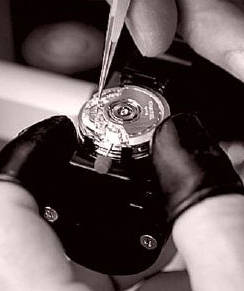 fashion house which produces luxury goods, clothing, cosmetics and perfumes, men's and women's watches, luxury jewelry and accessories. The brand Chanel was founded in the early XX century by Gabrielle Chanel. Gabrielle "Coco" Chanel was born in 1883 in the French city Somur. The founder of fashion house Chanel has laid the tradition of elegance that cannot be influenced by time. The first boutique under the brand Chanel was opened in 1913. Constant trendsetter – the company Chanel could not pass by such an important and prestigious accessory like a watch. Her first collection of watches Chanel introduced in 1987. After the time for a little over 20 years, Chanel watches have managed to find its niche in the world of elite watches brands. Quality, accurate, resistant to mechanical damage, luxurious are the epithets that applied to the wristwatches Chanel.
Gabrielle Chanel was struck the world by her modern outlook on life. Combining bold ideas with an innate sense of taste, she has created a unique style. Watch house Chanel features an innovative approach, all the ideas imbued with the spirit of freedom. Wrist watches Chanel presents from the classic, sporty to luxurious – baroque style.
All male and female models of watches Chanel are manufactured in the workshops of La Chaux-de-Fonds, the cradle of Swiss watch making. The latest digital equipment and traditional watch making craftsmanship provide a high quality of the watches Chanel. These workshops provide an all operations - from productionof cases and bracelets to installation into the case of high-precision Swiss movements. All Chanel watches are carefully tested and verified for water resistance. All watches are numbered. The watches are set by Swiss automatic or high precision quartz movement. The mechanisms used in a wristwatches Chanel, are made at the manufactory Audemars Piguet. Cooperation of these two watch houses makes it possible to connect the high-tech design of Chanel with chronometric mechanisms Audemars Piguet, which contributes to attract more and more customers. In the manufacture of cases of male and female models are used different materials: steel, white, pink and yellow gold of 18 carat and high-tech ceramics. Ceramic has been a part of the brand for a long time. The company started to work with black ceramic since 2000 and the white - since 2002. The use of ceramics in the watch industry was very revolutionary. Ceramic is used not only for the case and bracelet, but also inside the mechanisms. Ceramics are very aesthetic, durable, hypoallergenic, takes the temperature of the human body. Dial and watch case encrusted with diamonds of purity VVS, sapphires, rubies, and precision ceramic baguette-cut diamonds. The middle of the many models' dial is decorated with of diamond pavé. Chanel watchbands are made of leather, rubber; bracelets are made of steel, gold, pearls, strung on gold thread (Ladies watches Mademoiselle).
In wristwatches Chanel are set the world's first tourbillon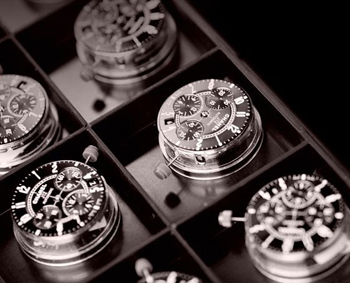 in platinum of high-tech ceramics, instead of the traditional brass coated with rhodium. Tourbillon carriage on the part of the dial is covered with glass, which makes it possible to see the mechanics. Model of wristwatch J12 Retrograde Mysterieuse combines innovative design plus watch complications features: a tourbillon, a digital display of minutes, retrograde minute hand, a 10-day power reserve, located vertically crown. The collection of models Chanel there are models, designed for diving: J12 Marine – water resistance is up to 300 meters.
The line J12 Haute Joaillerie include models, released in limited edition, they are encrusted with diamonds and black high-tech baguette-cut ceramic: J12 Haute Joaillerie white gold 38mm - 12 pieces, 42mm -12 pieces; 12 pieces of model J12 Haute Joaillerie in the cases with diameter of 33mm, 38mm, 42mm and adorned with cognac-colored sapphires and baguette-cut diamonds. J12 Noir Intens-decorated with black ceramic, one of the undoubted stars of BaselWord 2009, issued in amounts of 5 pieces, it became the subject of collectors' hunting.
Watches Chanel is a symbol of belonging to a club of favorite.
Collection of watches Chanel:
-J12 (J12, J12 Marine, J12 GMT, J12 Superleggera)
-J12 EDITIONS EXCLUSIVES (J12 Calibre 3125, J12 Retrograde Mysterieuse, J12 HautJoaillerie, J12 Joaillerie
-PREMIERE
- LES INTEMPORELLES DE CHANEL (Camelia, Mademoiselle, 1932, Matelassee, Chocolat)
Chanel Company has 147 boutiques around the world.