| | |
| --- | --- |
| Magic of the flying tourbillon in a new model Premiere Flying Tourbillon by Chanel! | |
After the first tourbillon model J12, introduced in 2005, a well known company Chanel has first introduced a model with floating tourbillon Premiere Flying Tourbillon.
The model has marked the 25th anniversary of the first watches, issued by the company. The shape of case of this "jubilee" Premiere Flying Tourbillon watch is inspired by the octagonal geometric shape of the legendary perfume No. 5 bottle and the famous Place Vendôme. With the release of this new model, the company Chanel has enabled women to enter the world of complex mechanical watches using this beautiful and mysterious creature. This unique Tourbillon, designed and created in close co-operation of Chanel and Swiss manufacturers, engineers and craftsmen – watchmakers of Renaud & Papi (APRP SA) – the advanced research branch of the company Audemars Piguet, is the first development of this kind for both companies. Decorated with camellia motif - the favorite flower of Mademoiselle Chanel, this flying tourbillon rotates almost unnoticed in the heart of the watch Première. Floral design of connected petals and "heart", completely covered with diamonds, gives this model a kind of tenderness.
The clock is provided by mechanical hand-wound movement Camélia Flying Tourbillon with 18 rubies, designed specifically for the company Chanel by the branch Renaud & Papi. The mechanism provides watch with power reserve of 40 hours. The oscillation frequency of the balance is 21,600 pc / h, the balance is also equipped with shock-proof system. 225 watch parts are chamfered and hand grained according to the highest traditions of Swiss watch making. The mechanism is located on a rectangular plate. Unlike conventional tourbillon, which has an upper bridge, flying tourbillon has a more complex structure. The absence of a bridge is aesthetic complexity, which gives the tourbillon weightless soaring thanks to the three-dimensional assembly of thin elements.
On the black analog dial, made of ceramic, in addition to the flying tourbillon, there are hands made of 18 - carat white gold and adorned with 15 diamonds. On the dial there are no hour indexes. The watch case with diameter of 37 mm, made of 18 - carat white gold, as well as bezel and crown are encrusted with 101 baguette-cut diamonds with total weight of 5.2 carats and 127 brilliant-cut diamonds with total weight 2 carats. The cabochon of tourbillon is decorated with 19 round cut diamonds. The black strap is made of alligator skin or satin. Water resistance of the model Premiere Flying Tourbillon is up 30 meters. This model is issued in limited edition of only 20 pieces.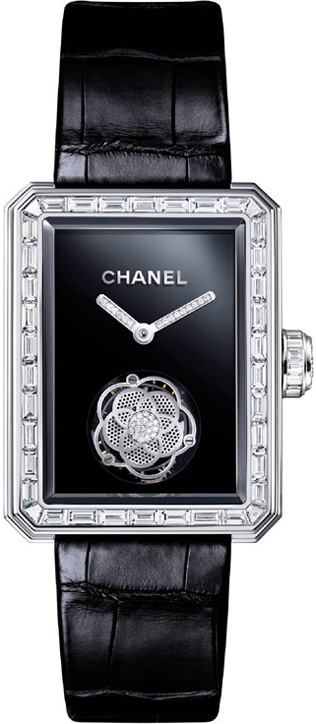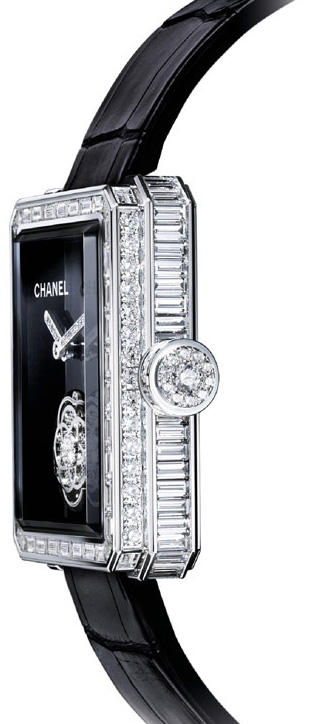 10.01.2012
Iris
Really magical and unususal tourbillon!!! I'd like to see it with my own eyes.
Gorgeous J12 Flying Tourbillon High Jewelry Timepiece by Chanel
The elegant novelty J12 Flying Tourbillon High Jewelry by the legendary company Chanel is presented in a 38 mm round case of 18 - carat white gold. The bezel, lugs, case, dial and bracelet are set with diamonds and baguette cut brilliants. Water-resistant - 30 meters.
24.03.14 Comments(0)

New version of iconic model J12 by Chanel
The company Chanel presents a new model J12-365, which has become a worthy addition to the already known collection of Chanel. Evolution of the model J12 proceeds steadily, progressively and carefully thought out.
10.03.14 Comments(0)

New watch Première Triple Row by Chanel
The company Chanel presents Première Triple Row watch, which has become an updated version of the model Premiere, which was first introduced in 1987.
20.02.14 Comments(0)

Matured elegance by Chanel: new watch J12 Intense Black
J12 Black watch, with the company Chanel first introduced in 2000, made a high-tech ceramics in the precious material, as well as black color made one of the most fashionable and used in the watchmaking world.
12.02.14 Comments(0)

J12 by Chanel
The well - known company Chanel has expanded its J12 watch collection with a novelty, which is different from previous models with design of moon phase's indicator.
17.10.13 Comments(0)

Chanel Timepiece for Only Watch 2013
French fashion house Chanel for a charity auction Only Watch 2013, which will take place on September 28 this year, has released a unique novelty Premiere Flying Tourbillon.
28.05.13 Comments(0)

Chanel comes back to its roots!
In honor of the 25th anniversary of the watch line launch, the fashion house Chanel has reissued its first model - Première of 1987s. For a quarter of the century, the design of the iconic timepiece has changed several times.
20.02.13 Comments(0)

Chanel Luxury Models from Mademoiselle Privé Collection
French fashion house Chanel always amazes everyone with its incomparable products. Exclusive design of the jewelry and watches of the legendary houses cannot be compared with the models of other brands. They have a unique style. Each model is unique in its own way.
01.09.12 Comments(0)

In September 23, 2011, a charity auction Only Watch was held
In September 23, 2011, on Friday, a charity auction Only Watch was held under the patronage of His Highness Prince Albert II. The proceeds for the auction will be given for research into Duchenne muscular dystrophy. The auction is held every two years, and among its members the most prestigious Swiss watch brands appear.
26.09.11 Comments(0)



Chanel is a French high fashion house which produces luxury goods, clothing, cosmetics and perfumes, men's and women's watches, luxury jewelry and accessories. The brand Chanel was founded in the early XX century by Gabrielle Chanel. Gabrielle "Coco" Chanel was born in 1883 in the French city Somur. The founder of fashion house Chanel has laid the tradition of elegance that cannot be influenced by time. The first boutique under the brand Chanel was opened in 1913. Constant trendsetter – the company Chanel could not pass by such an important and prestigious accessory like a watch. Her ...
Detailed information Chanel