| | |
| --- | --- |
| Chanel Luxury Models from Mademoiselle Privé Collection | |
French fashion house Chanel always amazes everyone with its incomparable products. Exclusive design of the jewelry and watches of the legendary houses cannot be compared with the models of other brands. They have a unique style. Each model is unique in its own way.
Amazing models from the Mademoiselle Privé collection - is no exception. The company will present the collection at the International Exhibition of antique Biennale des Antiquaires, which will be held in Paris in September.
Elegant luxury watches and jewelry from this collection will be exhibited in the pavilion, designed by architect Peter Marino, who is engaged in the development of design showrooms of famous fashion houses.
Gorgeous novelties from the Mademoiselle Privé collection were created by masters of Chanel using the original stones, application enamel technique Grand Feu and engraving.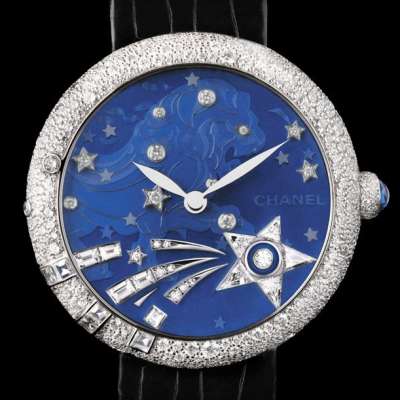 Mademoiselle Privé watch
On the products of the brand meets the lion, which is no accident. This image was designed in honor of the master of the zodiac sign under which Chanel was born. The lion can be seen in the model Constellation du Lion, presented in white gold and decorated with 513 snow-set diamonds and 7 baguette-cut diamonds. Diameter of the circular case is 37.5 mm, height - 8.6 mm. It is original a blue dial, inscribed with the constellation Leo. The crown is also decorated with 35 diamonds and blue sapphire. Two hands, located in the center of the dial, provide an indication of hours and minutes.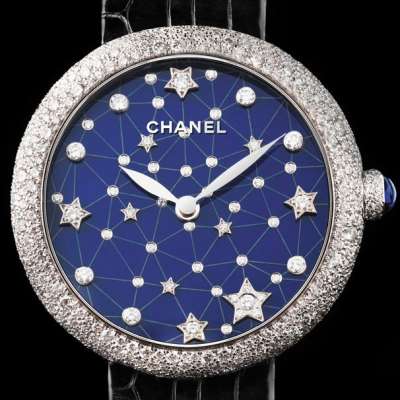 Mademoiselle Privé watch
The model is built on the basis of an automatic caliber with a 42 - hour power reserve.
Another novelty of this collection is presented in the same shades. Its blue dial, made of enamel, resembles the night starry sky. Chanel's logo adorns the dial at the 12 o'clock position, and an indication of the hours and minutes are carried out by two central hands. Round case of the novelty is decorated with 547 jewels, a dial - 47 diamonds, a crown - 38 snow-set diamonds and sapphires.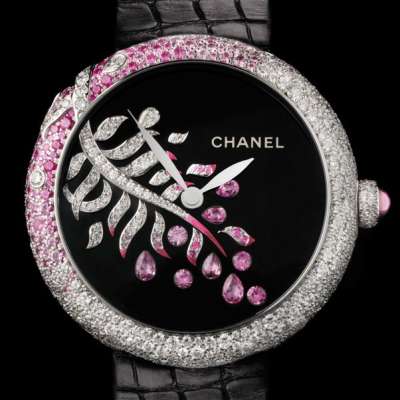 Mademoiselle Privé watch
The latest addition of Mademoiselle Privé collection is presented in a completely different style. The dial of the third model is the image of the pen from white gold, formed of 63 diamonds, 26 pink sapphires. The model also has a round case and encrusted with 316 snow-set diamonds, and the crown - 37 diamonds and pink sapphires.
All three models come on leather straps.
Official website of Chanel watches.
Written by Angel
01.09.2012
Gorgeous J12 Flying Tourbillon High Jewelry Timepiece by Chanel
The elegant novelty J12 Flying Tourbillon High Jewelry by the legendary company Chanel is presented in a 38 mm round case of 18 - carat white gold. The bezel, lugs, case, dial and bracelet are set with diamonds and baguette cut brilliants. Water-resistant - 30 meters.
24.03.14 Comments(0)

New version of iconic model J12 by Chanel
The company Chanel presents a new model J12-365, which has become a worthy addition to the already known collection of Chanel. Evolution of the model J12 proceeds steadily, progressively and carefully thought out.
10.03.14 Comments(0)

New watch Première Triple Row by Chanel
The company Chanel presents Première Triple Row watch, which has become an updated version of the model Premiere, which was first introduced in 1987.
20.02.14 Comments(0)

Matured elegance by Chanel: new watch J12 Intense Black
J12 Black watch, with the company Chanel first introduced in 2000, made a high-tech ceramics in the precious material, as well as black color made one of the most fashionable and used in the watchmaking world.
12.02.14 Comments(0)

J12 by Chanel
The well - known company Chanel has expanded its J12 watch collection with a novelty, which is different from previous models with design of moon phase's indicator.
17.10.13 Comments(0)

Chanel Timepiece for Only Watch 2013
French fashion house Chanel for a charity auction Only Watch 2013, which will take place on September 28 this year, has released a unique novelty Premiere Flying Tourbillon.
28.05.13 Comments(0)

Chanel comes back to its roots!
In honor of the 25th anniversary of the watch line launch, the fashion house Chanel has reissued its first model - Première of 1987s. For a quarter of the century, the design of the iconic timepiece has changed several times.
20.02.13 Comments(0)

In September 23, 2011, a charity auction Only Watch was held
In September 23, 2011, on Friday, a charity auction Only Watch was held under the patronage of His Highness Prince Albert II. The proceeds for the auction will be given for research into Duchenne muscular dystrophy. The auction is held every two years, and among its members the most prestigious Swiss watch brands appear.
26.09.11 Comments(0)



Chanel is a French high fashion house which produces luxury goods, clothing, cosmetics and perfumes, men's and women's watches, luxury jewelry and accessories. The brand Chanel was founded in the early XX century by Gabrielle Chanel. Gabrielle "Coco" Chanel was born in 1883 in the French city Somur. The founder of fashion house Chanel has laid the tradition of elegance that cannot be influenced by time. The first boutique under the brand Chanel was opened in 1913. Constant trendsetter – the company Chanel could not pass by such an important and prestigious accessory like a watch. Her ...
Detailed information Chanel