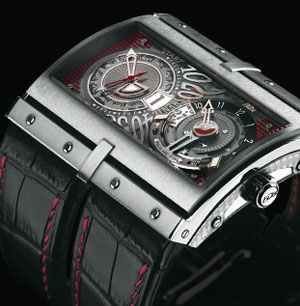 Impeccable style and high technology are the main characteristic features of many watch companies with a long history and quick development. Today there are very few watch brands that have managed to take its place among the huge variety of top Swiss watch companies and best wrist watch designers. Watch brand HD3 COMPLICATIONS combines all best qualities, despite the fact that the history of the company is not very long. Today the concept-watch «Vulcania» is a real masterpiece. This model was created by HD3 COMPLICATIONS company, that specializes in developing of crazy and fabulous wrist accessories such as Vulcania.
In several years HD3 COMPLICATIONS obtained stunning results and gained a world-wide acceptance. Undoubtedly, such a brilliant appearance in the watch market is the merit of the staff and the experienced watchmakers of the company working on the production and, also, of the designers who are not tired of surprising the public with their excellent products.
"To create his own watch brand is a dream of any designer. We all should give vent to our imagination, to work without restrictions with like-minded persons. I am constantly trying to find something new, unusual. When trying to turn my dream to reality I am always attempting to stay one step ahead of everyone, "- says Joerg Hayzek, a design team member at HD3 COMPLICATIONS watch company. According to Hayzek and other creators of the watch brand, HD3 COMPLICATIONS has been designed for those who are fond of novelties and passion, for those who want to feel very strong emotion.
An acronym «HD3 COMPLICATIONS»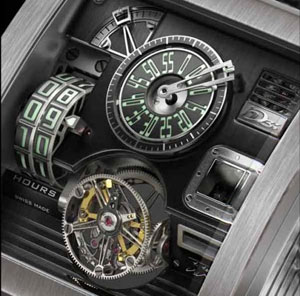 stands for: H — Horlogerie or watchmaking; D — Design; 3 — number of members in the designer's team, who turn the most daring and unexpected ideas into reality. Freedom, creativity and exclusivity are the features that inspire watchmakers and team up the designers with each other creating a great trinity. Joerg Hayzek, Valerie Urshenbaher and Fabrizio Gonay compose that great trinity that is continuing to surprise the demanding public.
According to the HD3 developers the main watch feature is it's futurism. Wrist watches, designed by the company, are intended to belong to superheros of the films. With the help of these watches one can see the future, enjoy the highest watch technology and the great design.
«Capture» is a wrist watch, developed by Valerie Urshenbaher, the only woman in the team. The watch case made of yellow or rose 18K gold, gives us a feeling of soft luxury.
«Raptor» is a watch for men made of combinations of materials that have already become traditional for this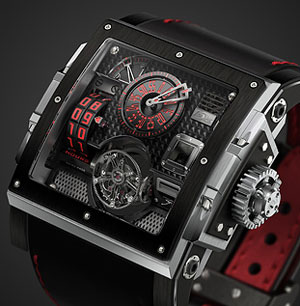 Swiss watch brand. That is titanium and rose gold or titanium and platinum. The watchmakers also presented a version of this model set with 312 diamonds. On the basis of the watch movement is the caliber La Joux-Perret with power reserve of 100 hours. The size of the case is 19 mm, it opens by pressing two buttons on the watch flank. One more feature of this model is the brand logo that is engraved on the watch hands and can be noticed only with the help of a magnifying glass. This delicate engraving will assure you that your wrist watch is authentic.
Wrist watch «Black Pearl» of «HD3 Complication» brand represents a real pirate saga. For this model Fabrizio Gonay has developed a retro-futuristic form of the dial. The chronograph's design is really unique. Its case resembles a hatch of the well known "Black Pearl".
The owner of this watch will be able to navigate his ship to the right direction. «HD3 Black Pearl» is a unique model thanks to its fantastic design and the materials used by the watchmakers. This distinct Swiss wrist watch for men represents an ergonomic and unique accessory. «HD3 Black Pearl» was released in limitied edition of 11 units. This model comes with three different straps: alligator leather strap, rubber strap and leather strap with red stitching. The approximate price of the wrist watch is $ 400 000.
The last crazy HD3 Complication novelty is a unique digital wrist watch «Slyde HD3». It is a watch with the virtual digital screen. Waterproof case made of titanium has a sapphire crystal. There is a battery power indicator on the watch case. Inside the watch there is an application for viewing photos, and calendar. The model comes in black or silver colour.
In 2011, because of the lack of financing for new developments and watchmaking technologies, Jorg Hayzek had to expose electronic wrist watch.