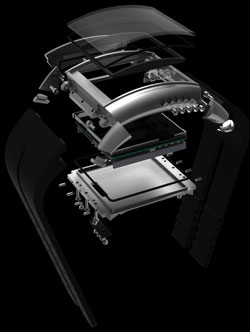 Time is rushing forward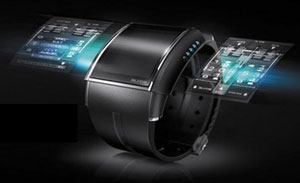 rapidly not only in our habitual "human" sense, but also in the watch business. After the development of new technology, the watch companies never cease to amaze their customers with the latest and ingenious men's and women's wrist watches. It seems, that everything has been already created and no one will able to amaze us. But as it turns out, this is not true. The striking example of the watchmakers' genius is the great "three" – HD3 Complication, the Swiss watch company.
Perhaps, the fans of this company know, why there is numeral 3 in the name of the brand. It just should be mentioned, that three well-known designers, Jorg Hyzek, Valerie Ursenbacher and Fabrice Gonet, are working together at wonderful HD3 watches. This company was producing luxury Swiss watches at the cost of several thousand dollars, untill the management decided to change dramatically its line of activity. The motto of this company sounds very optimistic: "Say 'no' to the crisis of watchmaking!" 2009 was a bad year for HD3 company, as well as for other brands, producing luxury watches. After the funding had been significantly decreased, the global watch market changed forever. Jorg Hayzek had to think about the development of a completely new product. Instead of continuing the production of high-tech time measures, Hyzek and his team decided to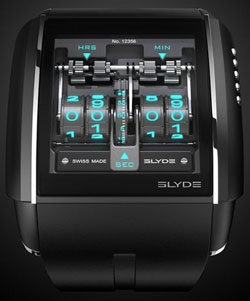 introduce a radically new category of wrist watches. In fact, this category had never existed before, as no one had created a digital touch screen watch at the cost of about $ 5,000. In general, the technical characteristics, the quality and materials of the mechanical Swiss watches, remained unchanged, but a new type of a dial and a new interface, known as touch screen, was created.
It was rather a risky decision, but, judging by the reviews and the popularity of the product, this project must be successful and profitable.
The new HD3 Slyde has a square case, made of titanium or rose gold, the scratch-resistant sapphire crystal protects the dial, the strap is optionally made of crocodile leather or rubber. The watch is water resistant up to 50 meters.
The "face" of HD3 Slyde watch is certainly the dial. Data output is carried out with the touch screen. The watch has all useful and modern functions: the world time, the timer and a number of other devices. These modules can be personalized, for example, you can feed the date of your birth or wedding in the watch's memory. HD3 Slyde is the watch, that embraces all times – the past, the present and the future. According to experts, this project is rather promising. The fans of touch screens will be able to buy the Swiss HD3 Slyde watches in autumn, in 2011, when they will come into the market.