If you prefer sophisticated and unusual watches - concepts, so presented by the information watch portal montre24.com the video clip, of course, will be appreciate. At this time to attention of our readers is presented an exclusive video clip of the company HD3 Complication or just HD3, which presented its unusual concept watches on one of the most important event of all watch world – at the annual exhibition of BaselWorld 2012.
The watch company HD3 is a very young company, founded only a few years ago. However, in a very short period of time the company HD3 has managed to win its place among the great number of watch brands. Probably all because of today on watch market there are not many manufacturers, that offer watch fans different complex conceptual watches, and the emergence of one such company has attracted a lot of attention, including from potential customers. The name of the company «HD3 COMPLICATIONS» is interpreted as follows: H - Horlogerie, watch skills; D - Design 3 - the number of designers who embody in life the most daring and unexpected ideas. Freedom, creativity and exclusivity - that's what moves and combines this creative trio. Joerg Hayzek, Valerie Urshenbaher and Fabrizio Gonay - is a team of designers, who surprise demanding public. It is a dream of any designer to create his own brand has led to a creation of the watch company HD3.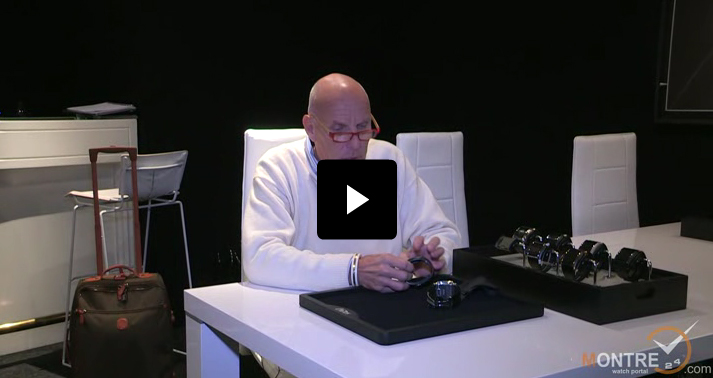 HD3 watches presentation at BaselWorld 2012
So, BaselWorld 2012 and the watch company HD3, placed in a huge pavilion, presents its novelties HD3 2012. The company HD3 introduced its major creation - a new watch Slyde, to create of which designers need more than five years. The model Slyde, no doubt - is a watch of new generation. The main feature of Slyde watch is touch dial, a set of which can be changed by the simple touch of a finger. The sleek rectangular case of Slyde watch in two versions: made of titanium with black PVD coating, or made of rose gold. At the BaselWorld 2012 the company introduced the watch on the tactile dial time, in addition to a main set of the function reflection, is displayed as a tabloid, which hang out in airports. This can be clearly seen in the presented video clip. On the dial, you can also see the tourbillon. This is a fantastic design is perfectly complemented by the traditional crocodile strap.
Despite the fact that I am a devotee of the pure traditional complex watches, but it is worth to pay tribute to Slyde watch - it's quite an interesting creature of boundless human thought.
In the prepared by team of montre24.com video clip provide not so much information, but in it all is clearly demonstrated, and it is often better than words. Following the link http://montre24.com/exhmember/10/261/, you can see work of Slyde watch. If you decide to buy Slyde watch, so the video clip provides the prices of all displayed models.
Official site of HD3 Complication watches.
Written by Freya
29.05.2012