| | |
| --- | --- |
| News of Montre24.com: exclusive video of Cuervo y Sobrinos at BaselWorld 2012 | |
Information watch portal montre24.com presents to all lovers of fine watch making and lovers of original watches an exclusive video clip of the famous Swiss watch company Cuervo y Sobrinos, which kindly opened the door of its extravagant and bright pavilion at BaselWorld 2012. The pavilion of company Cuervo y Sobrinos fully reflects the company's roots - the Cuban spirit and elements could be traced in all attributes of pavilion. The Cuervo y Sobrinos pavilion, perhaps, was one of the most eye – catching and attractive at BaselWorld 2012 fair, which is one of the most important events of amazing world of watch and jewelry art. BaselWorld exhibition has become a kind of "sacred" place - "Mecca" of watch industry, in which presents the latest achievements of the watch industry and the creation of luxury jewelry companies. BaselWorld is a unique opportunity for watch, jewelry, as well as for companies, producing related products, as well as for companies engaged in production and processing of precious stones to familiarize the general public, professionals, distributors, partners and potential customers with their latest achievements in the field of watch mechanics and various design ideas and new models that are the result of painstaking work of skilled craftsmen. BaselWorld is not just an exhibition, and exhibition - fair, because guests can purchase their favorite watch or jewelry on the spot.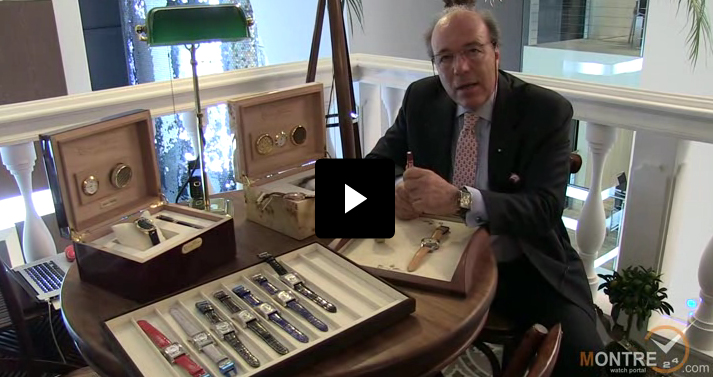 The watch company Cuervo y Sobrinos, history of which goes to the last century, has been restored about 7 years ago at the initiative of the Italian enthusiast and Spanish businessman and in such a short period the company has managed to gain its former popularity. Today, wrist watches Cuervo y Sobrinos are known worldwide as watches with the Cuban soul and Swiss heart. At the annual exhibition BaselWorld 2012 the company introduced its new luxury watches made in vintage style. The first presented model is vintage watch with tourbillon, some elements of which are made of silicium because of its lightness. It should be noted that the Cuervo y Sobrinos was the first manufactory, which began to use silicium in its watches. The second model with the romantic trend of the last century has become a wristwatch with the function of GMT. There is also a model with original case and original movement with manual winding, made in a single piece. This model comes with a pen, which has a rather elegant and luxurious appearance. The next model is a new watch fitted with a completely new system of down counter. In video also is presented a luxury model from famous collection Pirate, completely adorned with black and white diamonds, as well as yellow and orange sapphires. Also is presented legendary line Splendidos, models' dials of which are made entirely by hand by skillful craftsmen and presented in the form of three superimposed levers. The box, rather a humidor for cigars, in which watches come, reminiscent of a distant and beautiful history, as well as of the Cuban roots of the Swiss brand Cuervo y Sobrinos. To get acquainted in more detail with Cuervo ó Sobrinos watches at BaselWorld 2012 is possible in the prepared by montre24.com video clip by clicking on the link http://montre24.com/video/107/.
Official site of Cuervo y Sobrinos watches.
02.04.2012
tcfncZPKVqkQS
Ducky: what's the first touch of glamour?!But ya, it's bnercdiile how easy it is to predict which posts will get the most comments (did you see the PR one? I couldn't stop laughing at some of the comments. And I mean laughing at, not with.) The posts that I'm personally most interested in - the long, analytical ones on books/films - hardly get any responses. Oh well, guess it depends on the quality of comments you're looking for ;)BTW, if I put up any of the other pics from the Basel trip I'm sure I'd get nothing more than polite, very scared silence. This was the only halfway decent one.
Cuervo y Sobrinos Pirata Tourbillon: a watch for pirates
Due to the modular case, the new Pirata Tourbillon watch by the company Cuervo y Sobrinos has become a unique product. Adventure and unusual tastes of the Caribbean Pirates inspired the masters to create the watch.
25.11.13 Comments(0)

Antonio Banderas received the award from Cuervo y Sobrinos
In August 10, the known Spanish actor, director and producer Antonio Banderas marked his 53th birthday. On the day of his birth, the watch company Cuervo y Sobrinos handed the actor the Latino International award.
30.08.13 Comments(0)

Cuervo y Sobrinos Cup 2013 Rally
Mozzi Bianca Team on the Triumph TR car in February 1955 this year won the Cuervo y Sobrinos Cup 2013, which was sponsored by the famous watchmaker Cuervo y Sobrinos.
15.07.13 Comments(0)

BaselWorld 2012: Historiador 130th Gold Special Edition Watch by Cuervo y Sobrinos
By the late 19th century, Havana became a real gem of the Caribbean Sea, becoming a kind of international meeting place for intellectuals, businessmen and celebrities from around the world. It is regularly visited by representatives from the world of literature, science and cinema, people from the world of politics, not to mention the sailors and adventurers.
29.03.12 Comments(0)

Commemorative Watch of Cuervo y Sobrinos
The Swiss watch company Cuervo y Sobrinos with Cuban roots has presented a novelty in honor of its 130th anniversary. The wristwatch Historiador is made in a classically elegant style. It will be the perfect accessory for business meetings, or a valuable gift for the holiday.
09.02.12 Comments(0)



At the time, when the world waits for the Cuban Revolution, the Swiss watch looks to the past of Cuba, where the creators find sources of inspiration. Tobacco and cigars - the two main economic product of the island are embodied in one of the main motives of watches Cuervo y Sobrinos. By tradition, each purchaser of products Cuervo y Sobrinos receive a watch in humidor for cigars, and among other things, he can find a pack of handmade cards. Watches Cuervo y Sobrinos and a whole series are named after the traditional Cuban cigars. The company's founders, Armando Rio Cuervo and his nephews had watch workshop and store ...
Detailed information Cuervo y Sobrinos