| | |
| --- | --- |
| Cuervo y Sobrinos at the Melges 32 World Championship | |
Cuervo y Sobrinos participates at the Melges 32 World Championship in Palma de Mallorca, Spain, 20 - 24 September 2011.

The International Melges 32 Class Association is proud to announce its third World Championship, this time on the spectacular Balearic Island of Majorca (Spain), hosted by the Real Club Nautico de Palma (RCNP).

The Cuervo y Sobrinos sailing boat and skipper Fernando Battistella will also participate at this important competition. To celebrate the event, the brand with the Swiss heart and the Latin soul is presenting a new Robusto Buceador Melges dive watch.

Twenty-nine entries from eight countries have reached the exotic Mediterranean venue of Palma de Mallorca to race for the title of Word Champion. The United States and Italy share eight entries each, but also France, Germany, Great Britain, Japan, Netherlands and Spain will be represented in this major event.

As expected, the final field of competitors is one of the strongest and most talented ever. Reigning Melges 32 World Champion Luca Lalli and tactician Lorenzo Bressani on B-LIN SAILING have returned to the international arena, ready to defend their title.

The sailing team of Cuervo y Sobrinos, with its skipper Fernando Battistella, will be a long shot in this competition but the whole crew is very motivated and well prepared for this important event so that they are expecting a very respectable finish.

Five full days of official World Championship racing is slated to begin on Tuesday, September 20th and through until Saturday, September 24th.

Robusto Buceador Melges in blue indigo color

To celebrate this event, Cuervo y Sobrinos has created a new version of the Robusto Buceador Melges. This modern sports watch, inspired by the sea, is equally suitable for aquatic activities as it is for daily wear. The distinctive Melges 32 boat profile and the Melges logo stand out on a blue indigo dial of the Robusto.

The single piece case, the 2 screw crowns and the screwed-on case back guarantee that this watch is perfectly water-resistant up to 200 meters. Immersion time is displayed thanks to an internal rotating bezel. Orange markers are easy to read. The rubber strap is hand-made; the contrast stitching and the inside of the rubber strap are also orange.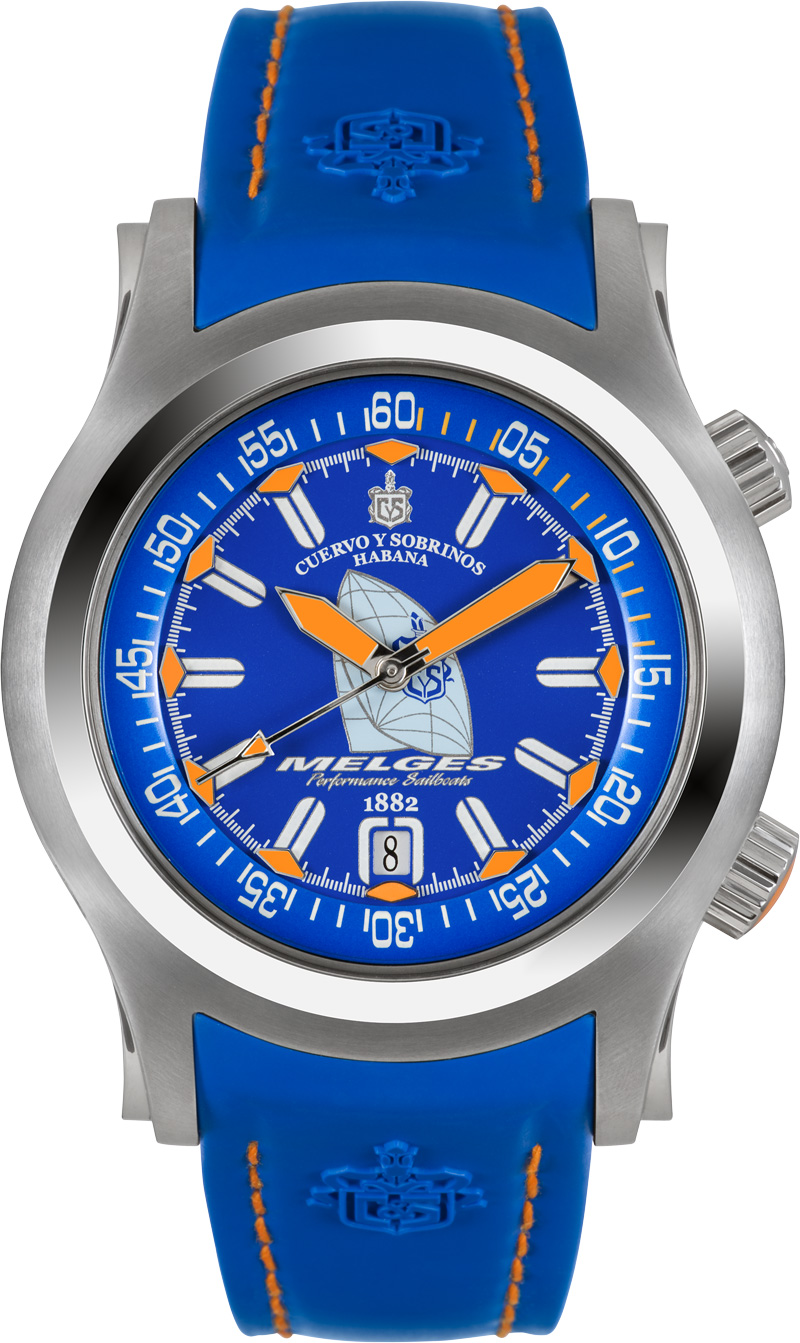 22.09.2011
Cuervo y Sobrinos Pirata Tourbillon: a watch for pirates
Due to the modular case, the new Pirata Tourbillon watch by the company Cuervo y Sobrinos has become a unique product. Adventure and unusual tastes of the Caribbean Pirates inspired the masters to create the watch.
25.11.13 Comments(0)

Antonio Banderas received the award from Cuervo y Sobrinos
In August 10, the known Spanish actor, director and producer Antonio Banderas marked his 53th birthday. On the day of his birth, the watch company Cuervo y Sobrinos handed the actor the Latino International award.
30.08.13 Comments(0)

Cuervo y Sobrinos Cup 2013 Rally
Mozzi Bianca Team on the Triumph TR car in February 1955 this year won the Cuervo y Sobrinos Cup 2013, which was sponsored by the famous watchmaker Cuervo y Sobrinos.
15.07.13 Comments(0)

BaselWorld 2012: Historiador 130th Gold Special Edition Watch by Cuervo y Sobrinos
By the late 19th century, Havana became a real gem of the Caribbean Sea, becoming a kind of international meeting place for intellectuals, businessmen and celebrities from around the world. It is regularly visited by representatives from the world of literature, science and cinema, people from the world of politics, not to mention the sailors and adventurers.
29.03.12 Comments(0)

Commemorative Watch of Cuervo y Sobrinos
The Swiss watch company Cuervo y Sobrinos with Cuban roots has presented a novelty in honor of its 130th anniversary. The wristwatch Historiador is made in a classically elegant style. It will be the perfect accessory for business meetings, or a valuable gift for the holiday.
09.02.12 Comments(0)



At the time, when the world waits for the Cuban Revolution, the Swiss watch looks to the past of Cuba, where the creators find sources of inspiration. Tobacco and cigars - the two main economic product of the island are embodied in one of the main motives of watches Cuervo y Sobrinos. By tradition, each purchaser of products Cuervo y Sobrinos receive a watch in humidor for cigars, and among other things, he can find a pack of handmade cards. Watches Cuervo y Sobrinos and a whole series are named after the traditional Cuban cigars. The company's founders, Armando Rio Cuervo and his nephews had watch workshop and store ...
Detailed information Cuervo y Sobrinos