| | |
| --- | --- |
| Commemorative Watch of Cuervo y Sobrinos | |
The Swiss watch company Cuervo y Sobrinos with Cuban roots has presented a novelty in honor of its 130th anniversary. The wristwatch Historiador is made in a classically elegant style. It will be the perfect accessory for business meetings, or a valuable gift for the holiday.

The watch has a classic round case Cuervo y Sobrinos with "predatory" lugs for the strap. Its diameter is 40 mm, thickness 6.2 mm. The case as well as hands and hour markers are made of 18K rose gold. Its water resistance is 30 meters. In addition to the gold indices on the black dial is placed the brand's logo (at the 12 o'clock position). The following after it the hour indices 1, 2 and 3 are replaced with gold numerals 130, reminiscent of the company's anniversary. By the "6 o'clock" is a small second hand, next to which are placed dates 1882 and 2012. Central hour and minute hands have white fluorescent coating on the sharp tip.

The watch has a transparent case back, through which can be seen the mechanism ETA 7001 with manual winding, 17 jewels, having a 42-hour power reserve. The caliber is adorned with the "Cotes de Geneve" pattern.

The black dial is added by a brilliant black watch strap made from Louisiana alligator leather. The buckle is made of 18K rose gold.

The wrist watch Cuervo y Sobrinos Historiador has released in a limited edition of 130 items - one for each year of the brand. Cuervo y Sobrinos was founded in Cuba. In those days, the brand's fans have been many famous personalities, and then the Cuban revolution came, in the result of which the entire business on the island was nationalized by the new State. The wrist watch Cuervo y Sobrinos have been revived as a Swiss brand in many years later, at the initiative of the Spanish businessman and Italian enthusiast. Today, the brand combines the most iconic elements of Cuban culture, known all over the world especially for its famous cigars. Nowadays Cuervo y Sobrinos watches are sold inside the cigar humidor today, and the names of the lines are named after the traditional cigar dimensions.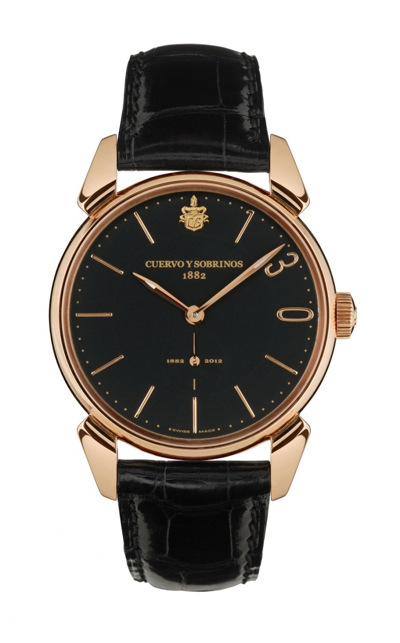 09.02.2012
Cuervo y Sobrinos Pirata Tourbillon: a watch for pirates
Due to the modular case, the new Pirata Tourbillon watch by the company Cuervo y Sobrinos has become a unique product. Adventure and unusual tastes of the Caribbean Pirates inspired the masters to create the watch.
25.11.13 Comments(0)

Antonio Banderas received the award from Cuervo y Sobrinos
In August 10, the known Spanish actor, director and producer Antonio Banderas marked his 53th birthday. On the day of his birth, the watch company Cuervo y Sobrinos handed the actor the Latino International award.
30.08.13 Comments(0)

Cuervo y Sobrinos Cup 2013 Rally
Mozzi Bianca Team on the Triumph TR car in February 1955 this year won the Cuervo y Sobrinos Cup 2013, which was sponsored by the famous watchmaker Cuervo y Sobrinos.
15.07.13 Comments(0)

BaselWorld 2012: Historiador 130th Gold Special Edition Watch by Cuervo y Sobrinos
By the late 19th century, Havana became a real gem of the Caribbean Sea, becoming a kind of international meeting place for intellectuals, businessmen and celebrities from around the world. It is regularly visited by representatives from the world of literature, science and cinema, people from the world of politics, not to mention the sailors and adventurers.
29.03.12 Comments(0)



At the time, when the world waits for the Cuban Revolution, the Swiss watch looks to the past of Cuba, where the creators find sources of inspiration. Tobacco and cigars - the two main economic product of the island are embodied in one of the main motives of watches Cuervo y Sobrinos. By tradition, each purchaser of products Cuervo y Sobrinos receive a watch in humidor for cigars, and among other things, he can find a pack of handmade cards. Watches Cuervo y Sobrinos and a whole series are named after the traditional Cuban cigars. The company's founders, Armando Rio Cuervo and his nephews had watch workshop and store ...
Detailed information Cuervo y Sobrinos