| | |
| --- | --- |
| A comfortable and reliable diver's watch Robusto Manjuari by Cuervo Y Sobrinos | |
The Swiss watch brand Cuervo Y Sobrinos once again delighted its fans by releasing a new diver's watch Robusto Manjuari. The source of inspiration was the small black-and-yellow, eye-catching Manjuari fish, which are the symbol of Cuba. The small fish is captured on the back of the watch.
The new diver has a case in diameter of 43 mm. The case is made in several versions: stainless steel, titanium and rubber. Unidirectional rotating bezel from titanium and sapphire provides a solid mount of the sapphire crystal with double-sided anti-reflective coating to the case. The watch water-resistant is up to 600 meters.
The dial is also made in two colors - white and black. Readable dial is modified by central hands of hours, minutes and seconds. Double date aperture is set on the position 12 hours and the second time zone indicator is located at position 6:00. Applied hour indexes and hands are coated with luminous material. Company logo «CyS» exquisitely is situated under the temporary index of 12.
The model is designed on the basis of the manufacturing movement CyS 2511 with self-winding. The rugged and reliable mechanism is built on 25 stone, and provides the 42-hour power reserve.
White or black rubber strap is fitted with the inside of the soft red lining and a steel folding clasp. A stainless steel bracelet is also attached to the watch.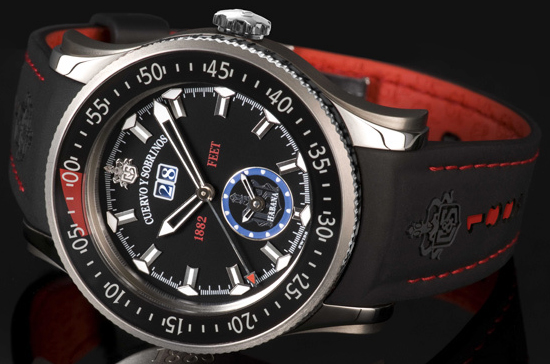 11.10.2011
egMDAUnJTTOj
Your pocket watch does wanrart a few comments if you don't mind!One have it cleaned by a GOOD watch man,as I can tell its not keeping good time by the setting of the fast and slow indicator on the movement! Its way to one side ,and if running properly it should be toward the middle of the slow and fast indicator. Second it is a low jewel count watch ,most likely a 7 jewel ,not that that's bad in itself,but it would be better if it was at least 15 jewels. Have the crystal changed!
Cuervo y Sobrinos Pirata Tourbillon: a watch for pirates
Due to the modular case, the new Pirata Tourbillon watch by the company Cuervo y Sobrinos has become a unique product. Adventure and unusual tastes of the Caribbean Pirates inspired the masters to create the watch.
25.11.13 Comments(0)

Antonio Banderas received the award from Cuervo y Sobrinos
In August 10, the known Spanish actor, director and producer Antonio Banderas marked his 53th birthday. On the day of his birth, the watch company Cuervo y Sobrinos handed the actor the Latino International award.
30.08.13 Comments(0)

Cuervo y Sobrinos Cup 2013 Rally
Mozzi Bianca Team on the Triumph TR car in February 1955 this year won the Cuervo y Sobrinos Cup 2013, which was sponsored by the famous watchmaker Cuervo y Sobrinos.
15.07.13 Comments(0)

BaselWorld 2012: Historiador 130th Gold Special Edition Watch by Cuervo y Sobrinos
By the late 19th century, Havana became a real gem of the Caribbean Sea, becoming a kind of international meeting place for intellectuals, businessmen and celebrities from around the world. It is regularly visited by representatives from the world of literature, science and cinema, people from the world of politics, not to mention the sailors and adventurers.
29.03.12 Comments(0)

Commemorative Watch of Cuervo y Sobrinos
The Swiss watch company Cuervo y Sobrinos with Cuban roots has presented a novelty in honor of its 130th anniversary. The wristwatch Historiador is made in a classically elegant style. It will be the perfect accessory for business meetings, or a valuable gift for the holiday.
09.02.12 Comments(0)



At the time, when the world waits for the Cuban Revolution, the Swiss watch looks to the past of Cuba, where the creators find sources of inspiration. Tobacco and cigars - the two main economic product of the island are embodied in one of the main motives of watches Cuervo y Sobrinos. By tradition, each purchaser of products Cuervo y Sobrinos receive a watch in humidor for cigars, and among other things, he can find a pack of handmade cards. Watches Cuervo y Sobrinos and a whole series are named after the traditional Cuban cigars. The company's founders, Armando Rio Cuervo and his nephews had watch workshop and store ...
Detailed information Cuervo y Sobrinos