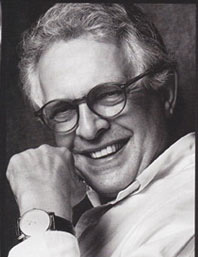 In the first half of last century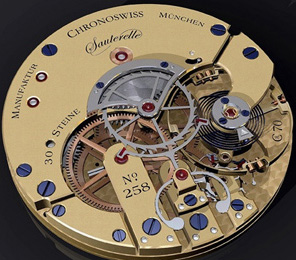 Gerd - Rüdiger Lang, who founded the watch company Chronoswiss, was born. In 1981 he opened the first workshop in Munich. Opening of the company has been very successful, as the first chronograph Chronoswiss was released a year later. Officially, the mark was registered in 1984. Creating of the brand came at time of the invasion of quartz movements. The future of the mechanical watches was not promising in the eyes of Lang, but he was not afraid and, having gone to the risk, he opened a company that manufactures mechanical watches. The massive case with fluted rim, large glasses, with powerful mobile racks for the bracelet and a spherical crown didn't inspire respect among competitors of Chronoswiss. However, some time later, watches Chronoswiss began the subject of imitation for other brands. The daughter of the brand's founder, Natalie helps to create new models. In the future, Natalie will inherit his father's business. Despite the short history, the company has many achievements. In 1988, Lang perfected the old mechanism Unitas: he shifted hour hand. He placed the mechanism Unitas in case, which has been called exclusive case of Chronoswiss.
Kairos Chronograph was released a year later by a talented watch master. Chronograph was equipped with rare caliber Valjoux 72. Model Grand Regulateur was introduced in 1994. It was a pocket watch with manual winding, which was used caliber Minerva of 1921.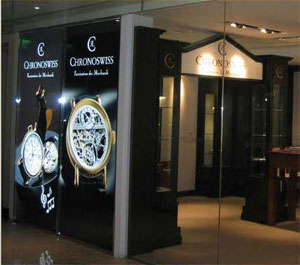 After 4 years, was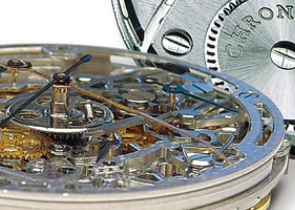 released chronograph Pathos, which had a magnifying glass, which make it possible to enjoy the work of the inner mechanism. The surface of the dial, plates and the tribe of watches is reduced to a minimum in order to observe the smallest details. Model Chronoscope has been created in the new century. It is a chronograph, which has regulatory dial. A year later, in commemorate of 200th anniversary of tourbillon creating was released model Regulateur Tourbillon. Then were produced models: Timemaster – for left-handed (the crown is on the left), the chronograph Klassik, which has the pulse meter, Kairos with diamonds, Delphis made of rose gold and mother of pearl dial and Tora made of rose gold.
Repetition a Quarts was produced in 2003. It has a minute repeater, which beats an hour and a quarter of hour on two timbre plates, this wrist watch is equipped with a safety system. In honor of the 20th anniversary of the brand the collection Timemaster was added with chronograph. Chronograph is equipped with the fly back function, has black dial and hour markers and hands are coated with SuperlumiNova C3.
Model Tourbillon was created in 2004. Case of the model consists of gold and platinum. Dial is engraved by hand and it is a type of "regulator". Appeared later, a model Profi-Timemaster has a 24-hour dial and movement with manual winding.