What is regulated by watches-regulators?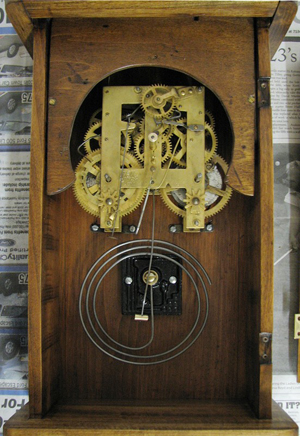 Since I've found myself in watch art and started learning and describing different models of wrist watches, I have been coming across many new concepts and terms that the world watch market, like any other field though, abounds in. Various tourbillons, bridges, split-chronographs and chronometers, escapements and spirals of Breguet, apertures and retrogrades, perpetual calendars and power reserve indicators have become an integral part of my vocabulary, almost an everyday speech. Recently my virtual vocabulary of watch terms, kept in my head, has been completed with a new word – "regulator". You may say: "What's new about it? It is used everywhere in many fields". You would be right. The everyday meaning of word "regulator" shouldn't provoke any questions. We always come across various pressure regulators, tension regulator, force regulator, so on. However, you can't but agree that the phrase "watch-regulator" means something not very usual. So, what can be regulated by such watches, if the main task of "time keeping devices" is to inform the current time or to measure time intervals? But to regulate the fundamental fourth dimension – in no way. Let's get to the bottom of regulators in watch world and to know how they are served, more exactly, what they regulate after all.
With the help of my old colleague, internet, I was surprised by much various information, concerning "regulator" in different professions. But it turned out to be quite difficult to find the appropriate "watch" meaning of that wide-known word – various advertisements of "best regulators of vapor pressure for your heating" popped out. I am about to order such vapor regulator, although I live at 6th floor but I'm already driven by huge discount, if I call right now. But suddenly out of the corner on my eye I see a familiar surname at some slipped website. It was Breguet! "That's it!" – I thought. For reference: Abraham-Louis Breguet, the founder of legendary watch brand "Breguet", was a talented inventor, who lived in the XVII – XIX centuries, patented enormous quantity of genius watch inventions, used to present day. And what could the watch heavy-hitter Breguet invent in, so to say, highways-and-byways-explored watch world? That's right, watch-regulator. Here I started to acquire a knack for various complications of watch movements. Although Breguet wasn't the first inventor of regulators (it should be said that there wasn't such name that time), his pocket watch-regulator has become most popular and introduced that fashion into watch world indeed. What kind of fashion? What sort of pocket regulators? Let's shed the light on this mysterious performance of usual watches! On the whole, in modern watch world, the word "regulator" means a watch with hour, minute and second hands at different axes and dials that gives a special look to wrist watch-regulator, which can't be confused even in darkness. But the watch got "regulating" meaning much earlier. The regulators appeared, first of all, for the comfort and accuracy. The first regulators were irreplaceable "workers" of astronomic observatories in the beginning of XVIII century and represented quite big and very accurate floor watches with several dials, counting seconds, minutes and hours separately. The tendency to phenomenon exactness made watchmakers resort to use of separate dials. Those times the observatory watches were standards of accuracy, and all watches in neighbor settlements were REGULATED according to them, that's why each second was important in their adjustment. The floor watches in observatories were being corrected every day at the moment of solstice highest point in that latitude, i.e. at 12:00:00. The adjustment of hour and minute hands didn't cause any difficulties, while setting of accurate position of second hand was sometimes impossible, as it was covered by huge minute hand, usually adorned with jewels and being rather a piece of art than minute indicator. And then they had an idea to put the seconds at separate counter, which wouldn't be covered by hour or minute hands, especially as that idea wasn't connected with technical difficulties – they only had to transfer rotating moment from the main hour wheel to appropriate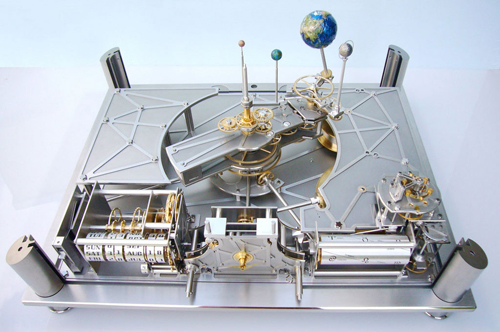 part of dial and place an additional indication there with the help of two equal gear wheels. Later on the floor watches-regulators, which had movement error of several tenths of seconds per day, became provided with more complicated movement and accurate adjustment system and, therefore, with individual "face" and special accurate character. The pocket and wrist watches around the world were adjusted according to such watches, and similar table watches-regulators, in which the second had decisive importance, were provided with second counter at "12 hours", and the minutes and hours acquired secondary importance and situated lower. The marine regulators with hour's main role were provided with additional dial with hour indication at "12 hours". Later on it gave birth to two different types of regulators: with second or hour counter at "12 hours". The watchmakers, constantly striving for downsizing of their creations, naturally couldn't pass by invention of pocket regulators. One of the first regulator movements, placed in the case of pocket watches and came up to present days, is considered to be the pocket chronometer, created by talented German watchmaker Jacob Auch in about 1800. At that time those watches were quite seriously announced as the most technological pocket models. Equipped with bimetallic rim for movement temperature error reduction, those regulators had a traditional hour counter at "12 hours" and second counter at "6 hours". There was a special opening for winding by key near separate hour dial. And in 1812 Breguet, already quite famous at that time and able to dictate the watch fashion, issued its first pocket watch-regulator. There the triumphal train of unusual watches with separate second, minute and hour dials started. True, such complicated watches provoked many disputes. The fans of regulators inclined to phenomenal accuracy of their favorite models, but the admirers of more classic watches lament for over-complexity of movement, leading to less reliability. Anyway, in a course of time the regulators gave birth to their own watch style, combining classic models with incomprehensible futuristic performances of watchmakers' boldest ideas. A new vision of usual time displaying form gained most popularity at the period of sudden technical change in the first half of XX century, when classic regulators with three (minutes seconds and hours) small dials at the main big dial reminded more of control panel with manometer hands. As the automobile industry developed and four-wheel engine chariots became widely-spread, the regulators became embodiment of automobile control panel with its tachometer, speedometer and other indicators. From the middle of past century to 1988 the many-dial high-accurate watches experienced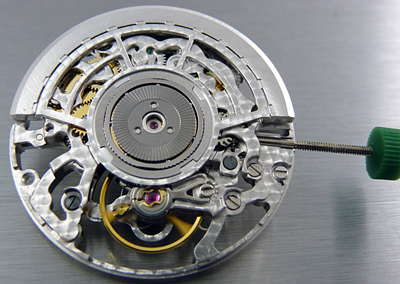 slackness, and only Chronoswiss revived the fashion for those watches with release of its first wrist regulator. A similar style of dial performance unites modern wrist watches-regulators. A classic modern chronometer with regulatory dial represents wrist watch with central minute hand, second counter at "6 hours" and additional small hour dial at leading "12 hours" position. The position of counters depends on only watchmakers' fantasy though. Quite often we can see movements with complications among regulators. Someone will be hardly surprised by date and week day apertures, but the tourbillon is a real worthy merit, as the movement of wrist watch-regulator abounds in additional gear wheels and bridges, and plus this antigravity miracle – tourbillon! By the way, about date: there are many wrist watches with regulatory dial, which shows the date by hand, taking the central place of minute hand. Power reserve indicators, perpetual calendars, split-chronograph modules – all these functions, accompanying usual wrist watches more often, don't pass by regulators either. Such wrist watches are sometimes provided with retrograde dial, where minute, second and hour counters are designed in the form of circle segment, along which the hand moves and jumps to the start position at the of this arch. The retrograde watches-regulators with "jumping hour" function are a quite unusual combination for today; the work of such chronometers turns into fascinating action, when hour hand, like second one in quartz watches, instead of smooth motion along the arch, makes short "jumps" from one hour to another, accurately measuring time intervals.
In our days the watches-regulators have become an integral feature of modern watch market, and each serious company has at least one model of these high-accurate unusual chronometers in their "arsenal". Moreover, the regulators may be provided both with automatic movements (more often caliber ETA 2892-A2 and ETA 2824-2) and "manual drive". Come from medieval observatories and flown through centuries, the high-accurate watches-regulators dashed into everyday life and took roots at the wrists of true watch art connoisseurs. Now we can safely answer the question: what do regulators regulate after all? – they regulate Your style and individuality!

Chronoswiss Regulateur a Tourbillon Squelette (Ref. CH 3121 S W Black)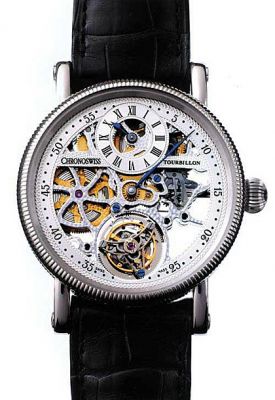 Well, the first brand, occurring to mind at mention of watch-regulators, is Chronoswiss, a young Swiss company, which gained recognition among enormous number of true watch art amateurs. An integral gracefulness of thin cases with sophisticated corrugation of welt and lower part of case became the form-factor of Chronoswiss wrist watch models. A sophisticated design indeed cleared the way to watch world for wrist watches of that company and let declaring more safely about individuality of each Swiss watch with elegant logo "Chronoswiss" on dial. The wrist watches-regulators are closely connected with Chronoswiss, because that company indeed returned the fashion for unusual dials of regulators. Issued in 80s of past century, the chronometer "Chronoswiss Regulateur" made clear for the whole world that the modern watch market can't do without such notable watches, as regulators. And here they are! Many world-known watch brands-giants just made gaudy at watch fairs with their improving models of wrist watches with separate minute, hour and second dials. But just the world manufacturer "Chronoswiss" keeps dictating the trend at the world watch market: high-accurate watches with regulatory dial. Chronoswiss presented new watch under the title "Regulateur a Tourbillon Squelette", which made clear the aim for many companies, claiming to manufacture best regulators. Presented at the annual exhibition in Bazel, perhaps, the most important event for watchmakers around the world, this limited collection has created a furor in the world of watch-regulators and gladdened the fans and collectors of wrist watch-regulators. Including all specific features of Chronoswiss watches, the model "Regulateur a Tourbillon Squelette" is designed in boldest style and has truly outstanding characteristics. This is a watch-regulator, watch-regulator with skeletonized dial, watch-regulator with skeletonized dial and tourbillon! If it's not enough, this is also a mechanical hand-wound watch with 72-hour power reserve! So, isn't it an ideal? The first in its way Chronoswiss watch "Regulateur a Tourbillon Squelette" is provided with brand caliber C361 with tourbillon and two barrels, ensuring such long operation of movement. The case is crafted in 18-carat white gold and adorned with famous engraving on welt and back case. The 38 mm diameter and 10,5 mm thickness raised this unique wrist watch to rank of thin chronometers. You can see the movement, fixed at unique skeletonized dial from 925 silver that raises the regulator from Chronoswiss to status of masterpiece, through sapphire glass with double anti-glare treatment. The wrist watch "Regulateur a Tourbillon Squelette" is equipped with elegant strap from Mississippi alligator leather and simple buckle from white gold. The hour counter takes classic position at "12 hours"; the numerals are Roman. The minute hand is at the usual place – in the center of main dial; and "6 hours" are adorned with fascinating flying tourbillon. The water resistance is 30 m. The back case is transparent. The limited issue makes up 50 pieces.

Breguet Classique Complications Tourbillon Automatic Regulator
The watch company "Breguet", gave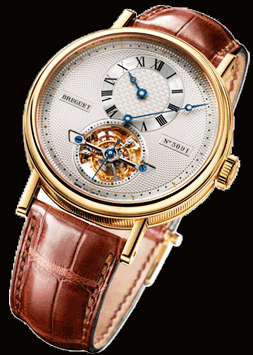 an impetus to regulators fashion in far XVIII century, decided to release modern interpretation of its classic pocket watch-regulator, provided with tourbillon. Resorting to their favorite concept "timeless classics", the Breguet watchmakers manufactured elegant wrist watch, fair to look at. A skillfully hand-guilloched dial, slow movement of brand blued hands and specific sophisticated tablets with the company's name and serial number of wrist watch model evoke some noble feelings. Breuget Classique Complications 5307 watch is classics with big C, and Breguet's classic is special, a kind of concentrated… Everything is ideal and proportional. You can see the perfectly polished carriage and bridge of tourbillon though aperture, which smoothly passes into hour counter with elegant Roman numerals, taking again a classic position for regulators – "12 hours". The minute hand smoothly circumscribes the circle of main dial, and the second hand "settled down" at tourbillon carriage axis. The legendary caliber 587 – one of the first automatic movements with tourbillon – is the heart of this "revived" classics. A huge power reserve – 120 hours – will save the owner from tedious task to wind his mechanical watch every morning. The case is crafted in yellow gold and makes up 39 mm in diameter. The watch is rather thin – 10,75 mm. The wrist watch "Breguet Classique Complications Tourbillon Automatic Regulator" is equipped with leather strap on buckle. The wrist watch Breguet with classic regulator dial will always be a desired item for collectors of great brands.

JeanRichard Bressel Flying Hands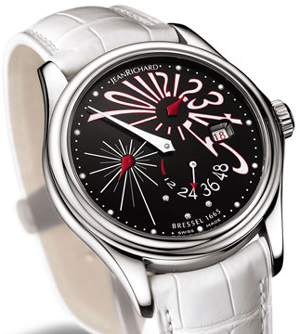 Despite its ancient history, even nowadays we can meet such phrases in watch world, as "the first…". This word indeed has distinguished the famous watch brand "JeanRichard", created women watch-regulator for the First time in the world. This miraculous creation for fair ladies is called "Bressel Flying Hands", not to make heavier the impressionable women mind with such terrible and lifeless name as "regulator". The women watch turned out to be quite worthy of ladies' attention, and according to watchmakers of JeanRichard, various modifications of regulator dials are more suitable for women, than men with their endless strive for deliberate seriousness. Being confident in their rightfulness, the watchmakers created a conceptually new movement for women wrist watch "JeanRichard Bressel Flying Hands", based on quite famous caliber of men watch model "Bressel Alternative". The finished brand automatic movement "JR1020" breathes new life in incredible dance of amazing, shining various hands, making their magic way in the labyrinth of bright involved dials. This fascinating brilliance is completed with diamonds, incrusted in bezel of steel 42-mm case and mother-of-pearl dial, symbolizing that immense colorful inner world that a man will never understand. That's why the chic women wrist watch "JeanRichard Bressel Flying Hands" with all those (according to men) unnecessary "spillikins" will never been understood by stronger sex. And it doesn't need to! The bright style, reflecting sophisticated taste of amazing watch-regulator's owner (sorry for such rude name) from respectable company "JeanRichard" is above all. There are even more ascetic variations of wrist watch "Bressel Flying Hands", completing the image of respectable business-lady. The steel case with black dial at sophisticated white strap is, maybe, lack of glare, striking one's eye from a kilometer away, but is full of gracefulness and charm. In both cases in wrist watches "JeanRichard Bressel Flying Hands" we can see almost classic position of minute, second and hour dials. The central place is for minute hand, as usual; a specific hour dial of unknown form has settled down between "12 hours" and "3 hours", beneath which the power reserve indicator with 48-hour marking appears. A bit left from it there is a second counter with indications, more like rays of smiling sun from child's pictures, although this high-accurate chronometer can't be called "childish" anyway. Having released its model of wrist watch "Bressel Flying Hands", JeanRichard made clear that they shouldn't forget about such important segment of watch market, as women watches.

Oris TT1 Der Meistertaucher Regulateur
Today the watch company "Oris" has the title of one of the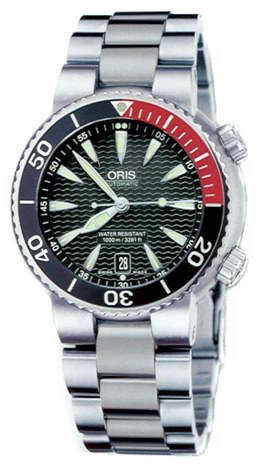 most leading world brands of Swiss watches. The company's history counts more than 100 years of successful release of original models, including sporty trend. According to philosophy of its popular series for divers, the water resistance of wrist watch "Oris" becomes the main criteria and advantage in competitive struggle at the world watch market. Apart from that all models of Oris are specific for their excellent accuracy and reliability of movements. Such "invincible" wrist watches very often were noticed on wrists of legendary divers, Oris collaborated with. The professionals choose items of watch brand "Oris" thanks to thorough approach of talented Swiss watchmakers to comfort and safety of watch models under extreme conditions. As under the water, as in many kinds of sport, the safety is above all. So, carefully studying all aspects of diver's world, the masters of Oris issued an underwater watch with regulator dial, considering such position of hands much more comfortable and effective for time indication. As the diver, looking at watch, is fully concentrated on minute hand indeed, that's why it's vitally important not to block the minute hand by hour and second ones. We are talking about perfect diver's watch "Oris TT1 Der Meistertaucher Regulateur", which will become an irreplaceable companion for sea life amateur under water. A brutal many-component case is crafted in titanium, the hardest material on our Planet, resistant to hostile environment effects. The watch is rather massive, its diameter makes up 44 mm, but it can endure colossal pressure at 1000 m depth. The dial of this watch-regulator deserves special attention. Black color with wavy guilloche – it perfectly contrasts with bright minute hand. It takes the central position and colored in red along the contour, completing the important part of all diver's watches – the red 15-minute scale at dial rim. This scale, by the way, is rotated with the help of screwing head at "2 hours", preventing from random bezel rotation during diving. The hour counter is between "3 hours" and "5 hours" that is far from classics. A supplementary second dial has found its place at "10 hours", and at "6 hours" one can notice a neat date aperture. All hands and indexes are covered with luminescent material Superluminova C3 that allows reading the time at twilight depths. All this indication comfort is safely protected with sapphire glass of 4,7 mm thickness. Among special "deep-water" bonuses we can notice a helium decompressed valve, protecting watch glass from excessive inner pressure at surfacing. The watch is provided with self-winding movement Oris 649, based on caliber ETA 2836-2. The wrist underwater watches-regulators "Oris TT1 Der Meistertaucher Regulateur" are equipped with both metallic bracelet and rubber strap with special buckle-butterfly, which allows adjusting strap or bracelet that provides the possibility to wear the watch above the diver's suit without any manipulations. The owner of this diver's regulator will be especially glad for enclosed box with illumination and device for quick change of strap with bracelet and vice versa.

Blancier Regulator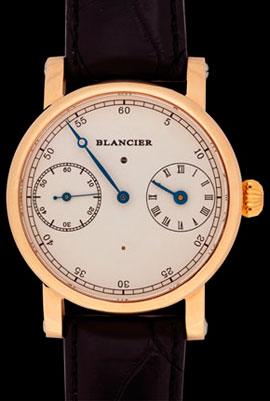 The design of wrist watch "Regulator" from young Holland watch company "Blancier" can be hardly confused with design of some other watch. The big minute hand in the center of dial proudly circumscribes its round way, making clear what plays the main role. The supplementary hour and second dials, on the contrary, are presented by unremarkable round counters and situated in a bit "non-classic" way, visually facing into the background. True, when we look at the wrist watch, we first of all want to know the current minute, while the hour is known in most cases. Following the initial idea of watch-regulator's dial, specific for high-accurate floor and wall observatory watches, which served for time indication till the beginning of XX century, the company "Blancier" had embodied the spirit of European watch art renaissance epoch in its model, while the wrist watches only started to become an integral attribute of sophisticated person. As the history of regulators development is worthy of separate chapter in the book of watch art. Such watches, literally breaking the time into minute, hour and second intervals, symbolize a brilliant problem solving, concerning movement accuracy and time indication because of uncomfortable hands position. Just that simple technical task gave a big way to watch-regulators into such diverse world of wrist watches, and Blancier proudly bears the status of craftsman in manufacture of wrist watches with such unusual and comfortable time indication, which gave birth to whole new family of high-accurate chronometers under the title "regulators". But the wrist watches "Blancier Regulator" are especially attractive thanks to a completely new approach concept of watch selection, created by founder of brand Till Lottermann. Now the customer can assemble the watch he likes at the official website by himself and order his exclusive model. Such approach resembles the "configurator" for car selection, which allows changing the color, configuration and characteristics of interesting car model and watching its price change. The company "Blancier" applies the same method. The customer can choose the color and form of crown, movement, case, welt, dial, color and form of hands and, of course, bracelet or strap in various performances. At that, depending on selected characteristics, the price on Blancier Regulator may vary ten times. The specialists pay special attention to hand-wound watch movement of caliber R1 from Blancier (diameter – 36,5 mm, thickness – 4,65 mm), assembled by Lottermann himself and qualified engineer Franz Wolf specially for that model of "regulator" wrist watches. The movement works on 18 jewels and has a 40-hour power reserve, making 18000 alterations per hour. The Holland masters have worked excellently – almost all details of movement are gilded; the caliber is provided with big strip-polished plate, which replaced the bridges; the balance holder is engraved by hand with flower pattern; the screws are thermally blued; and ratchet and crown wheels are ray-polished. The sapphire glass of back case allows watching all this magnificence with your own eyes. The mechanism of hands drive is one more miracle of watch greatness; such unusual position of counters as in men wrist watch "Blancier Regulator" is quite rare, one can say that it's practically the only combination in its way. The hour counter is situated at "3 hours", and the second one – at "9 hours". The pale-yellow dial, protected with sapphire glass, is provided with not printed, but engraved Arab and Roman numerals that speaks about high value of this model, as the engraving is no doubt a laborious process, requiring high accuracy, attention and craftsmanship. The watchmakers of Blancier from Mannheim can safely boast of quality of engraved numerals on dial, as no one fastidious client or expert can see any inaccuracies even through magnifier glass. The round case of men wrist watch "Regulator" of 42 mm diameter and 10,7 mm thickness is made of 18-carat gold that also raises the price on this wrist watch. The strap is made of crocodile leather with golden coating, it has screwing buckle crosspieces. The accurate mechanical watch-regulator from Blancier is a real masterpiece of qualified watchmakers, it's an embodiment of unpredictable and endless time. According to his personal tastes, preferences and budget, the client can choose his variant of wrist watch (perhaps, with steel case and dial), thanks to block construction of mechanism, that's why every connoisseur of watch art can afford the men wrist watch "Blancier". It's not a secret that time is created to regulate man's life, now man can regulate his own time!

Azimuth Regulateur Retrograde Minutes Black Mother-of-Pearl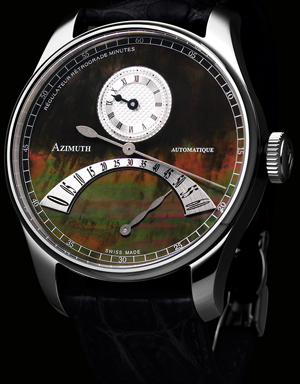 From the first day of creation the young Swiss watch company "Azimuth", founded in 2003, was adherent not to simple and usual time meters, but to those, which combine exact sciences with philosophy – philosophy of Time. The company chose the name "Azimuth" not by chance: "azimuth" is a geodesic term, meaning the angle between North and direction to some distant thing, which is measured usually by watch hand movement. Such measuring method is widely used by astrologists, navigators and military men. The company's emblem is an abstract interpretation of spiral that perfectly emphasizes the company's philosophy and conception – manufacture of high quality just mechanical watches, as the spiral is a heart of mechanical watches indeed. The masters create only mechanical watches with unusual and vanguard design decisions. Azimuth chose "Mechanical complications", performed in all models of Azimuth watches, as its motto. It's quite natural that the company couldn't pass by such concept as a watch-regulator.
Perhaps, the most outstanding model of Azimuth watch-regulators is Regulateur Retrograde Minutes Black Mother-of-Pearl from Round-1 series. This wrist watch has become a specific modern interpretation of 1940s charm. A perfectly round case of 42 mm diameter is made of high quality stainless steel 316L. The screwed back case is provided with small aperture, covered with sapphire glass, showing inner movement. The black mother-of-pearl dial is covered with solid dome-shaped sapphire glass, which is highly resistant to various scratches. The watch is provided with mechanical self-winding movement ETA 2836-2 on 25 jewelers, modified into regulator with function of retrograde minute. The second hand is situated in the center. The small hour dial with Roman numerals is situated in the upper part of dial, and the retrograde minute scale is situated in the lower part. The retrograde minute hand returns to its start position at "0", when it achieves the point of "60", repeating this cycle every time. Each hour hand is set at its separate gear wheel. The black strap is made of alligator leather and equipped with butterfly-buckle with engraved company's logo. The model's water resistance makes up to 30 meters (3 АТМ).
As all models of watch company "Azimuth", the wrist watch "Regulateur Retrograde Minutes Black Mother-of-Pearl" has its own unique design, functions and, of course, philosophy, a special philosophy of Time apprehension and representation through wrist watches.

To be continued ...