Often watch brands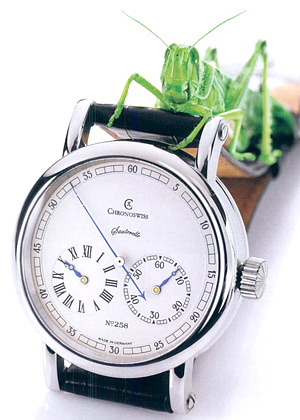 generously equip their watches with various complications, among which some of them are differ by quite common and exotic features so that they often go unused. The problem is that watches have such complications not for everyday use, but only to draw the attention of watch customers.
Chronoswiss's founder Gerd-Rüdiger Lang, producing his watches, tries to be more honest with the client, rediscovering traditional values and tricks of the watch-making. A young German engineer Karsten Frassdorf, after whose name is mentioned several watch mechanisms, embodies it in the watches. Frassdorf's style - his watches, rather watch movements refer to the beginning of XIX-XX centuries.
In the result of cooperation of this two watchmakers was born a watch with mechanism "Grasshopper" - in French Sauterelle. Such exotic name was invented by the French watchmakers to describe features of the mechanism by which the second hand does in minute 60 express "jumps" on the dial, and does not go smoothly. Mechanical watches unlike electronic demand to have a fairly complex mechanism and rare for such a "grasshopper". After all, it is necessary that exactly 1 second hand should stopbefore jumping again.
The watch with mechanism "grasshopper" (Sauterelle) has balance, ranging from the classic for pocket watch frequency of 2.5 Hz (18,000 vibrations per hour). At this frequency the watch should have second hand moving on the dial with small steps in 1/5 seconds, but the watch with the mechanism Sauterelle make a single step in every second over. To make a watch to do only 60 jumps per minute, Carsten Frassdorf and Gerd-Rüdiger Lang has developed a special mechanism: a great escape wheel and massive pallet lever with two elements acting as counterweights only released for a short by the escape wheel at each fifth v/ph - just in the last 1/5 seconds, so the watch make one jump per second.
Feature of Sauterelle watchwith the caliber C.70 is that the second hand of the watch can be stopped at any time, and it will not affect the precision. This is possible thanks to a special spring that provides the momentum that moves large escape wheel one tooth, allowing the second hand to "jump" to one division.
Sauterelle- is the first manufactory movement of Chronoswiss.