Information watch portal montre24.com presents to all lovers of fine watch making and lovers of original watches an exclusive video clip of the famous watch company Chronoswiss, which kindly opened the door of its pavilion at BaselWorld 2012. For many decades BaselWorld is one of the most important and impressive events of the world watch and jewelry. BaselWorld has become a special place with special atmosphere, which presents the best works of producers watch and jewelry products. Here tend to get almost all the watch and jewelry brands, as the BaselWorld exhibition provides an excellent opportunity for all participants to present their products to a huge number of visitors who every year come here from all over the world. However, visitors of exhibition can enjoy not only represented by watch and jewelry creations, but also to get your favorite watch or piece of jewelry directly from the most high – ranking corporate executives, as BaselWorld - it's not just an exhibition, but exhibition - fair. Each presented company tries to distinguish by its pavilion decoration, thus trying to attract the attention of a larger number of guests.
Pavilion of the company Chronoswiss at BaselWorld 2012 was placed on a vast territory in several floors. Luxurious design of the pavilion Chronoswiss was the reflection of focus and philosophy of the company. In a large glass windows of luxury and elegant pavilion of Chronoswiss were conveniently located new Chronoswiss watches at the BaselWorld 2012.
The watch company Chronoswiss, founded by Gerd - Rüdiger Lang and officially registered in 1981, is one of the most well-known manufacturers of high-quality mechanical watches. At the annual exhibition BaselWorld 2012 the watch company Chronoswiss introduced its fine watches, which the company's manager of marketing communications Christina Golze kindly agreed to show the team of montre24.com. The first presented model was men's watch - an updated version of the legendary chronograph Kairos. The watch case diameter of the new chronograph Kairos is 42 mm. It's a quite elegant watch creation, made with an exposure of the true watch traditions. The new men's watch Kairos by Chronoswiss is made of 18 - carat red gold and fitted with a transparent case back, through which you can watch the fascinating work of the internal mechanism. On the silvered dial are located counters of chronograph functions. After was presented another version of new chronograph Kairos, case of which is made of stainless steel. Then, was presented a new version of Kairos chronograph, which is made of high quality stainless steel with black DLC coating. On the black dial in contrast are presented orange hour hands, red and green hands of chronograph counters.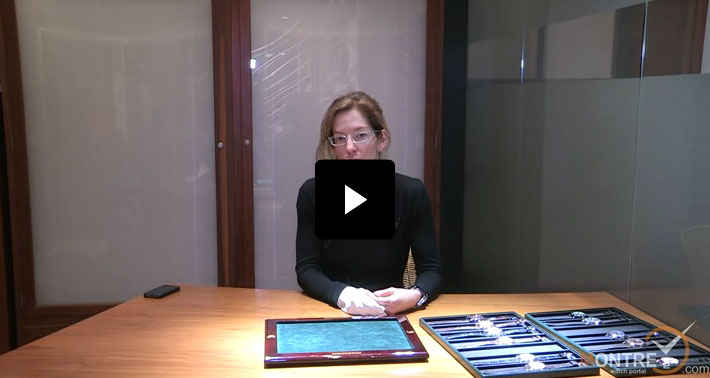 Orange stitches of black strap are in perfect harmony with the elements of the dial. The source of inspiration for the creation of this new very bright and contrasting chronograph Kairos has become motor race Singapore Grand Prix. The model has produced in a limited edition and is distinguished by its distinct sporting theme. The next presented model was men's watch Kairos Automatic, made in classic and elegant design. The main feature has become the dial of sterling silver, on which are presented the minimum number of elements: traditional three hands breguet type and small aperture of the current date at position 6 o'clock. New Kairos Automatic watch has a classic and vintage style, tending to the traditional watches of bygone eras. The watch case with fluted sides is made of 18 - carat red gold, and is equipped with a transparent case back. The next presented model was men's watch Sirius Automatic - the traditional classical model, made with all the requirements of minimalism. The model has a very slim case with fluted sides, which gives the watch a special charm. New Sirius Automatic watch is available in two versions: with case made of 18 -carat red gold and with case made of stainless steel. On the dial of a steel version are located applied hour indexes and watch hands, which are red gold plated. This gives the model an extra touch of luxury. The dial is also made of sterling silver. At position 6 o'clock is located an aperture of current date. After was presented a sporty watch by Chronoswiss – a men's watch from traditional sports series Timemaster. The new watch Timemaster is equipped with automatic movement. The case with diameter 40 mm is equipped with bezel, on which are applied minute counter with luminescent coating, which gives the watch a sporty and dynamic look. On the green dial, also covered with fluorescent substance, are located hypertrophied hour indexes "2", "4", "8", "10" and "12". At position 6 o'clock is located the aperture of current date. New Timemaster watch has presented in a version with steel case with black DLC coating an in a version with stainless steel case and black dial or luminescent dial. Sports watch Timemaster is a perfect combination of sports and classic. The final presented model was men's watch Pacific. Pacific series has launched by Chronoswiss only last year, but managed to gain huge popularity because of its luxurious design. Pacific watch is available with case in diameter of 40 mm and a case diameter of 43 mm (Grand Pacific). The model is also available with blue, brown or black dial. The watch case is made of stainless steel, and the version with brown dial is equipped with bezel of red gold. Hands and applied hour indexes of version with brown dial are covered with coating of 18 - carat red gold. The video clip also provides information about prices of presented new models. To get acquainted in more detail with new models by famous Chronoswiss at BaselWorld 2012 is possible in video clip of montre24.com, clicking the link - http://montre24.com/video/124/.
Official site of Chronoswiss watches.
17.04.2012