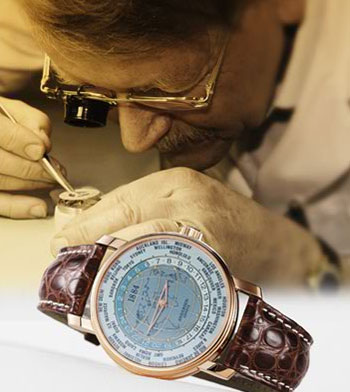 Since the time, when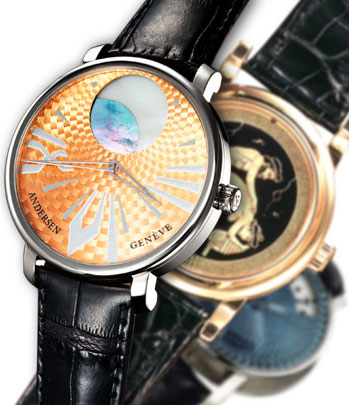 a Swiss watchmaker of Danish origin, Svend Andersen, one of the AHCI (Académie Horlogère des Créateurs Indépendants) founders, presented his first watch to the world in 1997, erotics' delight has had no limits. Since that time Andersen Geneve watches have been wanted in every original and colorful collection.
Svend Andersen's watchmaker career has started in 1963, at the age of 21, when he went to Switzerland and started working as a watchmaker at one of Lucerne service centres. His first clock, the "Bottle Clock", presented at one of TV shows, was just a hobby, but soon he was suggested cooperating with Patek Philippe. After a period of successful cooperation, in 1989, Andersen starts his "solo" career: he sets up his own workshop.
Andersen Geneve made exclusiveness and limited edition models its products' main peculiarity. Each Andersen Geneve model is a genuine gift for collectors and bold and unusual design connoisseurs.
In 2005, in honor of the Danish fairy-tales writer, Hans Christian Andersen's 200-year birth anniversary, Svend Andersen produced 2 "Montres a Tact" watch models and called this mini-collection "Hommage a Hans Christian Andersen". These original wrist watches' dials are illustrated by hand after the "Tinder-box" fairy-tale, the time correctors are situated on the case backs. The watches' straps are also handcrafted of brown leather.
The same year the exclusive "Shellman Voyage World Time" collection was produced. This is a limited edition collection with only 50 pieces. The watches' prices start at $11300. The model's strap is made of alligator leather, but even more interesting for wrist watch connoisseurs will be the "Peseux" movement, based on the 1960 hand rewound caliber, which is complicated with a world time indicator for 34 cities. The movement makes 18000 half-oscillations per hour and has a 48-hour power reserve. The case is made of 18-carats rose gold and polished in Cotes de Geneve style.
In 2006 the company was preparing for the Baselworld exhibition and produced the "Kamar Moonphase Andersen of Geneva" model especially for the exhibition. The case is made of 18-carats yellow or rose gold. This model has 45/11 mm. dimensions and a double sapphire crystal. The automatic A574 calibre has a 70-hour power reserve. The dial is made of blue gold and the Roman numbers are executed in Art Deco style. The model's hands are made of 18-carats yellow gold.
The "EROS 69" series in white gold cases created a real furore at the watch market in 2007. This gold watch is a miniature, stylized like the 17-18th century Chinese erotic art. The hand rewound movement is assembled and decorated by hand. The erotic chronograph idea itself is not new. But Andersen reworked this piquant idea almost to perfection: he put the erotic animated scenes on the gold case back, rather far off strangers' eyes. Each erotic miniature has 10 movable details, though Andersen Geneve's personal record is 15 movable parts for "cheesecake" lovers.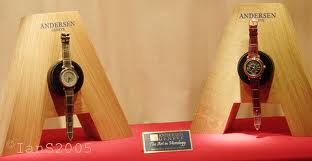 The "Eros 138" model,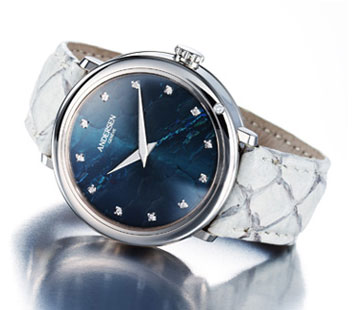 also called "President's pleasures" is a rare watch, worth from $20000 to $30000. On the front side of the white gold watch there's USA ex-president Bill Clinton, speaking in front of the White House and one the back side he's with a cigar in his mouth and Monica Lewinski. The scene can get some action if your turn the crown clockwise and push a button on the left. The dial, occupied with different colors, is under a sapphire crystal.
2010 started fir the company with the "Quotidiana" presentation and the celebration of AHCI's (Académie Horlogère des Créateurs Indépendants) 25th anniversary.
So, if you have an original Andersen Geneve watch on your wrist, you can be sure in your watch's inimitable style: most Andersen Geneve watches are limited edition models. And it doesn't matter if you have bought this watch for yourself or got it as a present, Andersen Geneve is the best indicator of your image's classics and modernity at the same time. An Andersen Geneve watch on your wrist is the top of style, the top of fashion.