| | |
| --- | --- |
| Novelties of Andersen Geneve, submitted at the GTE 2012 | |
The renowned independent watchmaker Andersen Geneve has presented at the GTE 2012 unique wristwatches the dials of which are decorated with magnificent engravings and miniatures.
New women's watch Regina is made in the form of a half sphere, studded with 529 diamonds weighing 8.74 carats. Time display is carried out in a rectangular window in the 6 o'clock position. On request, diamonds can be replaced with other precious stones. The housing of the watch in diameter of 35 mm and 16 mm thick is made of red or white gold. The Regina watch is delivered on a silk strap or gold bracelet.
Next novelty Rousseau is dedicated to the 300th anniversary of the famous philosopher, educator and writer Jean-Jacques Rousseau. The watch dial is a thumbnail, created by the famous artist Patrick Vesnier. The model will be ready for the birthday of the great educator of June 28, 2012 and will be put up for sale. Half of the proceeds from its assets will be transferred to the fund of social organization, which will be chosen by the future owner of watch and Andersen Geneve brand.
A wrist watch Communication 750 is the 12th model of the collection, consisting of items with GMT complication. The dial of blue gold makes the day complete revolution and points 24 time zones with the names of 30 major cities on five continents. Novelty is based on an automatic mechanism TechnoTime, complicated AG 600, and providing a 120-hour power reserve. The case diameter is 42.40 mm and thickness is 11.40 mm. The model comes on a leather strap.
Model Quotidiana - is not just a watch, but a device that shows a slow and continuous time. Center of the blue gold dial is marked by symbols and names of seven days a week. It can rotate slowly or quickly according to the mood of the owner. Center is surrounded by hour indices, while the hour markers are shown on the sapphire crystal. Housing diameter is 40 mm, thickness - 9 mm. Inside the case is built an automatic movement, providing a 72-hour power reserve.
A new watch Poker is a unique timekeeper, allowing the owner to monitor the time without turning the wrist, as the time display is in a rectangular window at the 6 o'clock position. The upper plate of the dial is decorated with a miniature "Bold Bluff", created an American artist Cassius Marcellus Coolidge, who from 1903 to 1910 drew 16 oil paintings of dogs in human poses, playing poker. In the window, fixing time, hour markers are replaced by a combination of card.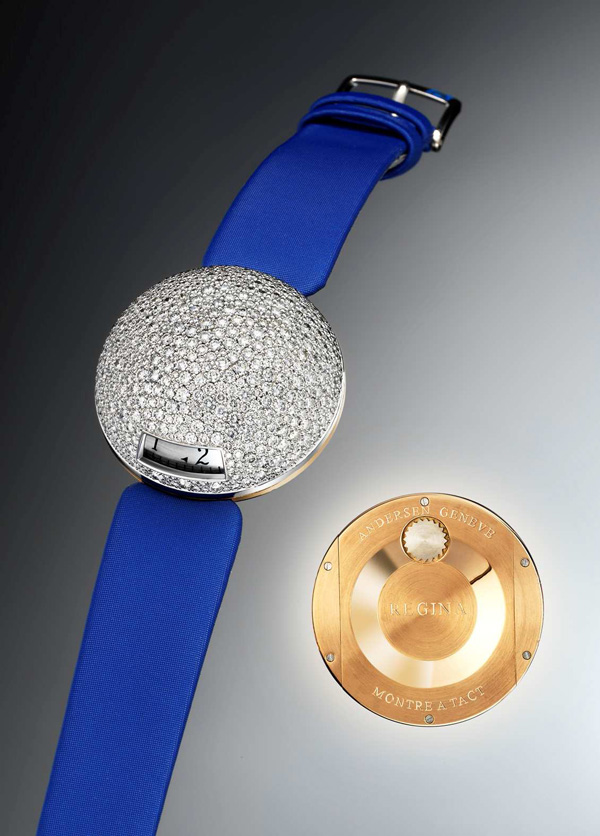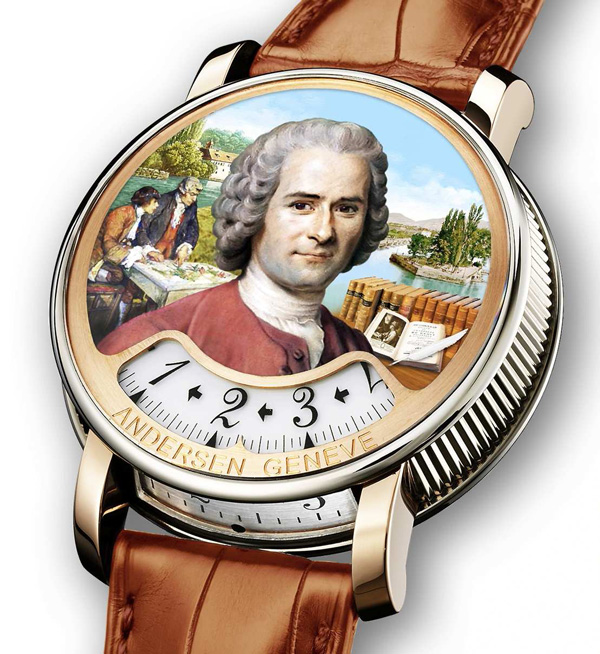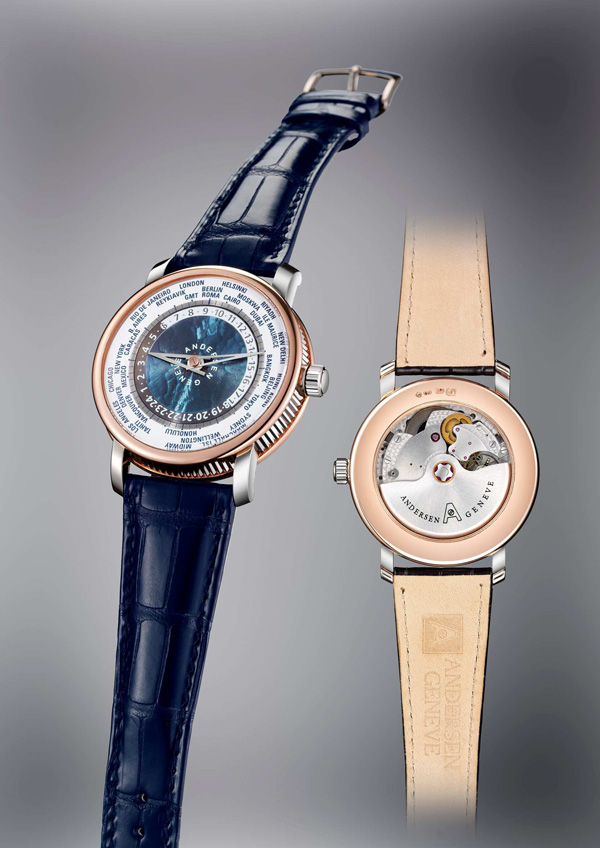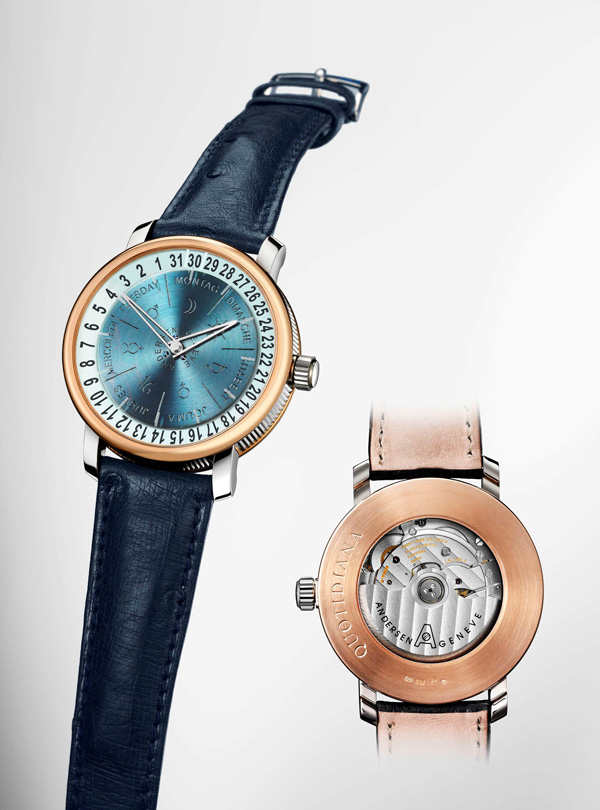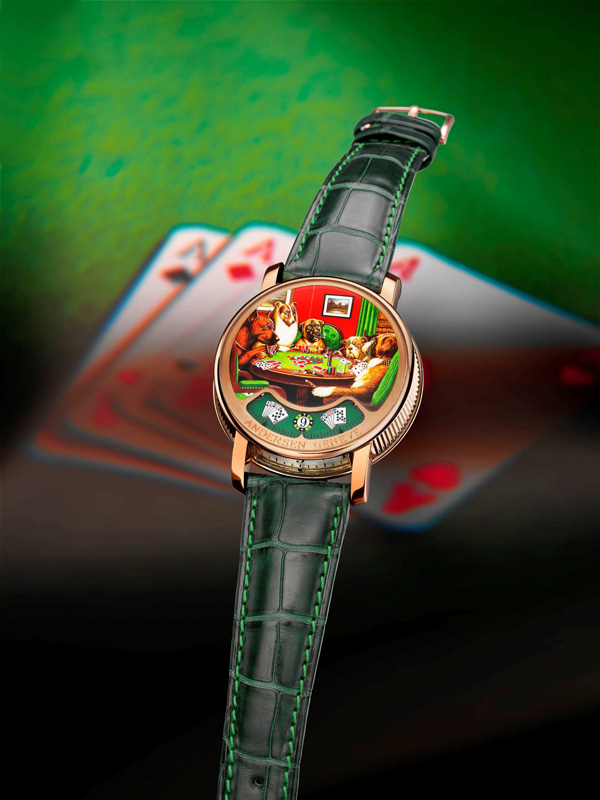 17.01.2012
News of Montre24.com: Exclusive video of Andersen Geneve at the GTE 2012
Watch informational portal Montre24.com presents an exclusive video of Andersen Geneve, which gives a unique opportunity for all fans of watchmaking to make an acquaintance with the masterpieces of Andersen Geneve watch brand, presented at the annual exhibition GTE 2012.
24.02.12 Comments(0)

New Participants of GTE
A unique collection of wrist watches, which will be provided at the Geneva Time Exhibition in 15-20 January, will be added by masterpieces of the four new members. All of them are active members of the Academy of Independent Watchmakers.
30.11.11 Comments(0)



Since the time, when a Swiss watchmaker of Danish origin, Svend Andersen, one of the AHCI (Académie Horlogère des Créateurs Indépendants) founders, presented his first watch to the world in 1997, erotics' delight has had no limits. Since that time Andersen Geneve watches have been wanted in every original and colorful collection. Svend Andersen's watchmaker career has started in 1963, at the age of 21, when he went to Switzerland and started working as a watchmaker at one of Lucerne service centres. His first clock, the "Bo...
Detailed information Andersen Geneve