The watch brand Century has introduced two new models Prime Time ref. 606.7.S.AB1.15.SM and 606.7.S.12.15.SM, issued on the occasion of the 25th anniversary of a landmark Prime Time collection.
The novelty Prime Time has a recognizable sapphire case with 12 facets, fully carved and polished by hand. The scratch-resistant case shimmers in the light and exudes a soft shine of diamonds. The models operate on the base of quartz movements.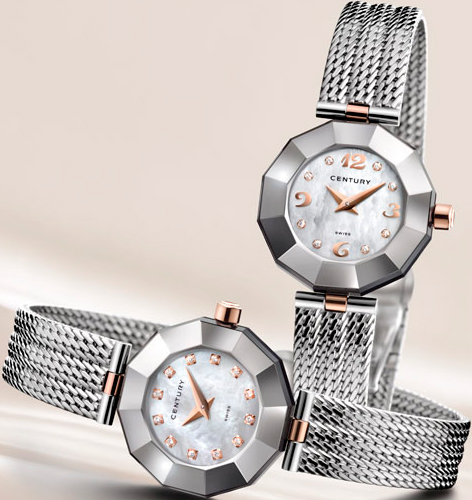 Century Prime Time (Ref. 606.7.S.AB1.15.SM and 606.7.S.12.15.SM)
The bracelet bar, crown, hour markers are made of red gold. The layout is available in two versions: 12 diamonds or 8 diamonds and 4 Arabic numerals.
Bracelet is a Milanese mesh – it is jewelry technique of weaving the Renaissance. Thanks to it creates a nice visual effect between the contrasting crisp geometric lines of the case and sensual curves of metal links.
To buy the Prime Time watch is available through the official representatives of Century.
Official site of Century.
Written by Lucy Vuiton
08.08.2013