Swiss watch company Century has released a new watch Prime Time Egos Chronograph Day & Date of twelve facet sapphire case, which was cut and polished entirely by hand. This is a very laborious task, requiring much time and skill.

Prime Time Egos Chronograph Day & Date has a slightly tinted white dial. Hour and minute hands are coated with phosphor composition, for the best easy viewing in the dark. A tachometer scale is situated on the edge of the dial. The provisions of 12, 3, 6 and 9 hours are marked by bright red circles.

Seconds are displayed by a small hand at the "9 o'clock". On contrary, in a huge circular aperture are day and date on which the concerned sides are pointed with the red hands. The central seconds hand and counter at "12 and 6 o'clock," perform the functions of the chronograph: 30-minute and 12-hour.

Of course, first of all, the new wrist watch Century captures the attention of the diamond-shaped arrangement of its 4 extra dials. Especially it is interesting the one that is at the mark "3 o'clock". This is an unusually large aperture, showing in a "porthole" a day and a number.
Water resistance of this watch is 100 meters.

Inside is mounted an automatic Swiss movement Valjoux, certified by COSC. The watch Prime Time Egos Chronograph Day & Date has a 48-hour power reserve.

The watch is delivered on a steel bracelet from the links of Milan woven – it looks like very brutal, however, the impression of the watch can easily be mitigated by replacing the bracelet on a leather strap. The watch Prime Time Egos Chronograph Day & Date is a unique combination of style, elegance, and at the same time, chopped, simple forms, which give the model a special charm.

The famous watch company Century was founded in 1919 by Pascal Klingenberg. It was brand Century which released the world's first wrist watch in the case, carved from a single sapphire. This is a unique technology that allows forming the complex carved case, maintaining the integrity of the stone.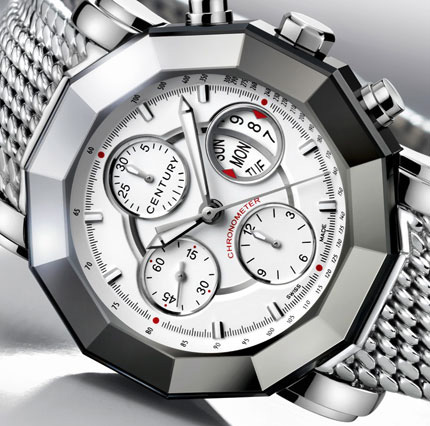 24.11.2011