| | |
| --- | --- |
| A New Ballerina Precious Elegance by Century | |
The mysterious world of dance and turned figurines of dancers are inspired the watch company Century to create a new jewelry watch Ballerina Precious Elegance, designed for modern women who appreciate a femininity and beauty.
Ballerina Precious Elegance is the owner of an exquisite pear-shaped case with dimensions of 35, 7 mm x 22, 1 mm. The case thickness is 7.4 mm. The dazzling brilliance of diamonds on the case surface gives it a remarkably attractive appearance. The watch water resistance is up to 100 meters.
Model fascinates with palladium gloss of the bezel with 50 facets, which securely attaches a sapphire crystal to the case. The crown, set between 3 and 4 hours, is also adorned with a diamond.
The dial is paved with 41 diamonds. Placed one after the other, they form the hour markers. Time is indexed on the dial by the central hour and minute hands, which are operated with a reliable quartz movement.
Satin strap or alligator strap completes the glamorous image of the new item.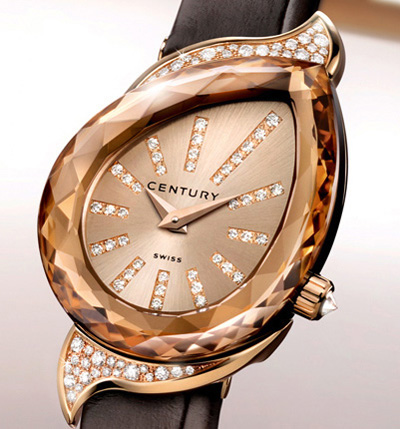 18.11.2011
Prime Time Watch by Century
The watch brand Century has introduced two new models Prime Time ref. 606.7.S.AB1.15.SM and 606.7.S.12.15.SM, issued on the occasion of the 25th anniversary of a landmark Prime Time collection.
08.08.13 Comments(0)

Symbol of Freedom on the Wings of Time Watch by Century
Known company Century, inspired by the image of the bird that is the embodiment of the desire to the free flight, has released an unusual watch Wings of Time. When you open the dial, it seems that the gracing bird soars skyward.
29.10.12 Comments(0)

BaselWorld 2012: Elegance Chronograph GMT Watch by Century
International watch exhibition BaselWorld 2012 is in full play, and the attention of the the world community, indifferent to the watch delights, artists and designers today are concentrated in a small Swiss town - Basel.
10.03.12 Comments(0)

New Chronograph by Century
Swiss watch company Century has released a new watch Prime Time Egos Chronograph Day & Date of twelve facet sapphire case, which was cut and polished entirely by hand. This is a very laborious task, requiring much time and skill.
24.11.11 Comments(0)



One of the leading companies, producing jewelry watches, Century was founded in 1919 in Switzerland. The company was founded by Pascal Klingenberg, but the company became famous thanks to the son of the founder, the genius of watch making Hans Klingenberg. He embodies the reality such watch projects that can be imagined only through vivid imagination. These projects have crossed the edge of imagination and materialized in the products of genius watchmaker Hans Klingenberg. His dream was to create watches of whole-precious stones. After much searching, he invented a system of "Megalith", by which it was possible to ...
Detailed information Century