| | |
| --- | --- |
| Cooperation of Laurent Ferrier and Meissen Italia in Haute Horlogiere | |
The famous watch brand Laurent Ferrier and the Italian subsidiary of the traditional porcelain manufactory Meissen Italia has announced their cooperation in the field of fine watchmaking.
At the international watch exhibition BaselWorld will be presented the first fruits of co-creation. These are two models Galet Secret with Tourbillon and a double balance spring. Watch dials are made of the finest hand-painted porcelain of Meissen.
The future owner can order a dial design with a unique personalized picture.
CEO of Meissen Group, Christian Kurtzke said: "Thanks to the cooperation with the brand Laurent Ferrier we are in the top segment of the watchmaking, regardless of the major groups. This opens up broad prospects for our subsidiary company Meissen Italia for the development of the Meissen Joaillerie's portfolio".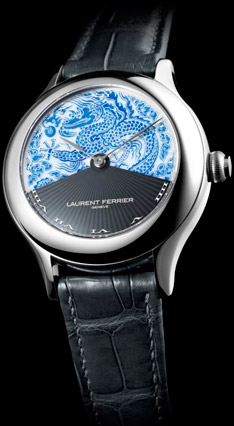 Galet Secret watch by Laurent Ferrier with a porcelain dial Meissen
Olive Muller, CEO of watchmaker Laurent Ferrier, expressed his opinion about the cooperation with Meissen Italia: "We are delighted to be working with a brand that is more than 300 years. Now we stood out not only because of the technology, but also even among the companies making the enamel dials - we can offer our customers true works of art, even in the segment of métiers d'art. One only has time to feel a high level of performance, incredible attention to detail with which the masters of Meissen paint the dials - and you can see why our companies are so perfect for each other, so why we are together in harmony."
Official site of Laurent Ferrier.
Written by Angel
28.03.2013
Laurent Ferrier introduces a new caliber Galet Micro-Rotor
After two years of hard work, through the development of entirely new material and application of innovative technologies the Swiss watchmaker Laurent Ferrier in the current 2012 year has introduced its new caliber Galet Micro-Rotor.
16.06.12 Comments(0)

Laurent Ferrier — Galet Galet BaselWorld 2012
Galet classic is a watch model which undoubtedly can be a real star of classic watch collection created by Laurent Ferrier watch-makers. Galet watch is an example of modern style, complex and skilful work of watch-makers and experts. An impeccable watch Galet is supplied with double-hairspring tourbillon. Watch dial is gray.
14.03.12 Comments(0)

Watches of the Year by Chronos24
Polish watch site Chronos24.pl held a contest for the best chronometers passing in 2011. The jury chose the best watches in six categories, and the seventh winner (Public prize) was determined on the basis of online voting.
28.12.11 Comments(0)

In September 23, 2011, a charity auction Only Watch was held
In September 23, 2011, on Friday, a charity auction Only Watch was held under the patronage of His Highness Prince Albert II. The proceeds for the auction will be given for research into Duchenne muscular dystrophy. The auction is held every two years, and among its members the most prestigious Swiss watch brands appear.
26.09.11 Comments(0)



Laurent Ferrier, having worked over 37 years at the famous Patek Philippe factory, with his son Christian decided to start their own business to produce exclusive watches and called their brand Laurent Ferrier Genève. Their first work was the Galet Classic Tourbillon Double Spiral, the model underlining freedom, quality and precision. Their watches reflect traditions of Swiss watchmaking workmanship going to the future. They are created according to requirements of watch classic without excess in an understatement style. The first exclusive of the new brand is Tourbillon...
Detailed information Laurent Ferrier