| | |
| --- | --- |
| Laurent Ferrier — Galet Galet BaselWorld 2012 | |
Galet classic is a watch model which undoubtedly can be a real star of classic watch collection created by Laurent Ferrier watch-makers.
Galet watch is an example of modern style, complex and skilful work of watch-makers and experts. An impeccable watch Galet is supplied with double-hairspring tourbillon. Watch dial is gray. There are eleven (Roman) hour marks around the dial. They are made of red gold and at the position of "6 o'clock" there is now hour mark at all, there is a counter of seconds. Model Galet contain movement caliber FNB 916.01 designed and created by Laurent Ferrier watch-makers who were inspired by beautiful watches of 19th century which were supplied with manual rewind. For the manual rewind it was always used setting-lever spring, but in Gatet watch model it was substituted by a "long-blade" type ratchet pawl decorated beautifully which shows a high quality of skilful watch-makers' work.
A fine elegance and refinement can be found in every collection of watches by Laurent Ferrier watch makers who want to send their experience and knowledge to their posterity.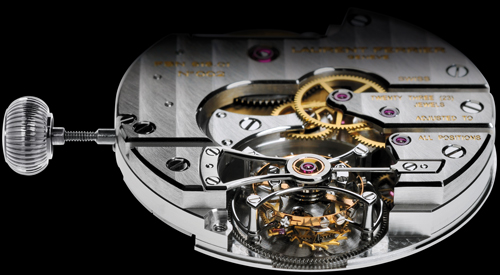 Movement of Galet watch is supplied with manual rewind caliber FNB 916.01, which contain double-hairspring tourbillon. Movement also contain 182 elements, 23 gems. Frequency rate is 21 600vph and 80-hour power reserve.

Main functions of Galet watch are: hours, minutes and seconds.

The case is made of 19 carat red gold. Case diameter is 41mm. Case of 30 meters waterproof.

Dial is made of 18 carat gold, gray-colored. Hour marks are also made of red gold. Hands are made of 18caret red gold as well and their shame reminds an assegai.
In the middle of the dial minute and hour hands are fixed. A hand of seconds is placed at a small separate dial at the bottom of the main dial.

The strap is made of alligator genuine leather of brown colour. Lining is made if Alcantara. Buckle is also made of 18carat red gold.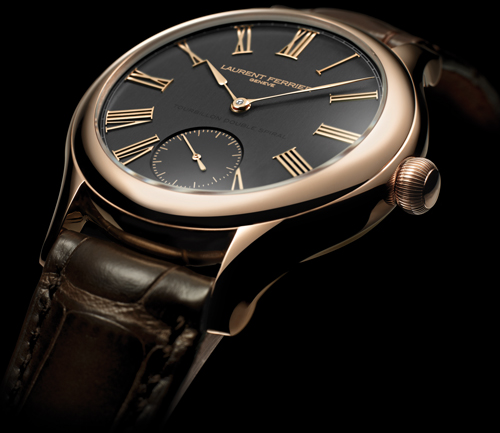 14.03.2012
Laurent Ferrier introduces a new caliber Galet Micro-Rotor
After two years of hard work, through the development of entirely new material and application of innovative technologies the Swiss watchmaker Laurent Ferrier in the current 2012 year has introduced its new caliber Galet Micro-Rotor.
16.06.12 Comments(0)

Watches of the Year by Chronos24
Polish watch site Chronos24.pl held a contest for the best chronometers passing in 2011. The jury chose the best watches in six categories, and the seventh winner (Public prize) was determined on the basis of online voting.
28.12.11 Comments(0)

In September 23, 2011, a charity auction Only Watch was held
In September 23, 2011, on Friday, a charity auction Only Watch was held under the patronage of His Highness Prince Albert II. The proceeds for the auction will be given for research into Duchenne muscular dystrophy. The auction is held every two years, and among its members the most prestigious Swiss watch brands appear.
26.09.11 Comments(0)



Laurent Ferrier, having worked over 37 years at the famous Patek Philippe factory, with his son Christian decided to start their own business to produce exclusive watches and called their brand Laurent Ferrier Genève. Their first work was the Galet Classic Tourbillon Double Spiral, the model underlining freedom, quality and precision. Their watches reflect traditions of Swiss watchmaking workmanship going to the future. They are created according to requirements of watch classic without excess in an understatement style. The first exclusive of the new brand is Tourbillon...
Detailed information Laurent Ferrier