Hanhart is harking back to its close association with motor racing in the 1960s and 1970s with the launch of three new chronographs from its Pioneer collection. The Racemaster GT, the Racemaster GTM and the Racemaster GTF, with their sporty, technology-inspired design, are the first models produced by the Swiss-German watch brand to feature watch cases made from HDSPro® steel, which is 100 times more scratch-resistant than conventional stainless steel.
Legendary tracks, famous names and unforgettable racing cars – the early days of motor racing were characterised by a sense of adventure and something truly extraordinary. While fearless drivers revved up their engines and raced round and round the circuit, battling for position, team managers, engineers and race directors would record their lap times. None of this would have been possible without mechanical stopwatches – specifically, mechanical stopwatches from Hanhart!
Ever since the first stop watch was produced in Hanhart's workshops back in 1924, the Swiss-German watch brand, which is celebrating its 130th anniversary in 2012, has been closely associated with motor racing. In autumn 2012, in homage to the fascinating, adrenaline-fuelled sport of motor racing, Hanhart is expanding its Pioneer collection with the launch of three new Racemaster mechanical chronographs.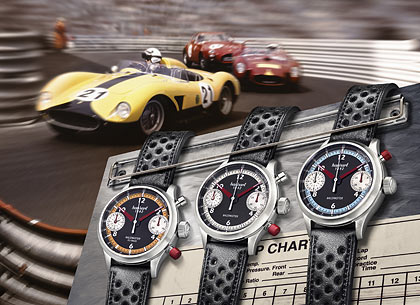 Hanhart and motor racing
Right from the start of the design phase, it was decided that the look of these chronographs should be inspired by sporting technology. Their appearance should pay tribute to the design of vintage racing cars: dynamic, cool and daring. The result is a watch with an eye-catching case and a distinctive leather strap in a racing design with a red lining. The dial is clearly reminiscent of early speedometer displays – thanks to its neat style, with luminous arrow-shaped hands, simple and perfectly readable Arabic numerals and applied hour index marks, coloured subdivisions into individual segments and Hanhart's characteristic display format with two counters at 3 o'clock and 9 o'clock, a tachymeter scale around the edge and the unconventional circular element in the middle.
And, of course, it also features the hallmarks of Hanhart design – the asymmetrical button arrangement and the red reset button.

Watch cases made from stainless steel that is 100 times more scratch-resistant

To keep the sporty, technology-inspired look of the Pioneer Racemaster watches in perfect condition for as long as possible, Hanhart is manufacturing the cases from an innovative kind of stainless steel. Hanhart is the first watch brand in the world to use this steel, which offers an ideal combination of hardness, resistance to corrosion and nickel-free composition. A special finishing process gives this steel its distinctive surface structure, which is at least three times tougher than before, resulting in a more than 100-fold, and thus more than 10,000%, improvement in scratch resistance. The use of this finishing process is patented for the watch- and jewellery making industry under the brand name HDSPro®.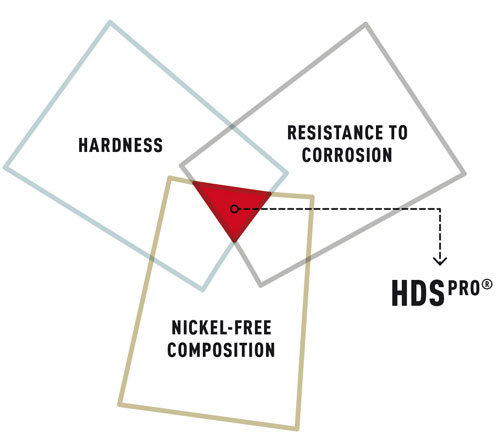 Aside from its exceptional scratch resistance, this processed steel is also distinguished by its outstanding resistance to corrosion, which is comparable with any of the highest quality stainless steels available. Since the steel is not coated during the finishing process, the authentic look and feel of the material is retained and, moreover, there is no risk of chipping any layers of coating that have been applied. Last but not least, this steel does not contain any nickel, so watch cases made from this material do not pose any known allergy risk.

New chronograph in three different versions

To introduce this new range, Hanhart is launching three Racemaster watches with cases measuring 45 millimetres in diameter. These models are differentiated by the design of their movements and dials, but all three have their own exclusively and elaborately converted automatic calibre. This makes it possible to position Hanhart's characteristic 3 o'clock and 9 o'clock displays in an aesthetically harmonious arrangement right at the edge of the generously sized dial. The aesthetic appearance of the Racemaster models thus corresponds perfectly with the style of the Hanhart chronographs from the 1930s, which owed their distinctive design to the unusual 15.5-ligne size of the early manufacture calibre.
As a single-button chronograph, the Pioneer Racemaster GTM is based on the years of experience accumulated by Hanhart in manufacturing this kind of timepiece. All the chronograph functions – start, stop and reset – are performed via the same button and they always follow strictly one after the other. Unlike its two-button counterpart, the seconds hand on this model cannot be resumed after it has been stopped; it invariably jumps back to its initial position the next time the button is pressed. The movement has therefore been slightly reengineered: the lever which sits directly beneath the point where the button at 4 o'clock would normally be has no function, so a large shift lever is responsible for the third strike on the chronograph cam. This cam has also been modified so that it has an additional tooth on its lowest level, enabling the shift lever to control not two, but three positions.
On the two-button Pioneer Racemaster GT chronograph, the small round display at 9 o'clock is not simply reserved for the small seconds, as would normally be the case; it also accommodates a practical 12-hour counter. This model thus remains true to the bicompax display format, yet it also features all the functions of a tricompax chronograph. The upper chronograph button, positioned asymmetrically in relation to the lug, is a striking feature that is unique to Hanhart. In order to achieve this arrangement, Hanhart integrates a specially designed lever into the case. This redirects the force from pressing the button located at 2 o'clock by the required number of millimetres.
As for the Pioneer Racemaster GTF, this model also features a flyback function. While on a conventional stopwatch one button controls the start and stop functions, another is used for setting the relevant hands to zero and an intermediate stop is required for a restart, this flyback mechanism makes it possible to simultaneously stop, reset and restart the chronograph by pressing a single button once. The chronograph hand thus returns to its starting position and immediately resumes its time measurements; there is no need to restart the watch after it has been reset.
The colour scheme used for the dial reflects the colours of the legendary racing cars of the 1960s and 1970s: the anthracite-tinted middle section provides a strikingly contrasting backdrop for the bright red hands and is surrounded by a ring-shaped minutes scale, which is white on the Racemaster GT, light blue on the GTM and orange on the GTF.
It is also worth taking a look at the back of the three new Pioneer Racemaster models: the closed case backs, as conventionally seen on instrument watches, are decorated with an elaborate engraving of a starter's flag crossed with a chequered flag.

PIONEER Racemaster GTM

Movement: HAN4212 modified automatic chronograph movement (bicompax) with exclusive module; increased crown-to-button spacing and single-button conversion; 28,800 vibrations per hour, 4 Hz; 31 jewels; rotor with skeletonised Hanhart logo; power reserve of min. 42 hours
Functions: Small seconds at 9 o'clock, 30-minute counter at 3 o'clock, tachymeter scale
Case: HDSPro® stainless steel; red button; convex sapphire glass, anti-reflective on both sides; screwed-down case back with engraving; diameter 45 mm; height 16 mm; water-resistant to 10 bar/100 m
Dial: Anthracite/blue; applied index marks; with Super-LumiNova® coated, luminous numerals and hands
Strap: Calfskin in racing design; stainless steel pin buckle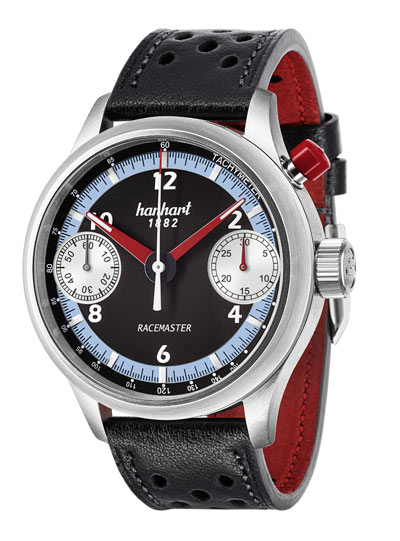 Pioneer Racemaster GTM watch

PIONEER Racemaster GT

Movement: HAN4011 modified automatic chronograph movement (bicompax) with exclusive module; asymmetrical button arrangement; 28,800 vibrations per hour, 4 Hz; 35 jewels; rotor with skeletonised Hanhart logo; power reserve of min. 42 hours
Functions: Small seconds and 12-hour counter at 9 o'clock, 30-minute counter at 3 o'clock, tachymeter scale
Case: HDSPro® stainless steel; red reset button; convex sapphire glass, antireflective on both sides; screwed-down case back with engraving; diameter 45 mm; height 16 mm; water-resistant to 10 bar/100 m
Dial: Anthracite/white; applied index marks; with Super-LumiNova® coated, luminous numerals and hands
Strap: Calfskin in racing design; stainless steel pin buckle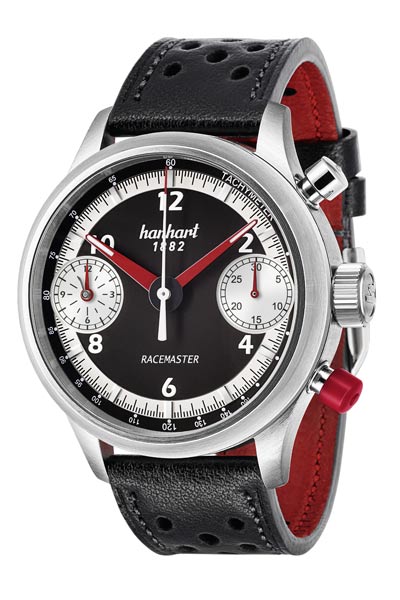 Pioneer Racemaster GT watch

PIONEER Racemaster GTF

Movement: HAN4312 modified automatic chronograph movement (bicompax) with exclusive module; asymmetrical button arrangement; 28,800 vibrations per hour, 4 Hz; 34 jewels; rotor with skeletonised Hanhart logo; power reserve of min. 42 hours
Functions: Flyback function, small seconds and 12-hour counter at 9 o'clock, 30-minute counter at 3 o'clock, tachymeter scale
Case: HDSPro® stainless steel; red reset button; convex sapphire glass, antireflective on both sides; screwed-down case back with engraving; diameter 45 mm; height 16 mm; water-resistant to 10 bar/100 m
Dial: Anthracite/orange; applied index marks; with Super-LumiNova® coated, luminous numerals and hands
Strap: Calfskin in racing design; stainless steel pin buckle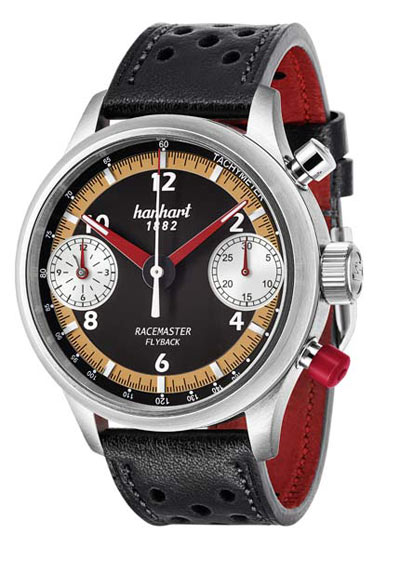 Pioneer Racemaster GTF watch
Official website of Hanhart watches
press release
25.09.2012