| | |
| --- | --- |
| The new nickel-free HDS Pro® stainless steel from Hanhart watch company | |
Hanhart is nowadays the only watch brand in the world to use special kind of nickel-free stainless steel for their wrist chronograph cases' production. This stainless steel is finished in a specific way, making it firmer and thus increasing its scratch resistance by 10000%. Using this way of treatment is patented for watch- and jewellery-making under the brand name of HDS Pro®.
Hanhart watch company is an undisputed leader in producing robust and hard-wearing instrument watches for being used in air, on land and in water. Under extreme circumstances such timepieces can be exposed to high levels of stress, yet reliably and safely helping its owner to overcome the difficulties he can face on his way. This is the reason why the German-Swiss brand has opted for using the HDS Pro® stainless steel for producing its mechanical chronograph cases' in future, becoming the first manufacturer in the watchmaking industry to use this unique fusion. The HDS Pro® stainless steel possesses a unique combination of hardness, corrosion resistance and nickel-free composition.
The innovative finishing technique gives the wrist watch surface the structure, which is no fewer than 3 times as firm as the previously used materials. Compared to the previously used stainless steel variations, this stainless steel is 100-fold better scratch-resistant, which is 10000%. This means that men's wrist watches from Hanhart, used in extreme circumstances and aggressive environments will look just as new even after years of wearing.
Apart from the outstanding scratch resistance, the stainless steel, finished this way possesses highest levels of corrosion resistance, making it comparable to any highest quality stainless steel in this factor. Due to the fact, that this stainless steel is not coated while finishing, its initial structure and feel stays untouched and, moreover, the chance of chipping any layer of coating during the process of finishing is eliminated. The last in the list, but not in meaning is the fact, that the HDS Pro® stainless steel contains no nickel in its structure, which makes all watch cases, produced of this material, absolutely hypoallergenic.
First German-Swiss Hanhart wrist watches with cases, produced of the nickel-free scratch-resistant HDS Pro® stainless steel, will be produced this year and you'll be able to buy watches with cases, made of this variety of steel, from the company's official representatives in your country.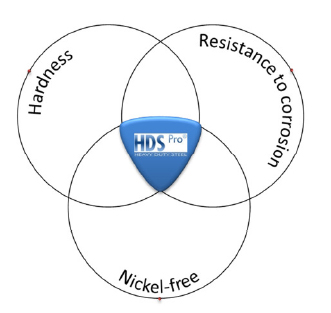 24.02.2012
Ian Edex - New COO of Hanhart
Recently, 42-year-old Ian Edex was appointed asa new chief operating officer of the company Hanhart.
16.04.13 Comments(0)

New Primus DIVER Watch by Hanhart
Swiss watch brand Hanhart has released a new version of its chronograph Primus DIVER, which is different from the previous models with its design and water resistant to 300 meters. The previous watch has 100 meters water resistance.
29.12.12 Comments(0)

New Pioneer MonoScope Watch by Hanhart
Swiss watchmaker Hanhart has announced the release of a new watch model Pioneer MonoScope, which inherited the distinguishing feature of its legendary predecessor - it also has only one button to control the chronograph functions.
14.02.12 Comments(0)

A New Limited Edition Pioneer Stealth 1882 Chronograph by Hanhart
The watch company Hanhart has introduced a new limited edition Pioneer Stealth 1882 Chronograph, in design of which are used the traditional colors of black and white. But in this watch are present the famous "red button" and chronological hand painted in red.
12.01.12 Comments(0)

CLASSICTIMER – Now available for the home and the office, too
Hanhart is now offering a practical table stand for the double dashboard set from the ClassicTimer collection. The high-quality stopwatches and instrument watches of the ClassicTimer collection, which are produced by Hanhart in its own manufactory in Gütenbach, Southern Germany, are collector's items and functional accessories that you would be glad to have with you all the time – whether at home, at work or in your car.
29.09.11 Comments(0)



Hanhart watch company was founded in 1882 in Switzerland, but it still remains a small watch company. This brand is very pupular in Germany, as the company is headquartered in this country. But despite this fact, Hanhart is considered to be Swiss watch company. Johann Adolf Hanhart was a founder of the company. He established a workshop not far from Schaffhausen. In a year the watchmakers created just a few watches. Then in 1902 Johann Adolph moved to Schwenningen. At that time, wrist watches were not in use, so, Hanhart company produced only wall clocks. And in 1924, the company manufactured the first Hanhart mechanical wa...
Detailed information Hanhart