Information watch portal montre24.com presents to all lovers of fine watch making and lovers of original watches an exclusive video clip of the famous watch company Hanhart, which kindly opened the door of its pavilion at BaselWorld 2012. BaselWorld exhibition is a special place with special atmosphere, which every year gather a great number of visitors on a big territory, who try to get acquaint with a great number of creations by different watch and jewelry brands, presented here. Every watch and jewelry brand tries to participate in this important event, because BaselWorld provides a unique opportunity to all participants to demonstrate their luxury watch and jewelry creations in the most favorable light and to the very large number of visitors: general public of amateurs, professionals, distributors, partners and potential customers. BaselWorld is no usual exhibition, but exhibition – fair, as visitors can purchase liked watch and jewelry directly from the highest-ranking corporate executives. Here all attention is unwittingly focused only luxurious and simple, complex and extraordinary, single and massive creatures of watch and jewelry art. BaselWorld is colorful and unforgettable event, where every brand tries to catch attention of a large number of visitors by its pavilion: pavilions of some brand were differ by their luxury decoration, some – by huge sizes in several floors, decoration of another has become their watch and jewelry creations.
The pavilion of Hanhart at BaselWorld 2012 has been placed on big territory, decorated in old style. The walls of pavilion Hanhart were decorated with large number of photos, on which are depicted various historical moments and historical models of Hanhart. On the screens are presented a number of different videos of significant events in which the company Hanhart took an active part. Decoration of the pavilion Hanhart emphasis the long history of Hanhart - 130 years in the watch industry.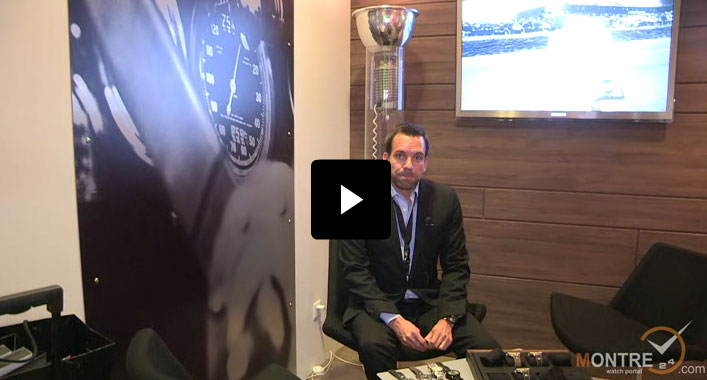 At the annual exhibition BaselWorld 2012 the company Hanhart, founded back in 1882, presented its sports watches. Hanhart watches are primarily sports attributes which are differ by their accuracy and reliability. Sales Director of Hanhart Tobias Bamert has kindly agreed to introduce the novelties BaselWorld 2012. The first presented model was pilots watch with chronograph, in which can clearly be seen the vintage style. Like all wrist watches Hanhart, this new vintage watch has a distinctive feature - the red button of chronograph, which was need to pilots to avoid accidentally pressing the button during the flight. And since the watches were hidden by sleeves of jackets and by gloves, this red button was clearly visible for pilot. The case of new pilots watch is made of high quality steel, which is extremely resistant to various kinds of scratches. After was presented new men's watch Stealth 1882, which has been released in limited edition of 230 pieces in honor of 130 - year anniversary of the company. The new men's watch Stealth 1882 is equipped with a number of useful special features, such as the tachometer scale (to calculate the speed based on travel time), telemetric scale (to calculate the distance from the observer to the source of sound), and function of an asymmetric location of the chronograph functions. Stealth 1882 watch has become the first model with the function of fly – back of the company. These new models are equipped with a modified mechanism Selita. Also were presented models with steel bracelet, men's watch Primus - a modern version of the historic Hanhart watches.
Men's watch Primus is equipped with rotating bezel and has transparent case back through which can be observed the work of the internal mechanism. The video clip also includes information about existing and promising markets of Hanhart. For more information and to get acquainted with the new Hanhart watches at the BaselWorld 2012 Hanhart can be in prepared by the team of montre24.com video clip by clicking on the following link - http://montre24.com/video/120/.
Official site of Hanhart watches.
13.04.2012