The Swiss-German Hanhart watch brand was founded in 1882 in Switzerland but it is still a small watch company. The brand produces solely men's wrist watches in sports style. It is rather well-known in Germany, because its headquarters is situated in this country. It's possible, that this fame will soon gain bigger scale regarding the start of the high quality Swiss watches producing brand's cooperation with the most successful private Porsche racing team. Both companies are celebrating their anniversaries in 2012: Hanhart turns 130 and Kremer Racing is 50 years "young".
The Kremer car company and racing team with a headquarters in Cologne were founded in 1962 by Kremer brothers, Erwin and Manfred. Some time later they started specializing in Porsche brand's cars and Kremer Racing Cologne became the first team to use the Porsche 911 model at international racing events. The team won a great number of prizes with their Porsche cars: European Touring Car Championship, 24 Hours of Spa in 1968, German Motor Racing Championship in 1979, 24 Hours of Le Mans in 1979, 24 Hours of Daytona in 1995, plus the impressive 11 wins in Porsche Cup, 3 in European GT Championship and 3 in Interseries Championship. Thanks to its exploits and triumphs in motorsports, in 1984 Kremer becomes the first exclusive Porsche dealer in Germany.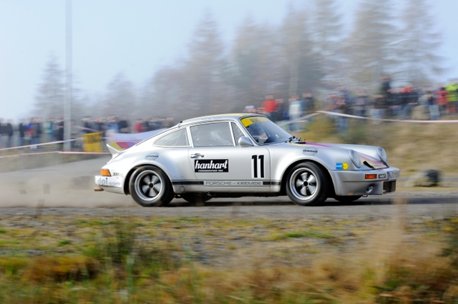 In 2011 Kremer Racing successfully performed in VLN Endurance Racing Championship and the 24-hour race in the German Nȕrnburgring with the latest Porsche 911 GT3 Cup and Porsche 911 GT3 KR, specially elaborated at their own workshop. Moreover, Kremer participated in a completely unusual for the team rally event – Rallye Köln-Ahrweiler, becoming fifth in the overall standings, second in its class and, not less importaint, showing the best performance among Porsche cars. In 2012 the team is celebrating its 50th anniversary, focusing more on creating and maintaining classic racing cars, specializing in Porsche models and participating in major racing events.
The partnership between Hanhart and Kremer Racing will enable the two companies with rich and colourful motorsports history to work conjointly. While Kremer Racing celebrates 50 years of its existence in 2012, Hanhart commemorates it foundation in 1882, exactly 130 years ago. Under the aegis of Willy Hanhart, the son of the company's founder, the brand introduced its first affordable hand stopwatch in 1924. During the following decades the company produced some more innovative elaborations, such as the ultrafast oscillator, capable of indicating time periods up to one hundredth of a second. From the very start Hanhart mechanical timepieces became an essential element of any circuit races all over the world.
Continuing its close relationship with the motorsports world, Hanhart is signing a number of sponsorship contracts in car racing and rally events. The cooperation with Kremer Racing ideally complements those plans and implies both racing team's branding and a series of joint publicity appearances.
01.02.2012