| | |
| --- | --- |
| Patrick Kury - a new CEO of Eterna and Porsche Design | |
The watch company Eterna has announced the appointment of 40-year old Patrick Kury as CEO of the brands Eterna and Porsche Design.
Swiss-born Patrick Kury has a considerable experience in the watch industry and an important role in this plays his position of Chief Technology Officer in the company Eterna, held since 2005. And in 2008 he has served as Deputy Executive Director. Patrick Kury took an active part in the development of such innovations as the Eterna Spherodrive, ball-bearings mounted mainspring barrel. Innovations have been patented by the company in 2006.
Patrick Kury said: "I am delighted with the opportunity to contribute to the development of Eterna and Porsche Design and the further rapid progress of the brands."
Since the day of its founding in 1856, the company Eterna manufactures mechanical watches of the highest quality. For over 150 years the company has developed a revolutionary technology such as a rotor with ball bearings and the first watch with alarm functions. The brand Eterna remains one of the few watch manufacturers that are constantly in search and use high-tech materials to create products that meet the standards of traditional watch making.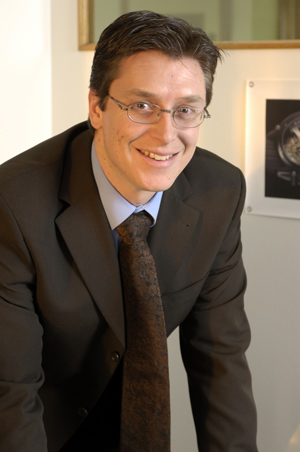 08.11.2011
Antonio Calce - the Head of Eterna
The company China Haidian Holdings Limited, whose core business is as a watch production and distribution of own brands in the domestic market and distribution in China and Asian countries of the Swiss watch brands, has announced the appointment of Antonio Calce as a president of the watch company Eterna.
24.06.13 Comments(0)

Royal Kontiki Two Zones Watch by Eterna
Swiss watchmaker Eterna has released a new watch Royal Kontiki Two Zones. The model is presented in a circular case of diameter 42 mm and 12.3 mm thick stainless steel.
15.05.13 Comments(0)

Eterna Presents Calibre 39
The watch brand Eterna has released a new caliber 39. It is developed as a result of a project initiated in 2007. Feature of the mechanism is that it is a modular caliber, allowing it to produce 88 different versions - from a timepiece with two hands to split-chronograph with column wheel.
27.02.13 Comments(0)

The model1948 Evolution Automatic by Eterna
The Swiss watch brand Eterna has released a new model 1948 Evolution Automatic, which is made in a concise classical style. Note that the collection of the brand Eterna includes different classic models.
26.10.12 Comments(0)

Tangaroa Moonphase Chronograph by Eterna
Eterna - one of the famous Swiss watch brands, which offers a fascinating models. Today the company presents its novelty Tangaroa Moonphase Chronograph, named in honor of ecological and ethnographic expedition to the South Pacific.
26.06.12 Comments(0)

News of montre24.com: an exclusive video clip of Eterna at BaselWorld 2012
Watch portal montre24.com has been added by an exclusive video clip from the annual exhibition BaselWorld 2012 – by video clip of the company Eterna. In the pavilion of Eterna, which was a building in several floors, was widely presented all production range by Eterna in small glass boxes.
27.04.12 Comments(0)

Red Dot-2013 Winners
This year 11 models have got Red Dot awards, which is awarded every year. The jury appreciated the simplicity and functionality of steel chronograph Braun BN0095, which worked on the design experts from Braun Design and Studio Hannes Wettstein AG.
21.07.13 Comments(0)

New Models by Porsche Design from the Flat Six Collection
The company Porsche Design has released several novelties that are included in the Flat Six collection. These models are characterized by a rather low-key design that is inherent to the watches of Porsche Design.
29.10.12 Comments(0)

New Flat Six P6360 Chronograph by Porsche Design
Brand Porsche Design, which produces accessories of "luxury" class for men, was founded in 1972. In 2012 it celebrates its 40th anniversary. In honor of the anniversary, the famous brand has launched a new Flat Six P6360 Chronograph.
27.10.12 Comments(0)

BaselWorld 2012: P'6510 Watch by Porsche Design
One of the leading brands for the production of luxury men's accessories Porsche Design at the world exhibition BaselWorld 2012 has presented a magnificent watch P'6510.
16.03.12 Comments(0)



Eterna, a famous Swiss watch brand, owes its birth to an economic crisis, that took place in Switzerland in the middle of the XIX century. To revive the economy, the city council of Grenchen, a small Swiss city, decides to develop watchmaking industry. For the allotted treasury funds Joseph Girard and his brother Juseb Girard set up a watch movements workshop, called "Girard Frères & Kunz". But due to economical difficulties, the workshop was closed in 1856. Some time on, Joseph Girard tried to get the production going again. Urs Schild became his new partner. As a result, "Dr. Girard...
Detailed information Eterna






Porsche Design, one of the leading word's companies, producing luxury accessories for men, was founded in 1972 in Germany by Professor Ferdinand Porsche, a grandson of the Porsche car creator. The company manufactures wallets, pens, tie clips, cufflinks, bags, phones, sunglasses, smoking pipes, perfumes, clothes and other expensive elements of style, that emphasize the individuality and the refined taste of their owners. The company management has always been interested in the watch production. In 1970, Ferdinand Porsche developed his first chronograph. This watch had a unique design: black case, transparent back, through which the movement and the rotor in the shape of the wheel rim of Porsche sports car could be v...
Detailed information Porsche Design