| | |
| --- | --- |
| Antonio Calce - the Head of Eterna | |
The company China Haidian Holdings Limited, whose core business is as a watch production and distribution of own brands in the domestic market and distribution in China and Asian countries of the Swiss watch brands, has announced the appointment of Antonio Calce as a president of the watch company Eterna.
Calce will enter into a new position, being also the head of the brand Corum.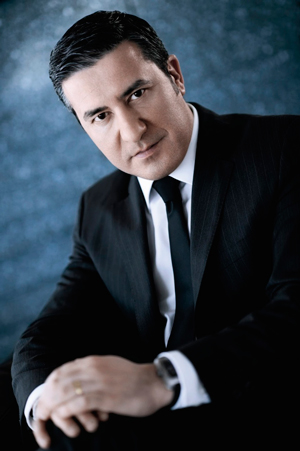 Antonio Calce - the Head of Eterna
Chairman of the Executive Committee of China Haidian, Hon Kwok Lung, said: "The consent of Mr. Antonio Calce to lead the Eterna brand for us is a great honor and a great success. As the head of the brand Corum since 2007, Mr. Calce has managed to make the company Corum into the one of the leading brands in the market of fine watchmaking. It gives me great pleasure to be working with Antonio Calce and fully trust him control of both companies."
On this occasion, Calce himself expressed his opinion: "I am delighted that our relationship with Mr. Hon is based on mutual trust. I am pleased to lead the company Eterna and deeply believe in its potential. Ahead of us a lot of work, but for me, the first priority is to take the brand Eterna to the leading position of the Swiss watch market."
Official site of Eterna.
Written by Angel
24.06.2013
Royal Kontiki Two Zones Watch by Eterna
Swiss watchmaker Eterna has released a new watch Royal Kontiki Two Zones. The model is presented in a circular case of diameter 42 mm and 12.3 mm thick stainless steel.
15.05.13 Comments(0)

Eterna Presents Calibre 39
The watch brand Eterna has released a new caliber 39. It is developed as a result of a project initiated in 2007. Feature of the mechanism is that it is a modular caliber, allowing it to produce 88 different versions - from a timepiece with two hands to split-chronograph with column wheel.
27.02.13 Comments(0)

The model1948 Evolution Automatic by Eterna
The Swiss watch brand Eterna has released a new model 1948 Evolution Automatic, which is made in a concise classical style. Note that the collection of the brand Eterna includes different classic models.
26.10.12 Comments(0)

Tangaroa Moonphase Chronograph by Eterna
Eterna - one of the famous Swiss watch brands, which offers a fascinating models. Today the company presents its novelty Tangaroa Moonphase Chronograph, named in honor of ecological and ethnographic expedition to the South Pacific.
26.06.12 Comments(0)

News of montre24.com: an exclusive video clip of Eterna at BaselWorld 2012
Watch portal montre24.com has been added by an exclusive video clip from the annual exhibition BaselWorld 2012 – by video clip of the company Eterna. In the pavilion of Eterna, which was a building in several floors, was widely presented all production range by Eterna in small glass boxes.
27.04.12 Comments(0)

Patrick Kury - a new CEO of Eterna and Porsche Design
The watch company Eterna has announced the appointment of 40-year old Patrick Kury as CEO of the brands Eterna and Porsche Design. Swiss-born Patrick Kury has a considerable experience in the watch industry and an important role in this plays his position of Chief Technology Officer in the company Eterna, held since 2005.
08.11.11 Comments(0)



Eterna, a famous Swiss watch brand, owes its birth to an economic crisis, that took place in Switzerland in the middle of the XIX century. To revive the economy, the city council of Grenchen, a small Swiss city, decides to develop watchmaking industry. For the allotted treasury funds Joseph Girard and his brother Juseb Girard set up a watch movements workshop, called "Girard Frères & Kunz". But due to economical difficulties, the workshop was closed in 1856. Some time on, Joseph Girard tried to get the production going again. Urs Schild became his new partner. As a result, "Dr. Girard...
Detailed information Eterna